Finding Mentorship Outside of Your Industry
Stacey Abrams has made a career for herself in politics, but that's not where she looks for guidance.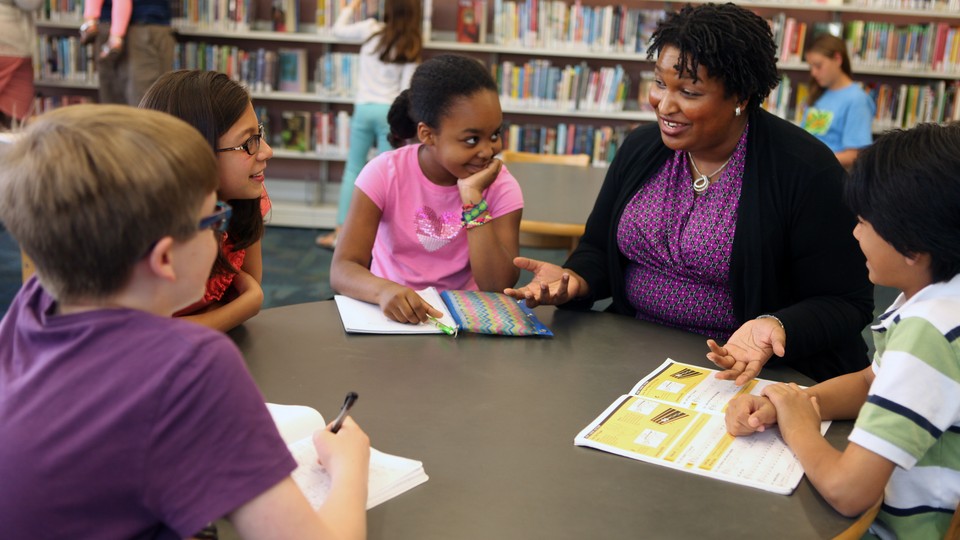 Georgia House Minority Leader Stacey Abrams wants to be her state's first Democratic governor in over a decade. Thus far, the gubernatorial candidate, who moonlights as a romance novelist, has dedicated her time in political office to increasing voter turnout in the state. Abrams created the voter-registration nonprofit New Georgia Project. (In 2014, the organization faced allegations of voter fraud leveled by Abrams' opponent. The investigation technically remains open but has not resulted in any finding of wrongdoing.) She also leads the B.L.U.E. Institute, an organization that aims to increase diversity on campaign staffs.
Despite her storied political career, the leaders who inspired Abrams along the way were often from outside of the political realm. For The Atlantic's series on mentorship, "On the Shoulders of Giants," I spoke with Abrams about unconventional mentors, writers she looks up to, and what makes a good mentee.
---
Elisha Brown: Who was the first person to give you advice about your political aspirations?
Stacey Abrams: I rarely actually asked for advice about politics writ large. I came of age before formal conversations about mentorship used to happen. Instead, what I carved for myself were people who had different skills that I thought would be important for me to have. When I was in college the first time I actually ran for office, I ran for student government. That came about in part because of Dr. Johnnetta Cole, who was the president of Spelman College. That's the first time I had the formal set of experiences that would lead to my effectiveness in running for office. Working with Dr. Cole, I learned how to fundraise. She would let me watch and attend events. I also learned to be fearless in asking for money. She was extraordinary at Spelman and helped raised more money for black colleges than had been raised in years past. She sent me on my first informational interview.
Brown: How did that mentorship evolve after college?
Abrams: There was so much to learn from her. I remember sitting in the kitchen in the president's house, just listening to her and asking questions and learning about how she got to where she was and how she navigated the challenges of running that college. A few weeks ago, I was privileged to receive an honorary degree from Spelman, and Dr. Cole flew in for that awards ceremony. I consider her family. Even though she wasn't in politics, she was the person who told me I complained too much at Spelman and if I wanted to change things, I needed do something about it and run for student government. Mainly I think she wanted me to stop bothering her.
Brown: You've had two careers, really: one in public service, and one as an award-winning novelist. Have you had any leaders in that other career path that guided you along the way?
Abrams: No, that's been mostly by reading really good writers. Aristotle's Poetics is how I think about how good writing is done. The second is Pearl Cleage. She's an award-winning playwright and author. I took playwriting from her at Spelman. There were things she taught at that class that I found to be invaluable in constructing novels. And Nora Roberts was really the first novelist I read who understood how to marry suspense and romance in ways that didn't underestimate her audience. I wanted to be that kind of writer who wrote smart novels that people wanted to read that had their core, romantic suspense element, but they weren't diminished because of their genre. Nora Roberts was the way I learned how that could be done effectively.
Brown: How do you involve young people in some of your initiatives, like the New Georgia Project and B.L.U.E. Institute?
Abrams: In the political sector, I have been very intentional about creating internship programs. We've graduated more than 300 interns through our intern program at the caucus, which is a fairly aggressive but important number. I wanted young people to understand what we do. You can't encourage people to go into government if they don't know what it looks like. [We created] the B.L.U.E. Institute, which is designed to train young people to be campaign operatives, especially people of color, who are often not given those opportunities. For me, mentorship is less about a formal relationship and more about how you create opportunities for people to learn and to experience things that their normal lives wouldn't let them access. In every facet of my career, I've been privileged to offer those opportunities to young people.
Brown: As someone who didn't necessarily seek out formal mentors, but found them, and now has mentees, what makes for a good mentee?
Abrams: Own the relationships. What I learned early on is if someone said I want to help you, believe them. But I understood what they meant is help me help you. Recognize that the person has a number of other holds on their time. Don't wait for them to offer, ask what you need. Do not worry about reaching out too much. You don't want to be a stalker, but you want to be aggressive in your curiosity. Ask important questions that you need answers to that you can't find anywhere else. The corollary to that is don't ask questions just so you can sound like you have something to say. Be thoughtful about putting together a sort of board of advisors. That's the way I approached it. I never formalized it.
But as I said, I didn't have one person who was guiding my career. Shirley Franklin, who served as mayor of Atlanta, has helped me understand how I want to be as a governor because I saw how she operated as a mayor. Working for her I was able to learn how important it is to balance effective administration with clarity and vision. But I didn't rely on her to be the only person to help me know how to do these jobs. So, don't just pick people because they have the jobs you want. Pick people because they have the skills you want to develop and emulate. Especially if you're interning, take that opportunity to try to gather that information, not only from the senior person, but also from your peers. We ignore peer mentorship to our detriment. I learned how to be a good entrepreneur from my business partner. She's my age, but she had experiences I didn't have.