The Markets Aren't Taking Well to Political Instability
After a rash of allegations against the president and his team, the Dow this week had its worst day since September.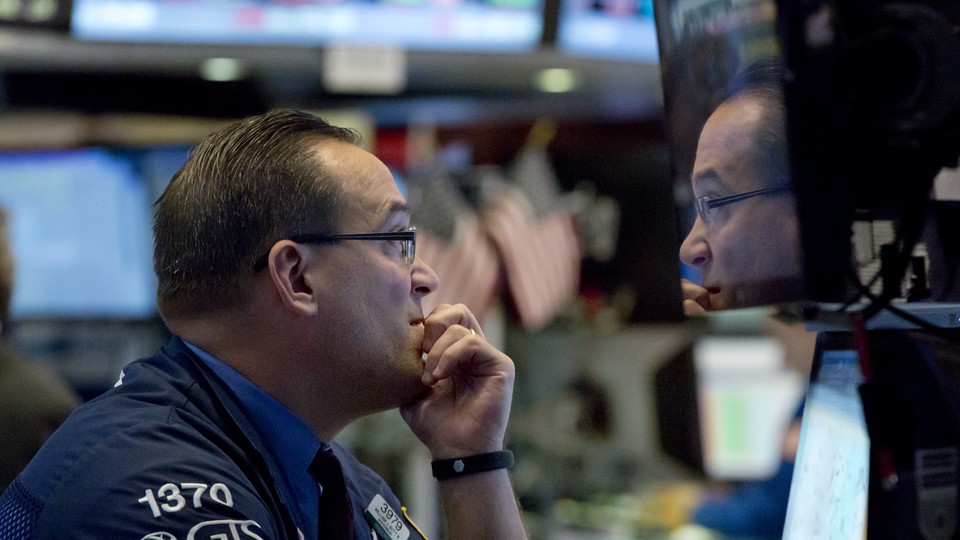 Markets don't take well to uncertainty, so they don't much like political instability. When U.S. trading closed on Wednesday, the Dow had dropped 373 points, after news reports alleged that the president had asked former FBI Director James Comey to end the investigation into ties between Russia and the Trump campaign and that in an Oval Office meeting Trump had revealed sensitive intelligence information to Russian officials. The 1.8 percent loss was the largest the since September of 2016—and the worst trading day of the Trump administration.
Thursday morning, trading opened to a very modest gain, and closed out the day with the Dow up 56 points from its Wednesday close. One likely explanation for this uptick is that investors are buying back into the market as they seek good deals created by Wednesday's drop.
These fluctuations come on the heels of a big, unpredictable week of news. After markets closed on Wednesday, the Justice Department appointed former FBI Director Robert Mueller as a special counsel to investigate the connection between Russia and Donald Trump's campaign, and another report shortly afterward revealed that the then-candidate Trump's team knew that Michael Flynn, the former national security advisor, was under investigation when they hired him. Earlier, there were other stories, which included accusations that Trump revealed secret information to Russian officials during an Oval Office meeting closed to U.S. press and that Flynn tried to influence U.S. policies on Turkey while on the Turkish payroll but not registered as a lobbyist.
These stories, bringing as they do a good measure of political uncertainty, were bound to raise fears in a market where the prospect of Trump turning his pro-business agenda into policy has been credited for boosting prices of late. The so-called "Trump bump" has included an increase in the S&P 500 of more than 11 percent between November and May. And since the election, the Dow has jumped up nearly 14 percent. Recent political turbulence has serious implications for a market that, the theory goes, has been riding high on the prospect of that administration's ability to pull off complicated legislative wrangling that would benefit business owners and investors. (It's worth noting that for investment firms, volatility isn't necessarily a bad thing; it can open up possibilities to bet on swings in the market.)
There are worrying international implications to all this, too. Overnight, Asian and Australian markets saw major selloffs, and news of the presidential scandals in Washington are possibly adding to upheaval in Brazil, which is dealing with a presidential scandal of its own that has sent the largest economy in Latin America into freefall before trading was halted as an emergency measure on Thursday.
Whether or not political upheaval might turn the Trump bump into a prolonged slump remains to be seen. But whichever direction things trend overall, if market swings are tied to the turbulence of Trump's nearly four-month-old administration, it's a fair bet that they may be in for more volatility going forward