Trump's Been Talking About His Business Interests in Russia for 30 Years
The president's enlisting "a leading law firm" to insist he has no connections to the country—something he could prove if he just released his tax returns.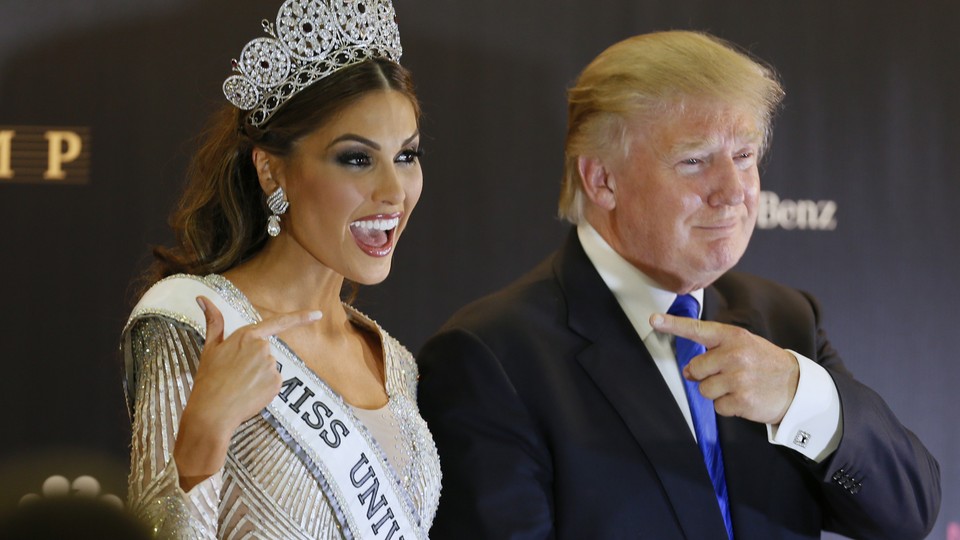 President Donald Trump would like to move on from the investigation into his campaign's ties to Russia. That's not speculation, or imputing a motive onto Trump actions; it's the White House's official line. In yesterday's daily briefing, Press Secretary Sean Spicer said so, noting that Trump has "charged a leading law firm in Washington, D.C."—he didn't specify which one—"to send a certified letter" to Senator Lindsey Graham, one of the few Republicans in Congress to publicly express interest in Trump's business dealings, "to that point that he has no connections to Russia." (The news that he'd enlisted a law firm was soon swamped by news of the president's decision to fire FBI Director James Comey—a decision that itself prompted speculation that Trump is trying to quash the inquiry into his campaign's interactions with Russian officials.)
Trump's desire to move on from the Russia investigation, which has plagued his administration in its early days, is understandable. Unfortunately for the president, one big obstacle to doing so will likely be his own words: He has spent decades pursuing—and publicly discussing—business ties in Russia, meaning that his claims to currently have "no connections to" the country strain credulity.
Trump's references to Russia go back at least as far as his 1987 book The Art of the Deal, in which he wrote that he was in talks with the Soviet ambassador Yuri Dubinin "about building a large luxury hotel across the street from the Kremlin in partnership with the Soviet government." He attempted, ultimately unsuccessfully, to seal the deal with a visit to Moscow, during which, according to The Washington Post, Trump "met with a lot of economic and financial advisers in the Politburo," the Soviet Union's chief political body. The next year, the real-estate mogul personally hosted the Soviet president Mikhail Gorbachev at Trump Tower in New York.
According to The New York Times, Trump attempted to rekindle his Russian connections during one of his brushes with bankruptcy in 1996, saying he had never been "as impressed with the potential of a city as I have been with Moscow." Once again, the proposed development, this time an underground shopping mall near the Kremlin, fell through. In the process, though,Trump developed a partnership with a development company called the Bayrock Group, which was founded by a former Soviet official and a Russian-American businessman who has since been implicated in a stock-manipulation and money-laundering scheme involving members of the Russian mob. Over the next decade, CNN has reported, Trump contracted with the Russian law firm Sojuzpatent to file at least eight trademarks in the country. Also during the late 1990s, USA Today notes, "dozens of condominiums in Trump World Tower in midtown Manhattan were bought by Russians" who "sought an audience with Trump, whose business acumen they respected."
Throughout the 2000s, the Trump Organization continued to pursue projects involving Russians or Russian money. The New York Times enumerates attempts by Trump or his adult children to establish branding deals in the country every year from 2005 to 2008. Donald Trump Jr. in particular developed a significant presence in Russia during that period, including visiting at least six times in 18 months, telling the audience of a 2008 conference called "Real Estate in Russia" that his family was pursuing properties in Moscow, St. Petersburg, and Sochi, and stating in an interview with a Russian newspaper that "Russians make up a pretty disproportionate cross-section of a lot of our assets. We see a lot of money pouring in from Russia." Throughout the period, the Bayrock Group remained the Trump Organization's intermediary in the region and was also a partner in the development of Trump SoHo.
The list goes on. In 2007, Trump introduced his (now-defunct) brand of vodka to the Russian public at Moscow's "Millionaire's Fair"; in 2013, he brought the Miss Universe Pageant to the city, funded in part by $20 million from a Russian billionaire, and tweeted wondering whether he would meet, and become best friends with, President Vladimir Putin. That same year, Trump went on The Late Show and explicitly told David Letterman, "I've done a lot of business with the Russians." So, supposedly, did Eric Trump: According to a report on the radio station WBUR, a golf writer asked in 2014 how the family had managed to finance a new golf course in Charlotte, North Carolina, in the middle of the Great Recession. "Well, we don't rely on American banks," Eric allegedly responded. "We have all the funding we need out of Russia." (Eric Trump denied that this happened.)
Trump's track record in doing business in Russia doesn't definitively demonstrate that he currently has connections to the country, which, based on what Spicer said on the topic, is the specific allegation Trump has hired the law firm to deny. It also doesn't in any way mean that he colluded with Russia during the campaign, which is the reason for the FBI's investigation. But the problem underlying the inquiry into Trump's financial ties isn't simply whether he currently has projects there; it's whether his dealings leave him indebted to the Russian government or the nation's oligarchs, which could compromise his decision-making.
Of course, if Trump truly doesn't have any financial entanglements in Russia, there's an easy way for him to prove it: by releasing his tax returns. The administration has offered increasingly flimsy excuses for Trump's continual refusal to do so; the most recent came from Treasury Secretary Steven Mnuchin, who effectively ruled out their release by insisting that Trump's mandatory Federal Election Commission disclosure forms include "plenty of information" about the president's finances.
But Americans could learn significantly more from Trump's tax returns—not a few pages from 1995, as The New York Times published in October, or a single 1040 from 2005, as Rachel Maddow revealed in March, but the complete documents that presidents typically release. Full disclosure would include information about not only how much he made or lost from each of his companies and properties in a given year but also where that money came from or went. It would include information such as whether he has any bank accounts overseas and whether he pays taxes to any foreign governments. Though it's unlikely that any individual form would list, say, "Loans from Vladimir," the information would in aggregate provide at least a partial paper trail by which outside observers might be able to suss out the details of what Trump owes, and to whom. On the other hand, if, as Trump has recently been claiming, he has no business ties in Russia, his tax returns could prove entirely exculpatory, affirming that neither he nor any of his companies are in debt to any Russian banks.
Ironically, Trump's decision to lawyer up against the accusations that he has financial ties to Russia could be the reason his tax returns finally become public. If Trump does end up in court over the allegations, whether because of existing lawsuits regarding his conflicts of interest or if the notoriously litigious president sues one of his accusers for libel, the forms could come up as part of the trial's discovery phase, during which litigants can request documents that might provide evidence relevant to the case. That's essentially what happened in 2007 when the president sued the journalist Timothy O'Brien for allegedly underreporting Trump's net worth in the book Trump Nation: The Art of Being the Donald. The suit was ultimately dismissed, but not before O'Brien requested, and received, Trump's tax returns; though the documents have since been sealed and O'Brien is not allowed to publicly describe the specifics of what he learned, the forms have nevertheless prompted O'Brien to argue that the document should be made public. Unless something like that happens again, there's no reason to believe that Trump will be releasing his tax returns anytime soon.