Donald Trump's Thrifty Vacation to New Jersey
The president argues that he's saving taxpayer money by staying at his golf course in Bedminster instead of his tower in New York.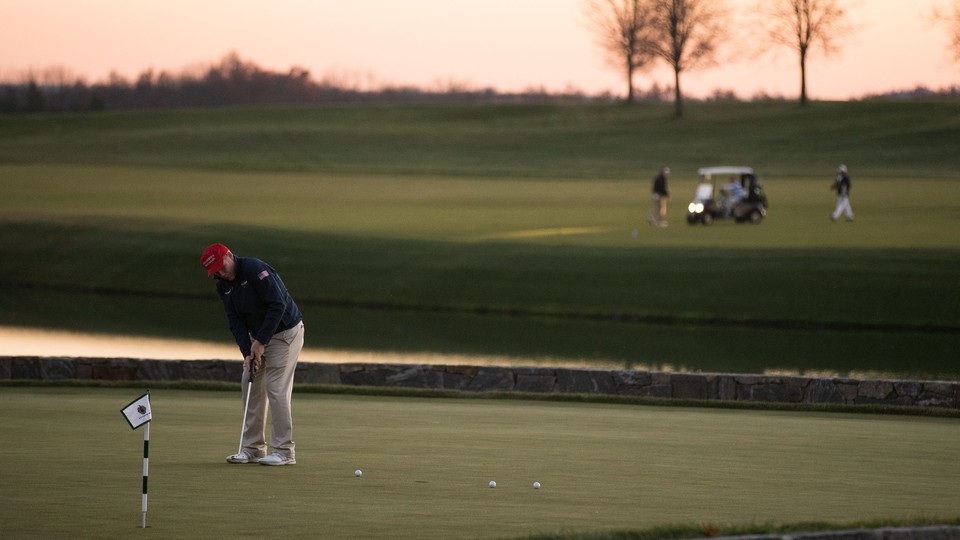 After spending the majority of his weekends as president at Mar-a-Lago, his estate in Florida, President Donald Trump will be visiting his home state of New York during the first weekend of May. However, instead of staying in his Trump Tower apartment in Manhattan, the president will be at another one of his properties: the Trump National Golf Club in Bedminster, New Jersey. In doing so, he would like taxpayers to know he is actually saving them money:
Rather than causing a big disruption in N.Y.C., I will be working out of my home in Bedminster, N.J. this weekend. Also saves country money!

— Donald J. Trump (@realDonaldTrump) May 5, 2017
In an interview with Fox News, Trump rationalized his trip to Bedminster in a way similar to how he's defended other weekend trips to his own properties: by pointing to the even more extravagant costs he could be accruing if he'd stayed elsewhere. "I love New York," he said, "but going back is very expensive for the country because they close up Fifth Avenue and they close up 56th Street." On the other hand, he said, when he travels to New Jersey, "I have a place there that costs almost nothing because it's hundreds of acres and security and they don't have to close up streets."
Trump's logic is like that of an eager shopper who justifies his or her expenses by pointing to how much more he or she could have spent had their purchases not been on sale. He's saving money, but only compared to the much larger expenses he could theoretically be racking up. Of course, any additional expense at all is a cost to taxpayers: There's no discernible advantage to Trump working out of Bedminster instead of, say, the taxpayer-funded mansion in Washington, D.C., that he occupies for most of the week; each time he leaves the city, taxpayers incur expenses for the security detail that must travel with him. There are, of course, plenty of good reasons for a president to leave the White House; it's just that the supposed cost-savings (plus avoiding the disruption in New York) don't justify traveling to New Jersey for the weekend.
Trump's travel expenses have been the subject of an enormous amount of scrutiny. Some of that attention is merely partisan ire, just as much of the attention paid to Obama's (and Bush's, and Clinton's) was partisan ire. Still, as is so often the case with Trump, the old conversation about presidential propriety takes on new meaning, in large part due to his decision to spend so much of his time at his own properties, effectively turning the government money he's spent traveling to Mar-a-Lago and elsewhere into revenue for his businesses.
Questions about just how much Trump's visits to his Florida estate were costing taxpayers were recently partially answered thanks to a Freedom of Information Act request by the conservative legal advocacy group Judicial Watch. According to documents regarding the first weekends of February and March, both of which the president spent at his resort in Palm Beach, the flights to and from Florida alone cost taxpayers almost $1.3 million. Judicial Watch's figure doesn't fully answer the question of just how much Trump's travel costs taxpayers, as the documents don't detail the costs of securing the premises for the entire weekend. Some have taken to estimating the sum based on reports on the Obama administration's expenses from the Government Accountability Office; the most widely cited figure is in the vicinity of $3 million per trip, leading some to posit that Trump spent more on travel in his first 100 days than Obama did during any single year of his presidency, and is on pace to spend more in his first year in office than in Obama did in his eight.
An additional window into Trump's travel expenses comes from the recently-passed federal budget, which has allocates more than $120 million to account for the Trump family's protection this year; roughly half of that sum goes to New York City and Palm Beach for "extraordinary law enforcement personnel costs," the former for around-the-clock security at Trump Tower in Manhattan and the latter for Trump's frequent visits to Mar-a-Lago. The New York Times enumerated some of the types of costs that money could cover, such as the $300,000 per day it cost to protect Trump Tower between the election and Trump's inauguration and the $60,000 the Palm Beach County Sheriff's Office spends on overtime each day Trump is in Florida.
Underlying the questions about Trump's travel expenses is his decision to spend so much of his time at his own properties, which means that at least some of that money likely goes to the Trump Organization and, by extension, Trump. By spending so much time at his resort in Palm Beach, Trump is, whether he intends to or not, effectively driving up its value because of the power and prominence of his office. On top of the enormous amount of free publicity his weekend trips provide—each visit guarantees that the property's name will show up in headlines around the world—his presence creates incentives for both well-wishers and anybody seeking to influence the president to pay up for a membership in the hopes of catching a glimpse of the commander-in-chief. The same goes for the golf course in Bedminster, whose members pay the Trump Organization between $75,000 and $100,000 in initiation fees and $22,100 in membership dues each year—a sum that has suddenly gone from a steep price tag to play golf to an investment in the possibility of meeting the president.
Actions taken by both the federal government and the Trump Organization have only reinforced the impression that Trump's presidency is being put toward increasing his wealth. In January, Mar-a-Lago doubled its initiation fee, prompting speculation that the company expects increasing business in the near future, while Eric Trump said in March that his family's brand is "the hottest it's ever been." Then, in late April, the State Department deleted an online article promoting Mar-a-Lago after complaints that the post represented an improper entanglement of Trump's administration and his business interests.
Criticizing presidents' travel expenses is almost as time-honored a political tradition as presidential travel itself, so much so that it's easy to dismiss the discussion surrounding Trump's as just more grousing from the left. But Trump's idiosyncrasies so complicate long-held notions of how the president should behave in office that the conversation takes on entirely new dynamics. As discussed above, the most important element is Trump's decision to spend so much of his time at his own properties, which enables him to profit off of his presidency; staying at Bedminster likely means collecting rent from his own security detail, and announcing that he's staying there on Twitter effectively acts as an advertisement for the property. There's also the frequency of Trump's travels—he's visited one of his properties on roughly one-third of his days in office—and the fact that few of the trips seem to have a specific purpose.
It's also unusual for Trump to be defending his travel in the first place. Ever since James Monroe toured the rapidly expanding nation in the early days of his first term, traveling, both domestically and internationally, has been an important part of the presidency to the point that doing so is now considered almost a duty. Though partisans will always find a reason to balk, those complaints shouldn't—and, under previous presidents, wouldn't—merit a direct response from the president attempting to justify a specific trip.
There are a few different ways to read the justification he offered for his trip to Bedminster. One is that it's a manifestation of his intemperance, responding perhaps to Judicial Watch's reporting on the the price of his travels. Another is that Trump is shrewdly picking a fight, trying to distract from something else going on—say, news that the administration will be slashing funding for an office that's been on the front lines of the opioid epidemic, or, perhaps, the potential consequences of the GOP's health-care bill—by redirecting attention toward a more minor squabble that better comports with the narrative that the media is unnecessarily antagonistic toward him. Whatever the reason, Trump's tweet underlines the controversies surrounding his continual blending of his businesses and the presidency.