Could Small-Town Harvards Revive Rural Economies?
Less-populous places with colleges are thriving, but reproducing that success elsewhere is difficult.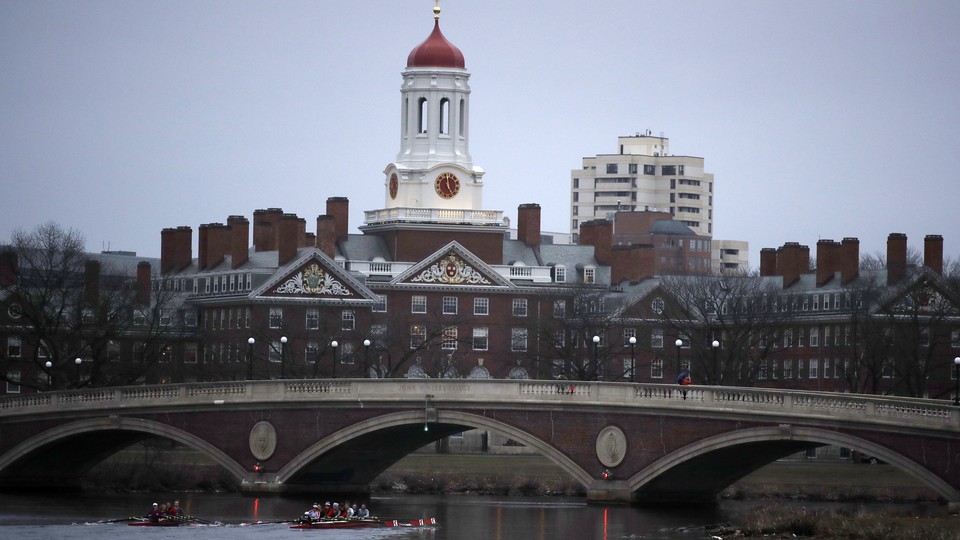 In the mid-1970s, the town of Fairfield, Iowa, had a problem. Parsons College, which had been one of the town's economic anchors for nearly a century, lost its accreditation in 1967 and shut down in 1973. The town faced the future of many rural towns across America: declining population and worsening economic fortunes.
But local politicians had an idea: They'd recruit a new educational institution to come to town and move into Parsons's abandoned campus. It wasn't an easy time to recruit a new university; at the time, there were 23 vacated college campuses for sale across the country, according to "Small Towns, Big Ideas," a 2008 report by Will Lambe, who was at the time at the University of North Carolina  at Chapel Hill's School of Government. But the town found a willing buyer. In 1974, the leaders of Maharishi International University purchased Parsons's 72 buildings, and the town of Fairfield changed dramatically as students of transcendental meditation descended on the region. The university brought new residents, students, and money, all of which have lent verve to the rural town. Today, it's home to a number of start-ups and new businesses.
The example underscores something that is becoming increasingly clear throughout America: College campuses and educational institutions can bolster the economies of small towns that otherwise would be struggling like many other rural locations throughout the country. Many of the rural areas that are thriving today are either home to natural features they can capitalize on—like Aspen, Colorado, and Jackson Hole, Wyoming, do with skiing—or they're the home to colleges or universities. The main benefits of educational institutions are twofold: They often produce research and technology that can be parlayed into new businesses, creating jobs nearby. And they bring to the area students, who spend money on restaurants and services, and attract professors and administrators, who do the same and also buy houses and cars.
Pick out any rural college town and it's likely doing better economically than other nearby rural areas. The unemployment rate in Kearney, Nebraska, home to the University of Nebraska at Kearney, for example, is 2.5 percent, compared to the state's overall rate of 3.4 percent. In rural Corvallis, Oregon, the home of Oregon State University, the unemployment rate is 3 percent, while surrounding rural counties such as Lincoln have a rate as high as 4.8 percent. According to Jed Kolko, an economic researcher at the job-search website Indeed.com, non-metropolitan counties that are growing in population have 30 percent college graduates or more; those that are shrinking tend to have populations with less than 30 percent college grads.
"In my experience, what we've seen is the communities that you'd think would not be thriving and have been able to thrive have had some sort of higher educational institution," said Bo Beaulieu, the director of the Purdue Center for Regional Development and an expert on rural economies.
It may seem obvious that places with universities will do better economically than those without, but recently, the idea has emerged as more people think about how to revive the declining rural areas that expressed their discontentment at the voting booth in November. In March, the New York Times columnist Ross Douthat wrote a much-discussed essay proposing that the country spread out many of the things that make cities great—including universities—so that other areas can benefit. "M.I.T.-in-Flint has a certain ring to it," he wrote. Noah Smith, a columnist with Bloomberg View, followed up by writing that colleges could spark a Rust Belt revival. He argued that the nation could offer incentives to universities that upgrade or expand their branches in struggling regions.
However, new colleges or new branches of existing colleges are hard to establish. Fairfield, Iowa, might have been able to recruit a new university 40 years ago, but today, the market for higher education is much more saturated. There are thousands of universities in the U.S., and they already compete to get enough students. Randy Smith, the president and director of the Rural Community College Alliance, told me that in the 30 years he's been working with rural academic institutions, he's only been aware of the creation of one new rural community college. "It's quite an amazing undertaking in today's age of starting a brand new college from scratch," he said. Accreditation is difficult, he said. Sometimes, colleges expand a new satellite campus, but "that doesn't have the impact a main campus is going to have," he said.
The town of Broken Bow, Nebraska, illustrates how satellite campuses don't always produce economic boosts. In the city, population 3,500, which is located in the middle of the state, Mid-Plains Community College used to operate out of the back of a library, until business leaders decided to raise money to build a new campus. After raising $2 million, they built a new campus, which opened in 2011, and the school's course offerings expanded to over 100 classes. Yet enrollment numbers are stagnant: The campus enrolled 608 students in 2011, and 420 in the 2016-2017 academic year. The satellite campus is a positive asset to the town, but it hasn't led to much in the way of economic development.
What's more common than colleges starting from scratch, though, is for existing educational institutions to change themselves and become economic engines that revive struggling areas, according to Josh Wyner, the executive director of the College Excellence Program at the Aspen Institute, a nonprofit. "By and large we don't see new institutions founded," he said. "What's more common is that there is an economic need and a college revamps what it does and it accelerates its workforce programs to tie itself to economic opportunity and regional economic development."
Walla Walla, Washington, for example, was struggling in the late 1990s, as automation reduced farming jobs and lumber mills closed. Hoping to resuscitate the local economy, in 2000, Walla Walla Community College started an enology and viticulture program, and began training local students in the art of winemaking. The number of local wineries has since grown from 16 to more than 170, and the local industry has spurred the creation of other industries, including wine distribution and a hospitality sector. Walla Walla Community College also tripled the size of the nursing program to train more health-care workers, anticipating that the field would grow. It started a program training technicians for wind turbines. In 2011, new Walla Walla Community College graduates earned an average of $41,548, twice the amount of other new hires in the region, according to Wyner. "This was a dying western rural community," Wyner said. "Now, the community blows your mind. They helped create a new economy."
Other community colleges across the country have helped turn around struggling rural areas by revamping their course offerings. I also talked to the people who help run Neosho Community College in Chanute, Kansas, a town in the southeast part of the state with a population of 9,000. When a local economic-development organization told the school that aerospace companies in Wichita were interested in expanding in Chanute, the school developed a program to train workers accordingly. "I guess that's one of the advantages of small community colleges—we're pretty nimble. As needs change, we can shift our resources and focuses," Brenda Krumm, the dean of outreach and workforce development at Neosho, told me.
The strategy paid off: In 2012, a 55,000-square-foot manufacturing facility owned by Spirit AeroSystems opened in Chanute. And last year, Orizon Aerostructures said it was planning to buy a 72,000-square-foot building in Chanute and hire up to 150 people there. The community college has proven important in showing businesses that the community will provide the skilled workforce they need. "Without Neosho County Community College and their leadership, I don't think we would have gotten the business to come," said Matthew Godinez, of the Chanute Regional Development Authority. "They go where the economy needs them to go."
Neither of these examples were whole new campuses or colleges; instead, existing educational institutions adapted themselves. That may be a more realistic strategy than starting anew. There are 1,132 community colleges scattered across the country today, many in small towns and regions that are sorely in need of an economic boost. That includes places like Flint, the city that Douthat mentioned in his piece, where Charles Stewart Mott Community College offers hundreds of courses. Rejuvenating rural economies is difficult, but there might not be a need to create whole new universities in a saturated market. One solution is already there: launching new programs at existing colleges and universities based on where jobs will be.