The NBA's Latest Attempt to Promote Competition: $200-Million Contracts
The league's efforts to create parity may not be enough to keep star players on small-market teams.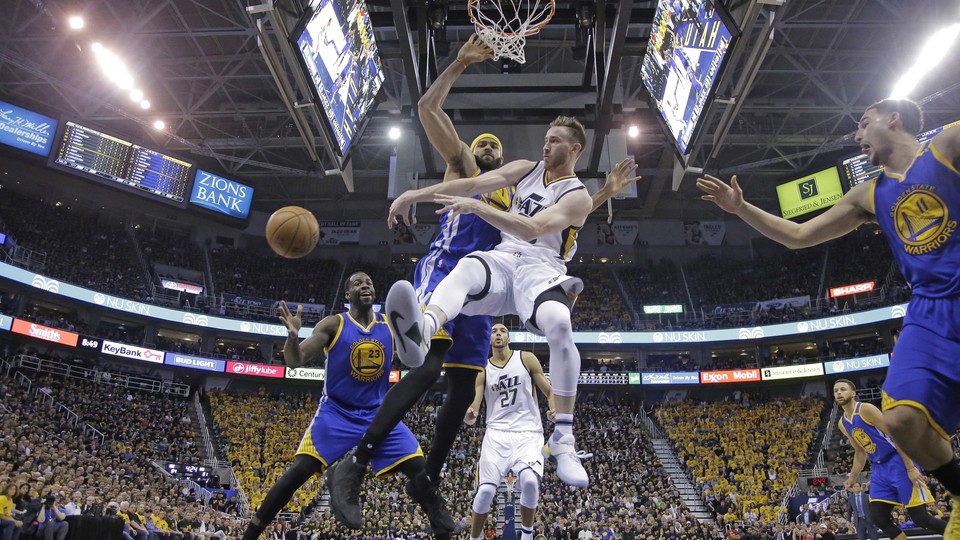 What does it take to keep a basketball player from leaving his team? Some Utah Jazz fans are hoping a billboard will help. With the team's season over, its  27-year-old star Gordon Hayward is eligible to enter free agency and likely to entertain enormous contract offers from several teams in July. In anticipation, some Salt Lake City residents have chipped in to emblazon his likeness and the slogan "#STAYWARD" on a massive sign near the arena.
Ultimately, though, whether Hayward re-signs in Utah may hinge not on a billboard, but on the NBA's latest attempt to keep its 30 teams competitive. Under a new provision called a "designated-player exception" in the National Basketball Association's collective-bargaining agreement, the Jazz could offer Hayward roughly $70 million more over the next several years than any other team—but only if he's named to an All-NBA team as one of the top six players at his position on Thursday.
This award-contingent possibility, also called a "super-max contract," is partly intended to help small-market teams hold on to stars who might otherwise leave for more tantalizing destinations like Los Angeles, New York, and Miami. More importantly, though, it speaks to a fundamental question the NBA has been grappling with recently: In such a star-driven sport, is it possible to establish a level playing field? And even if it is, is it the league's job to do so?
It's clear why this topic is coming up right now. For each of the past six years, a team led by LeBron James has won the NBA's eastern conference; his Cleveland Cavaliers need four more wins to make that seven. Preseason predictions that this year's championship will come down to an unprecedented third consecutive showdown between the Cavaliers and the Golden State Warriors are looking increasingly prescient; neither team has lost in the playoffs so far. That's led to gripes that the league isn't doing enough to keep competition at a healthy level, a sentiment with which the NBA's commissioner Adam Silver apparently agrees. Meanwhile, rather than aim for the playoffs, where the best-case scenario is getting crushed by one of the league's juggernauts, some teams appear to be "tanking"—that is, purposely performing poorly in order to secure prime draft picks and maximize the chances of signing a future superstar.
On the other hand, there's little to suggest that the league's popularity is suffering due to the lack of parity. The last game of the 2016 finals broke ABC's viewership record for a single game; the series overall drew the highest ratings since 1998, the final year of Michael Jordan's legendary run with the Chicago Bulls. Team valuations are soaring, thanks in no small part to a $24-billion broadcast deal that kicked in this year, and the league is actively trying to expand its footprint on other continents. Arguably, this success is both cause and effect of the league's parity problem: The recent influx of cash gives already-great teams room in their budgets to add even more talent; their dominance then becomes part of the season's narrative that keeps viewers engaged and ratings high.
Like other controversies in sports—the saga of Colin Kaepernick's protest of the national anthem before NFL games springs most readily to mind—broader ideological arguments soon come into play. Professional sports leagues, argue some, are ultimately meritocracies: Though some teams' fortunes are sunk by injuries or sheer bad luck, others languish because of dysfunctional front offices and locker rooms. Why should those teams be artificially lifted at the expense of better-run organizations? That's a stance that may resonate among the people of Cleveland and the San Francisco Bay Area, although it would probably fall flat among championship-deprived fans in Utah and elsewhere.
At the root of this competitive imbalance is the fact that the NBA is arguably the most star-driven of the four major U.S. sports leagues. This is true across a number of dynamics. An individual player can have significantly more impact on the outcome of each game than in any other sport; top players bring in millions more in endorsement money annually than their counterparts in the MLB, the NFL, or the NHL; and, between the number of stars making more than $20 million per year and the league's relatively small rosters, the NBA's average salary is higher than it is for the other leagues.
As such, the NBA's current policies are a series of half-measures promoting the even distribution of resources in a system that nevertheless let the root causes of inequality stand. (In a way, that's a story shared by many American institutions) The league does have several measures intended to establish parity, many of which it shares with other sports leagues. For example, as in hockey and football, a salary cap constrains what each basketball team is allowed to spend on its players. It's not an absolute ceiling, but any team that exceeds this limit is subject to a "luxury tax," a penalty reducing their ability to spend in future seasons. This prevents situations like that currently happening in professional baseball, in which cash-rich teams like the Los Angeles Dodgers and New York Yankees often spend several times as much money on players as smaller-market teams like the Tampa Bay Rays and Milwaukee Brewers do.
Another important policy, this one shared with all of the other major sports leagues, regards the draft. Each summer, shortly after a champion is crowned, teams pick among the top college and international talent to augment their rosters. Though the order isn't exclusively determined by the preceding season's standings, the worst teams generally get the earliest picks, making them the likeliest to nab future superstars. Unless the organization that drafted a player chooses to waive his contract or trades him, he's locked into his contract for two years; the team can then opt into a third and even a fourth year, regardless of the player's desires. After that, the player is eligible for "restricted free agency," during which his current team has the right to match any offer from a competing organization and keep him on the roster.
Delving into the minutiae of the NBA's collective-bargaining agreement, or CBA, there are a number of additional mechanisms by which the league seeks to divvy up its talent. The simplest are provisions establishing maximum salaries based on years of experience—25 percent of the team's overall salary cap for a player's first six years, 30 percent for years seven through nine, and 35 percent from year 10 on. These limits head off bidding wars over top players, because there is only so much a given team is allowed to pay (although that doesn't stop teams from overpaying for lesser talent). Additional rules tied to the numerous awards the league doles out annually enable teams to provide longer and more lucrative contracts to stars of a certain caliber, incentivizing players to stay with their current team rather than jump to another one.
This is where the designated-player exception, the rule that could keep Gordon Hayward in Salt Lake City, is supposed to intervene. If a player is still with the team that originally drafted him at the end of his eighth or ninth year and meets certain markers of performance, such as being named Most Valuable Player, his team can offer him a five-year contract at 35 percent of the cap. That creates a ceiling that's roughly $70 million higher than what other teams are allowed to offer; for some players, it could even mean crossing the $200-million mark. As a result, the way for a qualifying superstar to maximize his salary would be to stay with his team through a four-year rookie deal, a four- or five-year maximum extension, and then a five-year super-max contract, adding up to 13 or 14 years with the same team (and hundreds of millions of dollars).
Currently, Hayward is right on the cusp of that status. Next season will be his eighth year, and he's in the likely prime of his athletic career; if he continues on his current trajectory, he'll be a strong candidate for a slot on an All-NBA team, if not for this past season than for the one starting this fall. If he does, he'll be eligible for a super-max contract from Utah, as enticing an incentive as any to stay on his team.
That is, if he doesn't leave this summer. Hayward's contract technically doesn't expire until the end of the 2017-2018 season, which begins in October, but he's eligible to leave in July and test the market as a free agent if he so chooses. As of right now, there's no special contract the Jazz can offer him, although they'll certainly be playing up the sentimental value of staying in Utah and playing with the team's other rising stars, who were already good enough to make the second round of the playoffs this year and have plenty of room to improve. If he leaves, though, the team may have no choice but to start rebuilding around other, younger players, a process that can take years.
Other players and teams are in similar predicaments. Paul George, the star small forward for the Indiana Pacers, could also be eligible for a super-max contract after next season; given his track record, he's arguably more likely to make the cut than Hayward. But trade rumors involving George have been floating around for a while now, and there's widespread speculation he wants out of Indianapolis this offseason, meaning he, too, may not be in town long enough to see if the new contract rules kick in for him. That means that an extension designed in part to keep superstars on the small-market teams that initially draft them may very well misfire when it comes to two of the first stars whom it could have affected, who may leave their teams right as the new rule is rolling out.
This isn't the first time that the NBA has faced this particular dilemma; another mechanism in the previous CBA ran into a similar problem just last year. The "Derrick Rose Rule" (named for the youngest player to ever be named MVP) stipulates that a player can jump straight into a 30-percent max contract in his fifth year (two years earlier than normal) if he makes at least two All-NBA teams, starts at least two all-star games, or wins an MVP award. After being named to an All-NBA team in 2015, Anthony Davis, the star of the New Orleans Pelicans, fell short of reaching that threshold in 2016. This not only costs Davis millions—the Pelicans could've offered him a much bigger contract if he'd qualified for it—but also takes away a bargaining chip the team could theoretically have used to keep Davis in New Orleans.
Why does the CBA so favor superstar players? One possible explanation is that, when it comes time to negotiate with the league, the National Basketball Players Association, or NBPA, brings a higher wattage to the table than do other players unions. The player representatives in other leagues certainly aren't scrubs—many have built up impressive résumés even beyond the major accomplishment of reaching the pros in the first place—but those for the NBPA are on a different level. Chris Paul, the union's president, is considered one of the best point guards of all time; LeBron James, the vice president, will likely go down as one of the greatest players ever, period.
With them in the room, it's no surprise that the negotiations tip toward players of their caliber, especially considering another rule change in the latest CBA. The previous iteration stipulated that no team could offer a player a four- or five-year contract if he would turn 36 by October 1 of the deal's final year; now, that age limit has been changed to 38. As ESPN's Brian Windhorst noted, that means that Paul and James, both 32, will be able to sign five-year deals when their current contracts expire.
It also helps explain why the designated-player exception won't help players like Hayward. The bar a player has to clear to qualify for the exception is inordinately high; a player essentially has to be among the top 15 players in the league (out of more than 400) as he concludes his eighth or ninth season. To receive a conventional max contract, though, all a player has to do is accumulate at least seven years of experience and generate enough interest that a team will be willing to max out his pay. Prescribing rigid metrics for super-max eligibility means that, when it comes to contracts, there is now a distinction between run-of-the-mill stars and bonafide superstars that previously didn't exist. That means that, for now, the super-max is only useful to teams that already have a superstar on their roster, since they now have an extra way of ensuring their best players stick around. It may not disadvantage teams like Utah per se, but it demonstrates that, if the NBA actually wants to help small-market teams keep burgeoning stars on their rosters, the league will have to be willing to reconsider some of its superstar-centric policies.
The existence of "super-teams" only compounds this problem; no longer is it possible for a team to contend for a championship with only one star player. Though impressive agglomerations of talent have always been theoretically possible, the success of Miami's "Big Three"—LeBron James, Dwyane Wade, and Chris Bosh, each of whom left $15 million on the table to team up  for four years starting in 2010—and spiking revenues have made them more common; this year's Golden State Warriors, featuring four players who made last year's All-NBA team and this year's all-star game, epitomize the trend. For a championship-minded player, fealty to the team that drafted him only makes sense if his team finds a way to bring two or three superstar-caliber teammates onboard, whether through the draft or by wooing players over from other franchises. That could be reason enough for Hayward to leave Utah for a team where his presence might be enough to push the team toward superdom and into true contention—the exact kind of move the super-max contract was designed to disincentivize.
The designated-player exception also creates unusual pressure for members of the sports media. End-of-season awards—not just the All-NBA teams and the MVP but also the Defensive Player of the Year, Most Improved Player, and Rookie of the Year awards and the annual All-Defensive and All-Rookie teams—are determined by public ballots from independent reporters and commentators. (Until this year, some team-affiliated broadcasters were allowed to vote as well.) This effectively means that basketball journalists could be deciding not only an individual player's salary but also whether particular teams will have a chance at a championship in the near future. That creates a unique conflict of interest in which the people writing and observing basketball must decide if they will play a role in the league's effort to make the sport more egalitarian.
Unless the NBA's leadership decides that the league should play a stronger role in establishing parity, measures like the designated-player exception will likely continue to fall short of creating an even distribution of talent, leaving teams like the Utah Jazz grasping for ways to keep stars like Gordon Hayward on board. Short of providing the extra $70 million themselves, fans could do worse than crowdfunding a $5,000 billboard to try to convince their favorite player to stay in Salt Lake City.