This Is What 20 Years of Mentorship Looks Like
Two women share a name, a hometown, and a devotion to the law.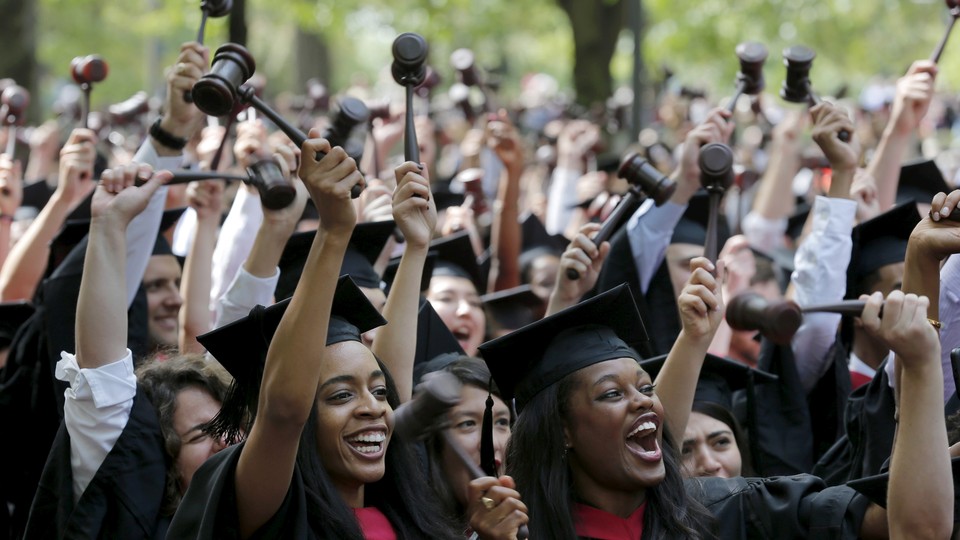 This spring, nearly 40,000 students will graduate from law school in America. For many who are about to become lawyers, it's a milestone reached with the assistance of mentors who have helped them along the way. But that milestone can be more difficult to attain when aspiring lawyers don't see themselves reflected across the profession.
Even with increasing calls for diversity, a number that remains surprisingly low is the share of black law school graduates, and ultimately, lawyers. Despite some visible advances, just 5 percent of America's 1.3 million licensed attorneys are black, according to 2010 data. The data also shows that black law-school students make up a higher share of summer associates than actual law-firm employees.
There are, or course, plenty of reasons why many black students who aspire to be lawyers don't wind up at the firms they work for during law-school summers. But part of  the reason the law profession has such a hard time attracting and retaining black Americans may have to do with dearth of black lawyers to help model the experience.
Lisa James-Beavers, who earned her law degree from Villanova in 1988, was able to provide that model for Lisa Helem, who received her J.D. from the University of Michigan in 2009. The two share a hometown, a first name, a commitment to a legal profession that is more inclusive of black women—and 23 years of mentorship. The two Lisas have built two very different careers centered around the law—one as an administrative judge for the state of New Jersey, and one as the managing editor of The National Law Journal—but their connection has only strengthened over time.
For The Atlantic's series about mentorship  "On The Shoulders of Giants," I talked to the pair about what they have learned from one another over the past two decades. The conversation that follows has been edited for length and clarity.
---
B.R.J. O'Donnell: How did your relationship as mentor-mentee come to be?
Lisa Helem: I think from my end, it was [thinking], "This is someone that I really admire, this is somebody who has gone where I would like to go at some point, so let me stick with her." Lisa's really lived by example in terms of the strides that she's made, first as an education lawyer, and now as an administrative law judge. And she's always encouraged me to pursue the next thing.
I don't know that we sat down and said, "we're formally mentor and mentee," but that's the essence of what the relationship is: someone who you can look to and get advice from, someone who is always supporting your aspirations, your endeavors. And that's always been Lisa.
O'Donnell: Can you take us back to when you first met, when Lisa Helem was 14? I'd love to hear more about your first interactions all those years ago.
Helem: Every other year, an Alpha Kappa Alpha [a historically black sorority] chapter in southern New Jersey, held a cotillion for high-school girls, I met Lisa through that. She was actually the sponsor for another debutante, but we talked about my interest in the law, we talked about some of my aspirations, and she took me under her wing. She was the first black woman lawyer I met.
Lisa James-Beavers: When we asked the debutantes what they wanted to do, Lisa said she wanted to be the first female African American Supreme Court Justice. I thought, "okay, I like her." And she reminded me so much of me, because I knew at a very young age I wanted to be a lawyer.
One of the things I tell students who say they want to go into law is to be a good writer, and this contest came up, it's called the New Jersey Bar Association Minorities in the Profession essay contest. I told Lisa about it and said, "you should try to enter one of these contests for high school students." She was one of the winners.
Helem: And ever since, I always tell Lisa she's responsible for my first piece of published writing. That really helped get me started.
O'Donnell: What does it mean to see Lisa Helem grow from a teen to the editor of a law journal? How has your relationship shifted over time?
James-Beavers: It's great, and I'm so proud of her—incredibly proud. I know she doesn't always think so because she's chosen another path, with journalism. But that was my interest as well. I was the editor-in-chief of a newspaper in college. And I think of what law and journalism have in common— it's that we get to talk to people outside of our profession, and learn what other people do, and it's just fascinating. It's been wonderful to watch her growth trajectory. And our bond, the age between us certainly shrinks over time, I don't feel like I'm a lot older than her, as much as I am.
O'Donnell: How did Lisa James-Beavers influence you throughout your career, even as your work ranged from becoming a writer for Newsweek, to law school and working as an associate attorney, and then circling back to journalism again?
Helem: So between undergrad and law school, I spent five years in journalism, starting at the local paper in South Jersey and then going to Newsweek and People. During that time, Lisa was still very supportive. Whenever I had an article out, she'd mention it if she saw it. She just really encouraged me to write well and continue what I was doing, but she also [pressed me] to keep in mind the long term goal—going to law school, and getting that legal education. She never tried to make me into a certain type of lawyer, she recognized I had this interest in writing as well, and encouraged me to go for it.
O'Donnell: What do you think has helped your relationship endure all this time?
James-Beavers: For me, it just takes a willingness to keep reaching out, because it is easy for life to get in the way. When I met Lisa in 1994, I was married, and now I have a 20 year old son! So it certainly could have fallen apart at some point. But you can't be afraid, if you haven't heard from one or the other in a while, to be the one to reach out. When Lisa was in law school, I don't think we talked that much, but she knew I was always here for her. Just stick to it, that's all, it doesn't matter if it's been a year.
O'Donnell: What role do you think mentorship can play when it comes to building a legal profession that looks more like America, especially when it comes to the inclusion of more women of color?
Helem: Mentoring builds connections. It allows you to go from potential energy to kinetic. Whether you see a career goal, or a position, or something that you think that you might be able to do. You just have a vague idea, as I did, since I was eight years old, that I wanted to be a lawyer. But what does that look like? What does a lawyer do, operationally?
It was so helpful, and so instructive, to have the actual example. Here is Lisa, she is an excellent lawyer, she has just made all these strides, and then she also happens to be a black woman. So you can visualize. To be able to call her up every now and then over all of these years was just so invaluable, because, let's face it, the legal profession has made huge strides in terms of diversity over the last fifty years, but we still have a ways to go. It's always helpful when you can identify people that are at the place where you want to go one day.
---
Got a mentorship story to tell? Let us know at business@theatlantic.com.