'I Had Never Been Any Place Where Black Women Were Running Things'
Lauren Williams, the features editor at Essence, on the importance of mentorship in an industry short on diversity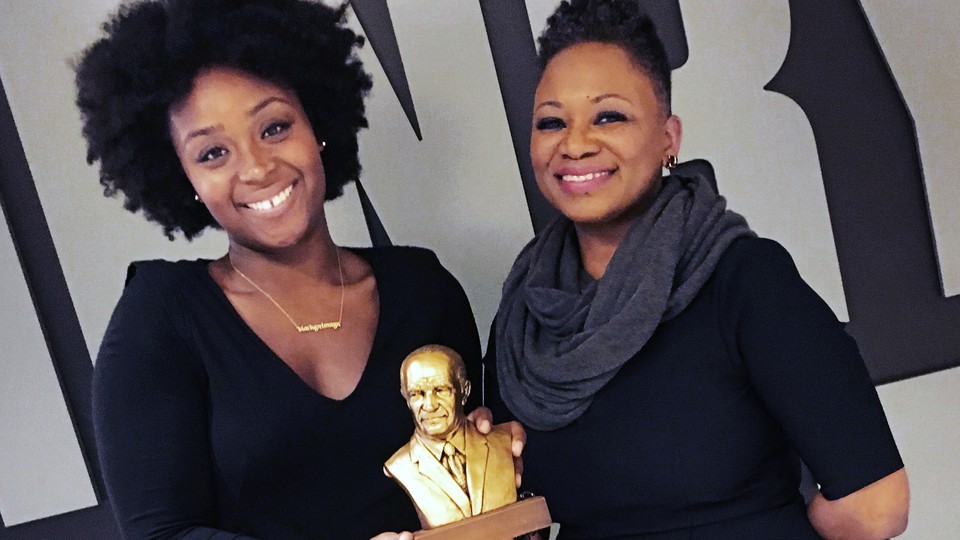 A common piece of professional advice is to find a good mentor. But sometimes, that simple guidance is difficult to follow. For women and people of color attempting to forge careers in predominantly white or male-dominated industries, seeking out a mentor can be more challenging: Research has shown that mentors tend to choose mentees who remind them of themselves. And young mentees tend to be most comfortable with those who are from similar backgrounds.
On a larger scale, a lack of mentorship can compound an industry's diversity problem, giving many younger professionals few people to champion or guide them, and causing them to leave a company or field before they ever reach an organization's upper echelon.
Lauren Williams, who is 30 years old, works in media, an industry where diversity can be hard to come by toward the top of organizational charts. For an Atlantic series on mentorship, I recently spoke with Williams, the features editor at Essence and a newly-minted fellow at Harvard's Nieman Foundation for Journalism, about her experiences in media and how her mentor, Vanessa De Luca, Essence's editor in chief, changed the course of her career. The conversation that follows has been edited for length and clarity.
---
Gillian B. White: Vanessa is Essence's editor in chief and thus your boss. How did the boss-employee relationship become a mentorship relationship?
Lauren Williams: It was organic. I had never been so close to an editor in chief before; they were just kind of in this ivory tower. But Vanessa, from the jump, was so accessible. She always returned emails, in our ideas meetings she would always support anything that I was really passionate about, and so it just really developed into a situation where I would always lean on her and depend on her.
White: What were the ways Vanessa offered you unique career support?
Williams: She would always put me in spaces that would hopefully elevate my profile. Anytime she was invited to an executive board meeting with our chief marketing officer, our CEO even, if she couldn't make it she would send me. She would just be like, "You know your stuff—sit in on this." She really put me at the table. Which was invaluable.
White: Yeah, offering someone a seat at the table, no pun intended, is pretty big.
Williams: She's done that a couple times. I remember we were planning an event with the first lady. I came to Vanessa to talk to have her interview Mrs. Obama, and she was like, "No, no, no, this is a thing you should do." And that really just took me by surprise. I had been at places where other bosses would have totally taken that opportunity for themselves. It's just always been a hallmark of our relationship for her to look out for me, and sort of try to put me in front of people and give me experiences that I wouldn't get ordinarily.
White: How did you wind up at Essence?
Williams: One of my other mentors actually sent the job posting to me. So I interviewed with Vanessa, and I started as news editor, and maybe within a year, my role expanded to features editor. I've been here now, at Essence, for three and a half years.
I knew I wanted to be in magazines, but I wasn't really seeing myself in the content, and that became a frustration for me. So I took some time off, like four months off, to just regroup and figure out what I wanted to do. And then the Essence position came up.
White: After not seeing yourself in the content, as you say, at previous magazines, did it feel different to start working with and being mentored by a black woman in media?
Williams: It was so powerful. It changed my life. I had never been any place, even in school, where black women were running things. She has shown me what the possibilities are.
I remember at one magazine there was a period of time where none of my ideas were getting approved. They were more about women of color, and they were hard-hitting topics, not shiny, fun things. But they were important to me. When I got to Essence, I would wake up in the middle of the night with an idea, and when I would share it, Vanessa would say, "Oh my God, love it, great." So that has just completely reinforced my confidence, and instilled in me this passion to continue to tell those stories. Because for a certain time, it's not that I didn't think they were important—it's just that when you get met with "no" so many times, it's really kind of demeaning. And coming here and having Vanessa be such a champion—she completely trusts us. That has been really empowering, and not always the experience I've had in publishing.
White: Can you tell me a little bit about some of those other experiences?
Williams: I had never had a mentor at a place I worked. They were always outside women. So the woman who told me about the Essence job, her name is Kierna Mayo. She used to be the editor in chief of Ebony. I met her when I was interning. But I found that at my other job, it was kind of like you've got to sink or swim. There wasn't much room, I think, to make mistakes. And especially, as a person coming in to editing from a non-traditional path, I could have used someone who would say things like, "This is how you report a story." I had to sort of learn all those things myself. I think when I got here, that just completely changed.
Not to say that Vanessa only has told me I'm wonderful. She called me a perfectionist. It's very hard for me to let a story go. There was one story that I worked on that wasn't my best work. And she told me about it. Even just that constructive criticism, I wasn't receiving at all. She definitely checks me. But that in and of itself is helpful, and it has helped me grow as an editor.
White: Do you think that's important, having a mentor who is actually working within the same organization?
Williams: I think it's so important. I mean, I wouldn't know Norm Pearlstine [now the vice chairman of Time Inc.] if it wasn't for Vanessa. He was one of the people who wrote my recommendations for the program at Harvard, the Nieman fellowship. Once, she was traveling and told me he would be at a meeting with all these editors in chief. She said, "You should go and represent Essence." You just don't get that if someone doesn't know the ins and outs of a company, if they're not there for the day-to-day, for the politics. She's just so good about saying, "You need to be here. These people need to see you." I just couldn't imagine having that type of access without someone at the company.
White: Sometimes it can seem like mentorship mostly involves effort on one side, someone putting someone else onto opportunities. Is that how you see your relationship?
Williams: It goes both ways. Definitely for the things I wouldn't have known about, she's always sending me emails asking , "Do you want to do this?" But recently I was accepted into the Neiman fellowship. When I came to Vanessa with it I was very nervous, because I knew if I got it, it would mean leaving Essence. But she was just like, "I'm writing you a recommendation." She suggested that I also reach out to our chief content officer so he could write me a recommendation. Any time that I've come to her with things, she has just been more than supportive. And I get the sense that she really wants me to win.
White: It's pretty easy to see that your relationship with Vanessa means a lot to you.
Williams: When I got the Nieman, I wrote back to her, and I said, you know, "Hey Vanessa, you literally changed my life." And she's so modest about it. She's made such a difference in my career trajectory. Especially as a black woman, you have to have an advocate at corporations like this. If you don't have someone in the room when you're not there, singing your praises and pushing your name to the front, it's a very, very difficult thing to navigate.
White: How do you think people like Vanessa develop this skill? I feel like investing in someone but not feeling somewhat territorial, over both their accomplishments and one's own, can be difficult.
Williams: It just feels like a very natural thing with her. Sometimes I get a look into some of the events she does. She's always doing these events with young black journalists who are trying to come up. She'll do those things on the weekends. It doesn't feel like, "Okay, I'm showing face because this is a thing I have to be doing." I think she's actually passionate about it, and I've seen in her relationship with me that it's just how she is.
White: Does your relationship with Vanessa make you think at all about seeking out new mentors or mentoring others?
Williams: Yes, 100 percent. I understand the impact that it's had on my life. You can be the best editor, you can win all the awards, but if you don't have someone there advocating for you, and giving you opportunities that you might not know about, you're really at a disadvantage. With the assistants here I try to do little things like sitting with them, not just sending back an edit. Actually walking them through why I made these changes. That is, again, a thing that I wish I had had earlier in my career but I get now. If I can't go to something, I have them go to someplace like Gracie Mansion to meet the first lady. I'm sort of mirroring the relationship I had with Vanessa with younger editors.