The Men Who Take 'Women's' Jobs
As employment options shrink in parts of the Midwest, many men who once worked in manufacturing are finding new careers in health care.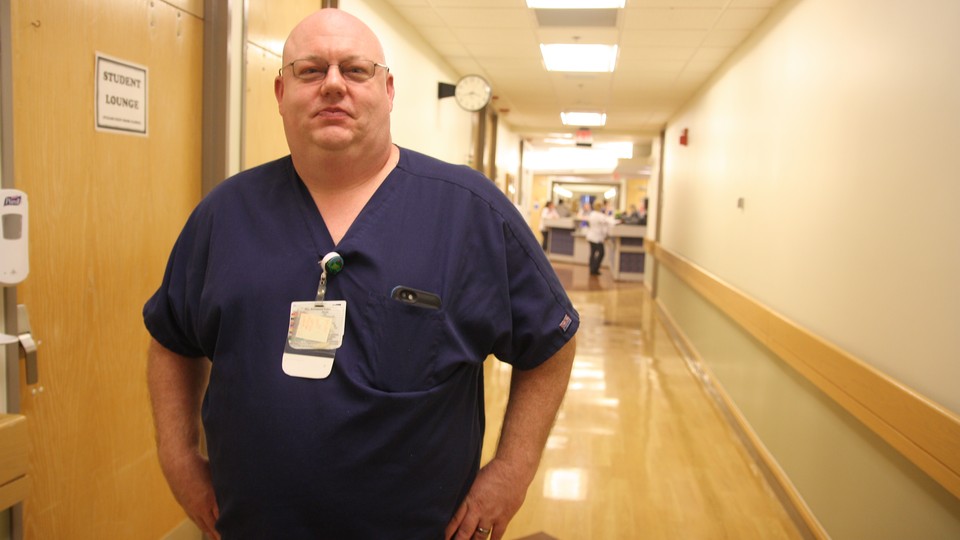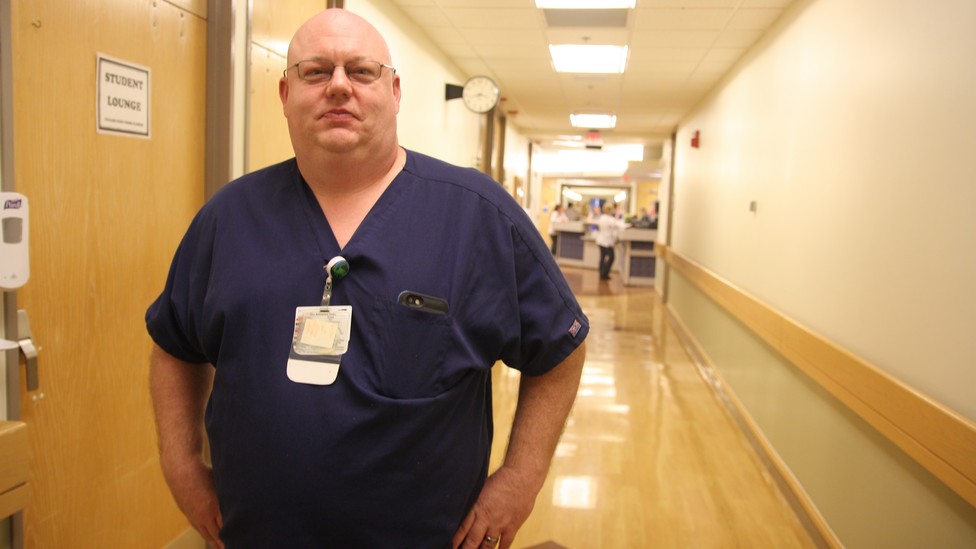 LUCASVILLE, Ohio—Before the scalpels, the forceps, and the surgical needles, Tom Jones knew steel. He was a quality technician in the fabrication shop at a handful of mills, most recently at AK Steel, where he worked in this economically depressed region of southern Ohio until his employer laid off more than 600 people.
Casting about for a way to support his wife and two children, Jones decided to go back to school. He considered becoming a welder or an electrician, but wanted something different, more stable. So he settled on a program at the nearby Scioto County Career Technical Center that would train him to be a surgical technologist, someone who assists doctors during surgery.
"I read all this stuff that said the medical field is the only one that's not laying people off," Jones said, explaining his choice. I met him while he sat in school, one of two men in a classroom full of women, where he was wearing blue scrubs and a camouflage baseball cap. He said it was a little strange to be among so many women, but it was something he felt he had to do. He said, "It comes to a point where, most of the people like I know like me, you go, you get a job and support your family."
Many men in parts of the Midwest have flailed as manufacturing jobs have disappeared, but it doesn't have to be that way. A growing group of men are deciding that to work and support their families, they have to embrace new fields, such as health care. More younger men are entering nursing, one of the most gendered professions there is, than once did. According to data provided by the American Nurses Association, men make up 6.2 percent of nurses licensed before 2000, but 9.6 percent of nurses licensed in 2000 or later. (That number still seems small, but change takes time; the share of medical degrees earned by women, for example, increased from 5 percent in 1952 to 48 percent in 2011.)
Throughout regions of the country like southern Ohio, manufacturing jobs have vanished, while work in health care is booming. In 1995, the top four employers in Ohio were General Motors (which employed 63,400 people), Ford, Kroger, and General Electric, according to Edward Hill, a professor at the Ohio State University and the head of the Ohio Manufacturing Institute. In 2016, the top four employers were the Cleveland Clinic (which employed 48,200), Walmart, Kroger, and Mercy Health. Service-sector jobs like those at Walmart are generally low-paying, so for people who want to make more than the minimum wage, the most logical place to go would be in health care.
Yet it can be a challenge to get men into healthcare, a field that has long been dominated by women. This is partly because of the perception that jobs that require caring for and tending to others are "women's work." It's also because many of these jobs, such as home health aides, for example, don't pay very well, and don't appeal to men who had once made a good living in other industries. And some health-care jobs require a certain level of education and math and science skills, which some men who had worked in other industries no longer have or never fully developed. "Blue-collar workers often don't have the academic background" to enter many medical professions, Paula Boley, the dean of Rhodes State College, in Lima, Ohio, told me. To get into many medical-training programs at Rhodes State, for instance, students need a certain GPA and to have received a C or higher in anatomy.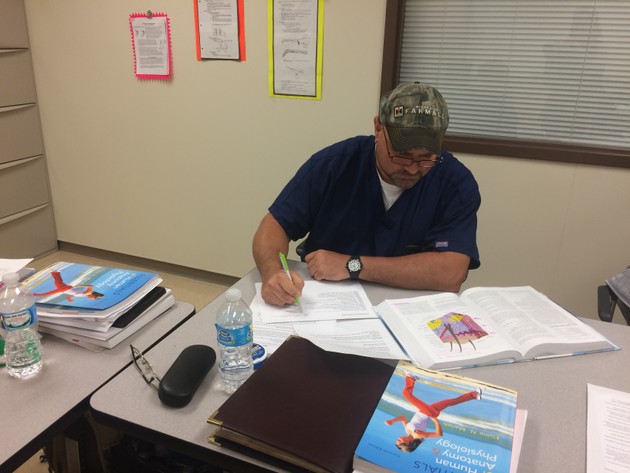 For a long time, researchers found that the men who entered predominantly female professions tended to be those who were disadvantaged in the labor market: They were less educated, and often black or Hispanic. But it's possible that, as white men see their employment options shrink in number, more of them are entering into health care and other predominantly female fields. Such men previously had other options: They could enter other manufacturing or construction or mining jobs. Now, there are fewer such options: In Ohio, for example, there are 14 percent fewer mining and logging jobs now than there were in 2000, 12 percent fewer construction jobs than in 2000, and 33 percent fewer manufacturing jobs, according to data from the Bureau of Labor Statistics (BLS). The number of jobs in the field of health care and social assistance, on the other hand, has increased by 38 percent since 2000. And it's (the mostly white) men who formerly worked in manufacturing who get government subsidies to go back to school when their factories shut down.
Janette Dill, a sociology professor at the University of Akron, has found that men gravitate towards a certain kind of health-care job, avoiding the patient-centric kind of work that has traditionally been classified as female— jobs such as home health aides or nursing assistants. Instead, men tend to go work as surgical technologists, radiology technicians, and respiratory therapists. These are jobs that are new enough that they haven't yet been defined as "women's" work, Dill said.
These jobs are often portrayed as being technical, rather than nurturing. "There's not that stigma around this kind of work," she told me. In 1996, according to Dill, 16 percent of these types of jobs were held by men, but by 2008, that number had risen to 26 percent. The BLS has up-to-date numbers on some such jobs. Its data shows that while in 2016 there were a much greater share of women than men in most health-care support jobs, some occupations had a significant share of men. Men made up almost one-third of technicians in clinical labs, and 35 percent of what the BLS calls "miscellaneous" health technicians.
Yet not all of these jobs that some men are moving into pay all that well, according to Patricia A. Roos, a sociologist at Rutgers. Many of these men don't have the educational background to go into higher-paid jobs in the health-care field, she said. Tom Jones, for instance, told me that he was going to have to take a pay cut when he started working as a surgical technologist. But lower pay is better than no job at all, he said.
Men who enter into lower-paid professions have a foil in the women who are entering more and more fields that were once dominated by males, Roos has found. More women are now optometrists, veterinarians, and dentists, for example. "Women are more educated, and moving into more professional jobs, managerial jobs, into health-sector occupations," she said. "That's a very different picture of what's happening to men."
That said, it's not unheard of for men to make the transition to a higher-paying job in a traditionally feminine occupation like nursing. I talked to some men in Ohio who went back to school while working in manufacturing, to prepare for a possible career change. They include Marshall Wayne Wilburn, who's now 44. He's a vascular nurse, meaning he places IVs and tubes into patients whose veins might be difficult to find. Wilburn began his post-high-school life as a pipefitter, moved into construction, and then settled into a job at a cabinet manufacturer. He worked his way up at the cabinet factory, from a hand-sander to working in the quality-control department, eventually making around $45,000 a year, enough to support his wife and three children in the Chillicothe area.
Then, an outside company came in and bought the cabinet manufacturer, and started making changes that made Wilburn worried about his future. "Once I saw the changes that were happening, it made it real to me, that hey, this was something that could go away pretty quickly," he told me. He told his wife that he saw things changing, and remembers her saying, "Well, what do we want to do about it? Are we going to wait for it to force us into something, or are we going to do it on our own terms?" He looked around for a more stable job, and, after reading about upcoming nursing shortage, decided to go back to school for nursing, for 10 months working at the cabinet factory at the same time. Friends at the factory gave him a hard time, he said, and the schoolwork was difficult, but he was determined to finish. "Kids kind of get used to eating," he joked. "Failing was not an option."
Now, he said, he still runs into some of the guys from the factory, which has since shut down. Many of them aren't currently working. He's relieved he got out when he still could, and put in the work to make a health-care job possible. He makes a good living as a nurse; he has been able to remain his household's primary earner. (His wife works in retail.)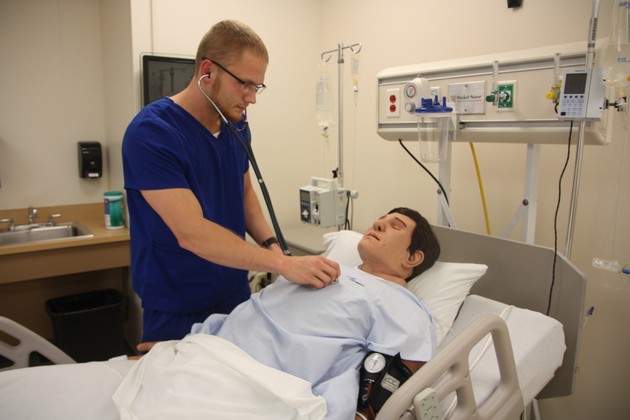 More generally, though, the nursing profession has still been slow to change. Only 10 percent of registered nurses are men, according to BLS data. Not all men are like Wilburn or Jones, willing to leave blue-collar work behind for jobs in health care. Still, it's possible that this will change with members of the younger generation, who might attach less stigma to entering traditionally feminine occupations, and who understand that many good job opportunities lie in health care.  "I think for people, especially who come from a working-class background, who would have gone into a factory job, those jobs are just not available, and so more people are turning to the health-care sector as an alternative," Dill, of the University of Akron, said.
After all, data suggests that that trend may continue, as younger adult men are showing themselves to be more open to shaking up traditional gender roles than were previous generations. A 2015 study, for example, showed that 82.5 percent of men ages 18 to 32 without a college education preferred an egalitarian relationship structure, in which both partners contribute equally to earning and caregiving. Being open to non-traditional relationships, in which men and women contribute equally in the workplace and at home, may mean that men prioritize home life more, which means they'll look for jobs that have more flexibility and good pay—features of many health-care jobs.
In Ohio, for example, I talked to a 33-year-old named John Gibson who had worked as a tree trimmer for 13 years, and is now a nurse. Explaining his decision to enter nursing, he said, "I wanted to be able, when my son's older, to go play with him and do stuff with him." Gibson's father was a mechanic, and the job took a toll on his body; Gibson was noticing the same thing happening to him from his work trimming trees. Gibson, who served in the Army Reserves and has a tattoo of an American flag and a soldier's dog tags on his right arm, said he sometimes gets teased from friends who call him a sissy for entering nursing, but that he wanted something that was physically easier than tree-trimming, and that nursing fit the bill. Besides, he said, "It's extremely easy to find a job."
Another nursing student I talked to, a 21-year-old named Kody Miller, first went into his father's heating-and-air-conditioning company after high school, but didn't like being on the road frequently. That job was physically demanding too, he said: "I don't want to be crawling in crawl spaces and rolling around in insulation and stuff my whole life." The jobs available to him outside the health-care field had long hours away from home, too. His brother is in the ironworkers' union, and is away most of the week and has to work overtime on the weekends. But, he said, "You're always going to have a job in health-care, and you can work whenever you want."
Both Gibson and Miller said that being a young man in nursing could lead to some confusing situations: Women who are giving birth sometimes don't want male nursing students in the room, they said, and patients often assume a male nurse is a doctor. But neither were particularly bothered by having a job stereotyped as women's work. "People think that ... if you are a guy that goes in[to nursing], it's kind of like you don't know how to do anything with your hands," Miller told me. "But I can rebuild an engine in a car. I'm a certified welder. I've done heating and air. I've worked on an assembly line. And I do all my own mechanic work and stuff myself."
Even if other men can't navigate the health-care field with the same ease as Gibson and Miller, it's likely that more of them will start to anyway. As their options shrink, they may find that doing jobs traditionally done by women is more appealing than not having a job at all.