No Movie Could Capture the Crazy Details of Bernie Madoff's Story
Subtlety—a key ingredient of a successful fraud scheme—doesn't make for good drama.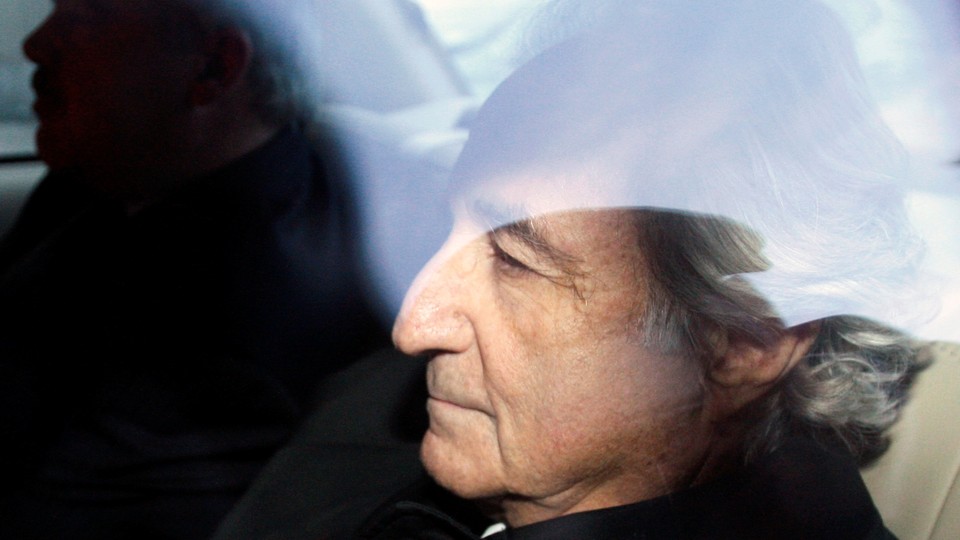 Bernie Madoff is back, nearly a decade after his arrest for the largest known financial fraud in history. An HBO movie, The Wizard of Lies, starring Robert De Niro, premieres on Saturday, and Madoff, an earlier ABC miniseries starring Richard Dreyfuss, have catapulted the preeminent Ponzi schemer into the limelight again, even as lawsuits to recover his investors' losses continue to grind on in the courts.
It's fitting that Madoff is played by such skilled actors as De Niro and Dreyfuss, both of whom have won Academy Awards: Madoff, who has been serving a 150-year sentence since 2009 for bilking thousands of investors in a Ponzi scheme, was himself a gifted actor, whose special talent for lying enabled him to bamboozle the naive and sophisticated alike.
The Hollywood versions concentrate on how Madoff's crimes impacted his family members, who were burdened by the presumption that they must have known about the fraud. One son, Mark, hanged himself on the second anniversary of his father's arrest; the other son, Andrew, died of cancer in 2014. Madoff's wife, Ruth (played by Michelle Pfeiffer on HBO and Blythe Danner on ABC), was vilified and harassed for years. In both on-screen retellings, the family angle understandably generates more drama and pathos than Madoff's bland business machinations.
But the specifics of Madoff's fraud highlight how the portrayal of a coldly conducted business crime on television or film can result in a narrative that obscures, in Madoff's case, what allowed his misdeeds to go undetected for so long. What the HBO film and ABC TV show fail to fully capture is Madoff's painstakingly acquired reputation, his studied use of secrecy and, above all, his ability to lie persuasively. We speak from experience, as lawyers who represented two of Madoff's former employees in an almost six-month-long federal district-court trial that generated nearly 12,000 pages of transcripts, and met with Madoff in prison as part of our preparation for it. That the Madoff employees convicted after trial ultimately received sentences far shorter than the government was seeking stemmed in no small part from just how capable Madoff was at concealing his fraud, as the judge pointed out during sentencing.
The shortcomings of these dramatizations are likely not the fault of unimaginative writers; it's hard for any actor to portray a clean regulatory record of more than 40 years, or how Madoff's role as a pioneer in electronic and after-hours trading enhanced his credibility. Madoff became the chairman of Nasdaq, and his firm's trading volume at one point equaled nine percent of the New York Stock Exchange. One former employee described Madoff as a "higher being, like God." Madoff's gradual accumulation of trust and gravitas helps answer the enduring mystery of his scandal: how he got away with his crimes for decades. The Securities and Exchange Commission (SEC) thought so highly of Madoff that, according to a witness's testimony at his former employees' trial, it sent its own interns to his firm to learn from him. SEC examiners even left a briefcase overnight during an audit, apparently unconcerned that Madoff might rifle through it for clues to beat the audit, which is exactly what he did, according to testimony.
Apart from how Madoff used his own stature to evade scrutiny, it's difficult to recreate the culture of secrecy that existed at his firm. The fictional versions do show how the Ponzi-scheme operations were walled off on a separate floor of Madoff Securities, but there were other important components of his covertness that are largely ignored. Investors, for example, were careful not to reveal their privileged status as Madoff investors, and employees were instructed to stay mum about their work. Madoff used this to cultivate his own mystique, but also to fend off outside auditors, insisting that he needed to protect the secret sauce of his investing strategies. Even business emails were verboten in parts of the firm. This rule was adhered to so closely that very few emails from anyone at Madoff Securities were introduced at the trial of five employees as evidence of the fraud—something almost unheard of in contemporary white-collar criminal cases.
Unlike Madoff's sons and wife, about whose knowledge of the crimes the dramatizations seem agnostic, both the HBO and ABC productions make it seem as if Madoff's chief lieutenant, Frank DiPascali, was in on the Ponzi scheme. But that's disputed. In fact, DiPascali, who was on the witness stand for almost a month, seemingly convinced prosecutors that he was in the dark about the scheme until close to the end, and that he knew only about a more limited fraud involving bogus investment-advisory trades. DiPascali (who's played with crude glee by Hank Azaria in The Wizard of Lies) died of cancer shortly after the trial but before he could be sentenced. He was one of six prosecution witnesses who pled guilty. None of those witnesses was sentenced to prison, and lenient sentences were meted out to several of Madoff's employees who were convicted, in part because the judge found that while they eventually became aware of, or consciously avoided knowing about, unkosher activity afoot, they did not know about the larger scheme. After all, it would be just about impossible to keep a huge fraud going for decades if even a few people knew a lot about it.
Though it may not have been the directors' intention, the shots of Madoff's investment-advisory employees scurrying around a scuzzy office two floors below the sleek, high-end proprietary trading floor make it seem as if those employees were explicitly hired to commit fraud by, for example, backdating trades. But often, these employees didn't grasp that what they were participating in was forbidden. The backdating of trades at Madoff Securities apparently began as far back as the 1970s. Several employees with meager schooling and training, who were not prosecuted and who were too colorless for any movie or miniseries, testified for the prosecution that backdating seemed normal to them because it was all they ever knew. Madoff's Ponzi scheme may seem obvious in retrospect, but it took a certified fraud examiner with a staff of 60 some 38,000 hours to fully analyze Madoff's books and records.
In addition to falling short on the secretive and trust-inducing components of Madoff's character, celluloid substitutes can't duplicate with nuanced accuracy how persuasive he could be. De Niro and Dreyfuss do a good job of conveying Madoff's ability to seduce investors through feigned indifference to taking their money, but surprisingly, one of the anecdotes that best typifies Madoff's persuasiveness never made it onto the screen. Two years before his scheme collapsed, Madoff was subpoenaed to testify before regulators. Disarmingly, he showed up at the SEC without any lawyers, and proceeded to thread his way through a minefield of questions from its attorneys, discoursing with great élan on a hopelessly convoluted investment model, one he called "MA.206," that didn't even exist. He assured the regulators that he obeyed all SEC rules, because of course anyone who didn't would quickly be caught. It was a stellar performance that apparently captivated the SEC lawyers, who asked few follow-up questions, as a transcript that was entered as evidence at the former Madoff employees' trial shows.
In our prison interactions with him, we experienced firsthand Madoff's dazzling command of the securities business he'd built up over nearly a half-century, which he conveyed in a reserved manner, patiently and earnestly—a far cry from the stereotypical smooth-talking huckster. Under other circumstances, we, too, might have invested with him (or with some new Madoff: According to the website Ponzitracker, about 60 new American Ponzi schemes, with $2.4 billion in combined losses, were uncovered last year alone).
To their credit, both Madoff biopics place significant blame on lax regulators who, in hindsight, did make glaring mistakes. (The SEC did not respond to a request for comment for this article.) As the former SEC official Norm Champ argues in a just-published memoir of his work at the agency, broader dysfunction within the organization hindered proper follow-through. The most stunning lapse is captured in both dramatizations. At one point an SEC auditor asks Madoff for his firm's "DTC number." If the investigator had called the Depository Trust Corporation, he would have learned that Madoff's investment-advisory account had no securities on deposit. The fraud would have ended years earlier, but that one phone call was never made (probably because the investigator found the prospect of Madoff as a Ponzi schemer inconceivable). Eventually, Madoff's fraud ended on its own, the way all Ponzi schemes end: It ran out of money. After the economic downturn in 2008, Madoff no longer had enough money from new investors to make payouts to earlier ones.
Yet, despite $17 billion in actual losses (about $11 billion of which have been recovered) and $65 billion in paper losses (that is, the original investments plus the earnings they might have accumulated had they not been invested in the scheme), only minor disciplinary sanctions were meted out to eight SEC employees stemming from their failed investigations of Madoff. Anyone watching either The Wizard of Lies or Madoff will not see any SEC personnel losing their jobs over their missteps because, in fact, nobody was ever fired. Their bosses understood what the scale of his crimes makes manifest, and what the cinematic efforts don't fully underscore: that Bernie Madoff was no ordinary crook.