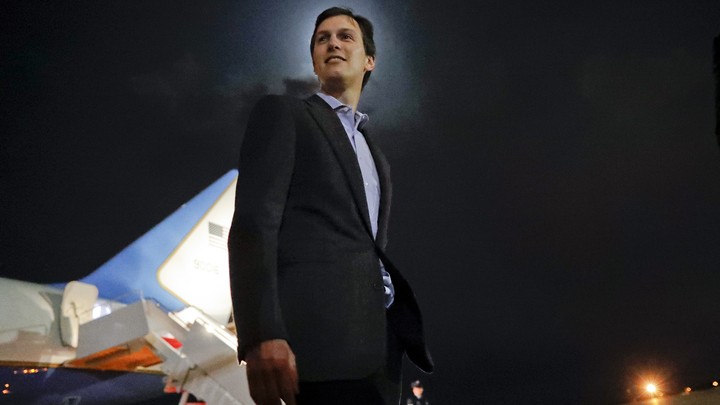 It's difficult to overstate just how unusual Jared Kushner's role in the American government is. Since becoming a senior adviser to his father-in-law, President Donald Trump, the 36-year-old has—despite having no prior government experience—been put in charge of an ever-expanding policy portfolio, ranging from restructuring the federal government to resolving the conflicts between Israel and Palestine to acting as the liaison between the administration and the Chinese government.
As with many members of Trump's inner circle, Kushner oversees another portfolio, too. Just like his father-in-law, Kushner first rose to prominence as the heir to an international real-estate empire—and, just as the president's insufficient efforts to distance himself from the Trump Organization has generated a long list of conflicts of interest, ethics experts have expressed concern that Kushner's ongoing relationship with his own family's business will undermine his ability to carry out his duties.
Of particular note in this regard have been the ties the family business, Kushner Companies, has to China, including a partnership with the Chinese state-owned bank Anbang on a building in Manhattan. Though that deal fell through in April, the underlying questions resurfaced over the weekend thanks to a pitch by Kushner's sister in a Beijing ballroom. Speaking at a public event at a Ritz-Carlton hotel, Nicole Kushner Meyer stressed to attendees that, by buying into the family's luxury apartment complex in New Jersey, investors would be able to fast-track their immigration to the United States.
Ostensibly, Meyer—and brochures touting the opportunity to "Invest $500,000 and immigrate to the United States"—was referring only to the EB-5 immigrant investor visa program, which offers an efficient pathway into the country for "alien entrepreneurs" with at least a $500,000 stake in a for-profit commercial enterprise in the U.S. Nevertheless, there are numerous suggestions that the appeal was also designed to reach those who saw the Kushners' connection to the Trump administration as a possible advantage. For instance, a slideshow accompanying the presentation highlighted "key decision-makers" on the EB-5 program, including Senators Chuck Grassley and Patrick Leahy, the chairman and ranking member of the Senate Judiciary Committee, respectively, and, of course, President Trump—the implication being that, as president, Trump has ultimate authority over the fate of America's policy toward immigration generally and the EB-5 program specifically. According to The Washington Post, other materials present "noted the Kushner family's 'celebrity' status," and at least one attendee "said the Kushner family's ties to Trump were an obvious part of the project's appeal."
Kushner Companies has since apologized for creating the impression that they were trading on their connections to the president. Still, their timing in invoking EB-5 visas couldn't have been better. Though Congress has made overtures toward curtailing the program, leading one speaker at the Beijing event to warn attendees that they should invest soon lest the rules change, the federal government extended the EB-5 program the day before the pitch session, but only temporarily. Meanwhile, Trump's personal stance is unclear: Though he has already reduced the availability of some visas, such as the H-1B, one commonly used for skilled workers by the tech industry, he's also personally profited from the EB-5 program, which his company has used to generate foreign investments in numerous properties. That uncertainty plays into the kind of "buy-now" investment pitch Kushner Companies was making; the program may be here today, but could disappear with the next spending bill, unless a certain somebody talks the president into pushing for its reauthorization.
Regardless of whether Meyer strategically invoked the president in her presentation, the incident highlights the ethical quandaries inherent in the Trump administration's unprecedented mingling of family, politics, and business. To begin with, Kushner is the first family member to serve in the White House since John F. Kennedy appointed his brother Robert attorney general in 1961. Backlash to that appointment—and Lyndon Johnson's long-held animosity toward the younger Kennedy—led Congress to pass anti-nepotism laws in 1967; Kushner had to receive special dispensation from the Department of Justice in order to take his current position. In China, though, Kushner's combination of business and government fits a mold: Scions of wealthy Chinese businesspeople and government officials, sometimes called "fuerdai," often use familial connections to become power brokers. Kushner may not be trying to do so, but he certainly embodies an archetype that Chinese investors will easily recognize, and that his company could easily exploit.
Also prompting concerns about nepotism is Ivanka Trump, Jared's wife and the president's eldest daughter. On top of the fact that Ivanka, like her husband, received the role of presidential adviser despite having no government experience, her business holdings have also become increasingly controversial in recent weeks. In April, news that the first daughter applied for and received several trademarks in China drew comparisons to her father doing the same in February. Then, The Washington Post reported on dozens of violations of international labor laws at Chinese factories working on products for Ivanka's brand. Both cases prompted speculation that the Chinese government may be attempting to curry favor with the president's daughter, the former through undue rewards and the latter through lax enforcement that enables the factory to operate despite substandard working conditions.
The recent release of Ivanka's memoir, Women Who Work, has generated its own ethics missteps. Less than two weeks after the State Department's Bureau of International Information Programs deleted an article that appeared to be advertising Mar-a-Lago, the president's estate in Palm Beach, Florida, the government-funded news outlet Voice of America republished a piece from the Associated Press touting Ivanka's new book. In a similar incident, another branch of the State Department, the Office of Global Women's Issues, retweeted, then deleted, one of Ivanka's posts about her book. All of these contribute to the perception that the Trumps are treating the presidency as a for-profit enterprise, driving up the value of their brand on the product-placement opportunities the White House provides.
Arguably, Ivanka shouldn't even have been promoting her book in the first place. A federal ethics law states that "An employee shall not use his public office for his own private gain, [or] for the endorsement of any product, service or enterprise." The Trump administration appears to have violated that law twice, once when Kellyanne Conway provided what she herself dubbed "a free commercial" for Ivanka Trump's brand on national television and once when Treasury Secretary Steven Mnuchin plugged The LEGO Batman Movie, which he executive-produced, in an interview. Under previous administrations, which were significantly more circumspect about such rules, it's likely that Ivanka or another employee in her position would have been more press-shy; for instance, Michael Punke, an Obama-era trade official, wouldn't publicly mention his book The Revenant (or the Oscar-winning film into which it was adapted) lest he appear to be using his position for personal gain.
Indeed, it's difficult to separate the appeal of Ivanka's book from the cachet of her political position. Her rise to the role of adviser to the president ties in nicely with the memoir, which purports to document the values that women must pursue to achieve success (even if it conveniently elides the importance of inherited wealth and power in her own narrative). Just as her father's presidency makes Mar-a-Lago notable enough to merit an article on a State Department website, Ivanka's role in the White House renders her book much more culturally relevant. Even Ivanka's decision to cancel her book tour in a purported effort to comply with ethics rules received significant attention, which may not replicate the impact of a book tour itself but at least helped keep the book in national headlines.
There are, of course, ways that the Trump administration could circumvent these problems. Like the president, both Ivanka and Jared have set up trusts that will ostensibly help them avoid conflicts of interest, but ethics experts are unsatisfied: As long as Ivanka and Jared know about and are still profiting from their assets, a trust does little to meaningfully resolve ethical problems. Actual compliance with ethics laws would likely require  to form actual blind trusts—that is, selling off their holdings and putting a disinterested trustee in charge of reinvesting the resulting money without the trustor's knowledge. On the other side of the conflict-of-interest equation, they could just recuse themselves from their roles within the administration, thus ensuring that their financial interests don't become entangled in matters of national policy.
According to The Washington Post, public-relations officials at the Kushner Companies sales pitch in Beijing attempted to hurry reporters out of the room, stating, "This is not the story we want." Though that very well may be the case, the simple fact is that as long as Jared Kushner and Ivanka remain part of the Trump administration and keep up their connections to private ventures, intense scrutiny of the ways they mix business and governance will likely be the story they get.
We want to hear what you think about this article. Submit a letter to the editor or write to letters@theatlantic.com.