Taking Stock of Yahoo in Its Final Days as a Public Company
Its deal with Verizon is set to close in June, but will the acquisition help salvage the company's struggling core business?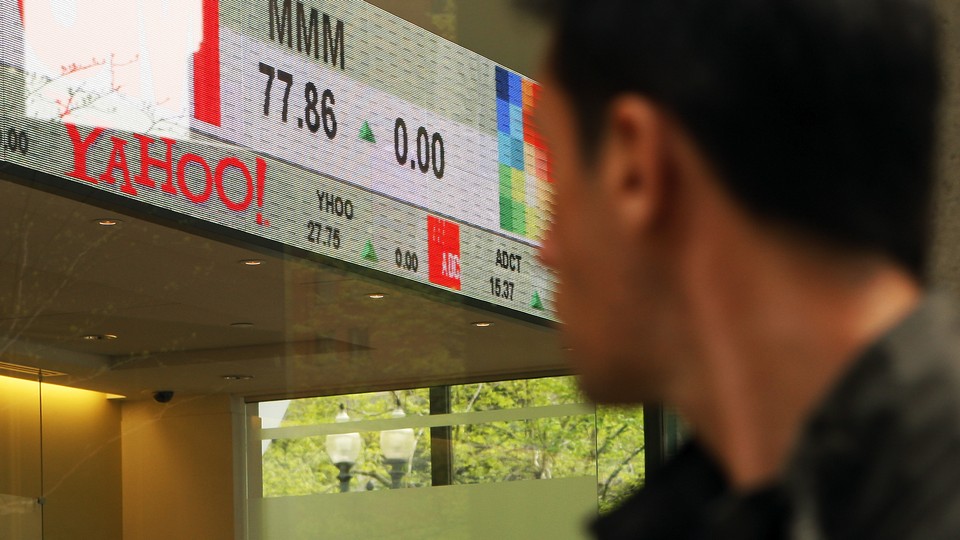 After 21 years on the open market, it's likely that Yahoo will soon no longer be a publicly traded company. On Tuesday, Marissa Mayer, Yahoo's CEO, issued a statement marking Yahoo's "final quarter as an independent company" that accompanied what is set to be its last public quarterly earnings report. The company's revenue for the first quarter of 2017, at $834 million, was slightly better than analysts expected, which some have taken as an indication of the beleaguered company's remaining potential.
Last year, Yahoo announced that it would sell its core internet business—its search engine and websites—to Verizon, and that $4.5 billion deal will close in June. Verizon's plan is to combine Yahoo with AOL and use the two struggling internet pioneers to strengthen Verizon's push into mobile and video ad sales. The resulting company, which will be called Oath, will reportedly be run by Tim Armstrong, the current CEO of AOL. (Mayer will step down from Yahoo's board of directors once the deal closes.)
Yahoo's core business has been struggling for years as it lost ground to competitors like Facebook and Google. As this happened, investors have been slowly writing off the company's core business, and Yahoo's corporate assets—stakes in Yahoo Japan and the Chinese e-commerce giant Alibaba that are worth nearly $45 billion—became crucial to the company's market value. Eventually, the market's valuation of Yahoo became more about its assets than its internet operations. At one point, factoring out its lucrative Alibaba and Yahoo Japan stakes, markets actually considered the core business to be worth less than $0—a notion that many analysts found absurd. Still, Yahoo's decision to sell off its original business to the highest bidder is a path struggling companies often take, as being acquired does bring some benefits. *
In recent years, many public companies facing uncertainty—including Blackberry and Dell—have also been acquired, and there's a chance that folding Yahoo's core business into a different company could help it. That's in part because turning around troubled companies can require dramatic, long-term change—something that's a tough sell for public companies catering to shareholders' short-term interests. There are drawbacks to being a private company—sometimes the new owners can be even more focused on short-term profits than the old ones—but there's lately been a trend of public companies going private again. Yahoo's core business will become part of Verizon, a publicly traded company, but it will only be a small part of Verizon's $200 billion telecommunication business.
Yahoo's acquisition has not been without incident. The deal was renegotiated after Yahoo disclosed last December that more than a billion of its users' accounts were compromised in 2013, the largest data breach in history. After conducting some studies that indicated its reputation wasn't damaged beyond repair, Verizon decided to stick with the deal but lowered its original offer by $350 million. Meanwhile, Yahoo's stakes in Yahoo Japan and the Chinese e-commerce giant Alibaba are being spun off into a company called Altaba—an upgrade from "RemainCo," a nickname that took off because the assets were so substantial.
---
*
This article originally misstated that Yahoo is going private; in fact, its core business is being acquired by Verizon, a public company, and Yahoo's assets will be spun off into the entity Altbaba, which is private. We regret the error.