Why Airlines Can Get Away With Bad Customer Service
As much as other types of companies might want to ignore their lowest-margin patrons, most don't have that luxury.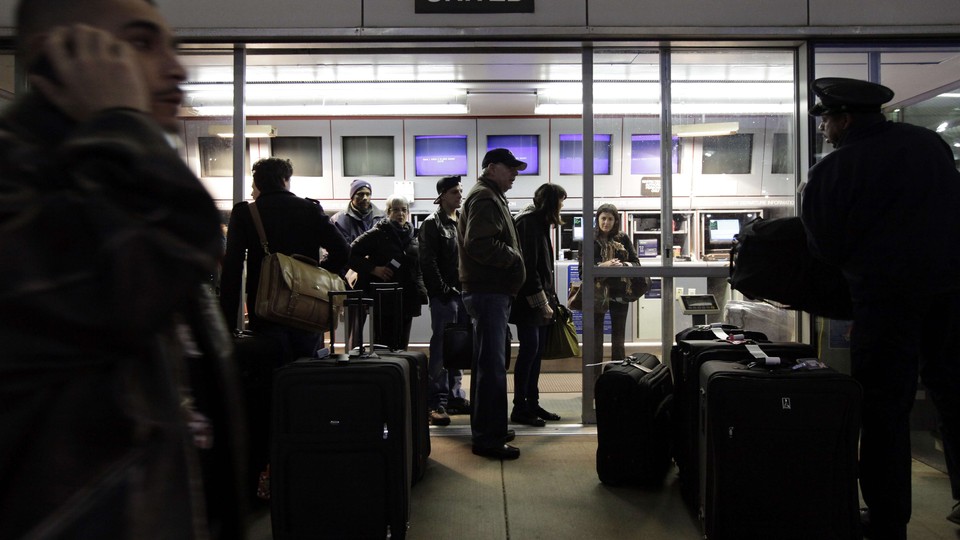 A security guard stops a customer as she tries to enter a well-stocked aisle in a large department store. "Sorry, ma'am," the guard says. "This sale is for our silver, gold, and platinum shoppers only." He points her toward the meager discount corner at the back of the store, where bronze-status shoppers are allowed. She passes attendants who smile only at the elite shoppers, offering them refreshments and guiding them toward the best deals. When she stops for gas on the way home, she gets in a long line for the basic pump, while the priority pump sits empty and unused. At the grocery store, she doesn't have enough points to approach the organic produce.
This beleaguered consumer lives in an alternate reality where businesses can discriminate between their high-value and low-value clientele at will, enticing the biggest spenders to stay while marginalizing bargain hunters and coupon cutters. Most companies couldn't get away with triaging their customers this way. But some already do: airlines.
This inequality is enshrined in frequent-flyer programs. They're not like typical rewards systems, which simply encourage loyalty with discounts. Instead, they create elaborate hierarchies, discriminating between platinum flyers and coach passengers in nearly every step of the air-travel experience, from booking to baggage claim.
These programs also help airlines gather data on their passengers. They track details like customers' favorite routes, the fares they pay, and extra services they buy, says John Strong, an aviation expert who teaches at William and Mary's business school.
David Dao, the doctor who was dragged from his seat on a United flight last weekend, was a victim of the airline's algorithm (and, of course, of security officers in Chicago, who left him with a concussion, a broken nose, and two missing teeth). United's contract of carriage, which lays out how the airline will treat its passengers, outlines how passengers might be "denied boarding involuntarily":
The priority of all other confirmed passengers may be determined based on a passenger's fare class, itinerary, status of frequent-flyer program membership, and the time in which the passenger presents him/herself for check-in without advanced seat assignment.
Dao was more likely to be chosen than others because he wasn't connecting to another flight, and based on the fact that the algorithm selected him, he probably didn't rank very highly in United's rewards program. Strong says a passenger's itinerary and his or her value as a customer are the main criteria an airline considers when picking who to bump from a flight. "While airlines have the information to create a more detailed pecking order, they don't go much beyond that in practice," Strong said.
Airlines can game out just how much each customer is worth, and treat them accordingly, said Joseph Turow, a professor of communications at the University of Pennsylvania. "Irrespective of any individual fare, they have this overarching notion of who their valued customers are, and what their lifetime value is," he said. "And because of the structure of the system, they can take advantage of it to the point of being mean to people."
Business travelers, who are less likely than leisure travelers to comparison-shop for airfare, reap the rewards of pricey, company-sponsored travel in the form of miles. They're pampered, while passengers in the back, who are more likely to have simply searched for the best deal, are left without many frills.
Giving priority to some isn't a practice unique to the airline industry, says Strong. "More valuable customers at brokerage houses get dedicated access communications and cheaper trades; hotels offer free wi-fi and other complimentary benefits to their best customers," he said. "Almost anyone who has a loyalty program differentiates benefits by the value of different groups of customers."
But the gap between coach and business class is particularly wide. That might partly stem from a lack of competition in the industry, which gives airlines a relatively large amount of control over their customers. Because of the disparity between premium and economy fares—and companies' willingness to buy expensive seats for their employees, sometimes at the last minute—airlines are mostly interested in luring business passengers. But as they attract those travelers with fancy perks, they provide the economy cabin with only the bare minimum.
One reason this is the status quo is that there's little budget passengers can do to avoid an airline they don't like. The big U.S. carriers have near-monopolies over air travel from many (though not all) major American airports, leaving price-sensitive travelers little choice when they fly. That makes boycotting a major airline nearly impossible, as Christopher Ingraham wrote in The Washington Post this week. And so carriers can get away with a lot more than, say, retailers or gas stations: If Nordstrom's starts treating its low-margin customers poorly, they'll just walk on over to Neiman Marcus, or Bloomingdale's, or Saks.
Those retailers can, however, discriminate between their high- and low-value customers more subtly. They might dole out coupons and discounts to encourage their "best" shoppers to keep coming back—and withhold them from the "bad" ones, like those who have a habit of returning items, or who buy things that don't make the company very much money. Online stores can do this more surreptitiously, by showing different shoppers different prices and ads, and nudging them toward—or away from—certain products and services.
One thing that might be warding off the platinum-sale alternate reality in these other industries is antitrust law. These regulations help keep retailers from forming huge, inescapable monopolies—the kind that United, Delta, American, and Southwest enjoy in parts of the country, thanks to lax regulation of the industry in recent years—and prevent them from deploying these airline-perfected tactics.
For now, Turow says, other industries "don't have nearly the ability to be as arrogant as the airlines are." They have to be quieter about their discriminatory tactics, and maintain a pleasant enough atmosphere that won't drive away their customers. "Whether this will ever change so they can get such a grip on people," Turow says, "I don't know." But as antitrust policies weaken—as they have over the past few decades—and monopolies grow in power and number, the distance between airlines and the rest of the business world might be in danger of shrinking.