The Toll of Wells Fargo's Account Scandal
The fallout has implications not just for the bank's reputation, but also for its bottom line.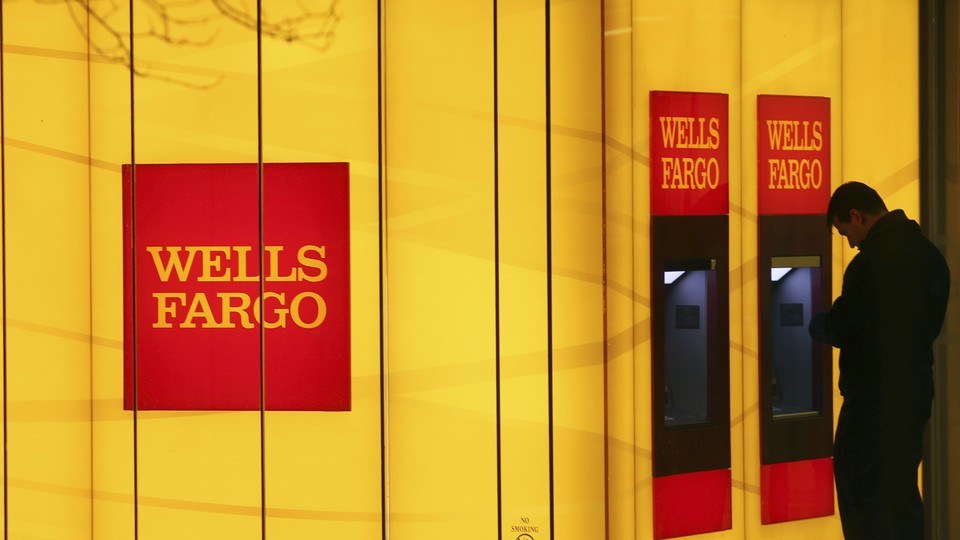 In general, buying a company's stock is a vote of confidence, something investors do when they think a company is poised for great, money-making things. But when a company executive buys stock, particularly amid a corporate meltdown, it is often an attempt at reassurance or damage control. Wells Fargo's top executives have recently made such a move.
On Monday, following the company's first-quarter earnings report and the release of a lengthy probe into the firm's notorious fake-account scandal, Wells Fargo's new CEO Tim Sloan, along with the company's chairman Stephen Sanger, bought more than $5 million of the company's stock. (Wells Fargo declined to comment for this article.) That might be because by many accounts, the first quarter earnings report showed that the company's recent scandals had in fact hit its bottom line. The company's profit was around $5.5 billion, showing no growth from the year prior, while net income at the Community Bank—the division responsible for the fake accounts—declined 9 percent. And revenues for the company dropped $200 million from the previous year, missing analysts' expectations. Fewer new credit cards were opened, too. Those are by no means apocalyptic declines, but for one of the largest and most successful banks in the country, flat or downward performance is notable, particularly as competitors including JP Morgan Chase and Citigroup posted much more robust growth.
With a shareholder meeting on the horizon, the company's CEO Tim Sloan struck an optimistic note in the statement accompanying the earnings report. "Wells Fargo continued to make meaningful progress in the first quarter in rebuilding trust with customers and other important stakeholders, while producing solid financial results," he wrote. But Sloan has also been forthcoming about the fact that the scandal has taken a toll, which helps to explain the first-quarter figures. "Of course it's having an impact on performance at the moment," he said during a conference call to discuss earnings according to The Los Angeles Times. "What we've been able to demonstrate historically ... is that we can work through those challenges."
And the bank has plenty of challenges to work through at the moment. This lackluster performance isn't especially surprising given the issues that have plagued the company over the past year. First there was the revelation that employees of Wells Fargo's Community Bank had created as many as 2 million fake accounts in order to meet sales quotas. Amid attempts to investigate and rectify that impropriety, the company's Community Reinvestment Act rating was downgraded, with the Office of the Comptroller of the Currency citing not only the fake accounts but also allegations of discriminatory practices as causes for the sliding grade.
Aside from reputational damage, the trouble has had actual hard costs, too. The company has been fined around $185 million, clawed back around $200 million in compensation, and will pay around $110 million to settle a class-action lawsuit related to the fake accounts. The firm reportedly spent around $80 million during the last quarter for outside professional services related to the fake-accounts scandal. And in that same conference call, the company's CFO said that he estimates Wells Fargo will have to shell out similar sums for fake-account-related costs for some time.
In October, shortly after the fake-accounts scandal became public, a consulting firm, cg42, put together a report on the anticipated fallout. By their estimates, the company stood to lose around 14 percent of its customers, who said they'd already decided to switch banks. And 30 percent of the Wells Fargo customers who were  surveyed reported shopping around for banking services elsewhere. That's despite the fact that the fake accounts reportedly affected fewer than 3 percent of customers. Altogether, the report estimated that Wells Fargo stood to lose around $99 billion in deposits and $4 billion in revenues within a year-and-a-half of the fake-accounts revelation.
While it's true that Wells Fargo's first-quarter earnings show that the company isn't invincible, Wells Fargo might actually be faring better than expected given its recent litany of shortcomings. The company's earnings actually (barely) beat analysts' expectations, at $1 per share versus an expectation of $0.96 per share. And during the first quarter of the year, Wells Fargo actually saw an increase in deposits, which grew by nearly $80 billion, or 7 percent from this same time in 2016. That may be because there is something to the customer loyalty that Tim Sloan has been so effusively thankful for in his corporate communications.
While nearly one-third of Wells Fargo clients may have told the consulting firm cg42 that they were actively shopping for other banking alternatives, some studies have shown that when it comes to actually switching banks, many Americans don't think it's actually worth the hassle. And despite Americans' growing distrust of Wall Street, some remain dubious that smaller community banks and credit unions can offer them the same convenience and services that mega banks do.
That reticence to jump ship may prove crucial for Wells Fargo, which still has a lot of work ahead when it comes to coping with litigation and public fallout from its fake accounts. In the near-term, the bank and its executives won't only have to convince regulators and customers that it can and will do better; it will also have to convince shareholders, who can call for board members to be replaced during the company's annual meeting later this month.