Can Wells Fargo Ever Make Amends?
The company is on an apology tour, but it will have to work on its problems even after the spotlight wanes.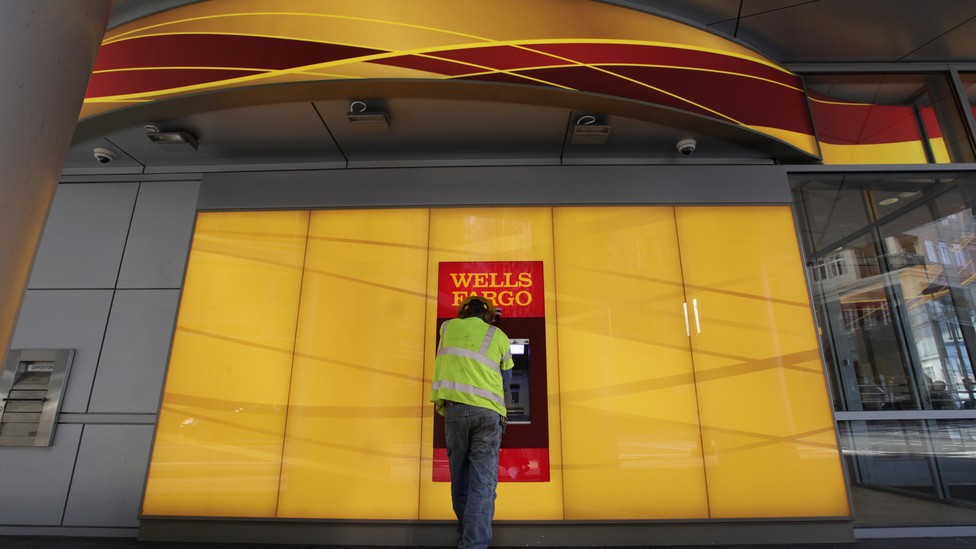 Wells Fargo wants the American public to know that it's really sorry. After the bank's leadership for years managed to miss the fact that its salespeople were opening up fake accounts in order to hit monthly sales goals, the bank has embarked on an apology tour of sorts, which includes greater transparency about how it plans to make it up to the customers it defrauded. The bank's new CEO, Tim Sloan, recently thanked customers for their loyalty, apologized for the scandal, and promised to work toward building a better bank in the future.
But will any of Wells Fargo's public-facing mea culpas ultimately do anything to prevent similar failures in the future?
So far, Wells Fargo has been fined around $185 million by the Consumer Financial Protection Bureau, the Office of the Comptroller of the Currency (OCC), and the city and county of Los Angeles (where many of the fake accounts were created). On Monday, the bank announced that an additional $75 million in compensation would be clawed back from Carrie Tolstedt, the executive at the helm of the division that created the fake accounts, and the company's former CEO, John Stumpf. That brings the total value of  actions against executives to nearly $200 million.
These headline-grabbing figures may be a start to proving that the bank is serious about making amends, but Kim Schoenholtz, the director of the Center for Global Economy and Business at NYU's Stern School of Business who studies, cautions against seeing financial penalties as a cure-all. After all, financial penalties are related to individual violations, but they often don't solve underlying issues. "There have been so many violations in recent years that have led to massive penalties on the part of firms that it tells me that the culture is not working," he says, suggesting that financial punishment can only do so much to induce better behavior.
In addition to the recently announced clawbacks, the bank released a 113-page independent report ordered by its board, which details the cultural and systemic failures that allowed around 2 million fake accounts to be created in customers' names, resulting in millions of dollars in fees and damaging some customers' credit scores. To put together a play-by-play of the fake-account scandal, an outside firm conducted 100 interviews with current and former employees, investigated firings, and reviewed internal documents.
The report's authors uncovered, among other things, the excessive pressure placed on salespeople by internally respected regional executives, such as one who would call branches multiple times a day to check in on innocently named sales campaigns such as "Jump into January," which gave way to "Fly Into February," and so on. Ultimately, the investigators found a pattern of corner-cutting and unethical behavior in the division responsible for the fraudulent accounts, Well's Fargo's Community Bank.
The report concludes that the fake-account scandal had three main causes: unsustainable sales goals that had flawed incentives, a decentralized corporate structure that made it easier for entire divisions to get away with problematic behavior, and an office culture shaped by senior executives who were hesitant to take problems seriously or say anything that might attract criticism.
The combination of those factors made for fertile ground for misconduct. "The rewards to misbehavior can be enormous and the ability to conceal it can be extensive," says Schoenholtz. "It's particularly difficult to detect if the management of the institutions themselves isn't focused on making sure it's exposed."
Anytime there's a financial scandal of this magnitude, Schoenholtz says, it's a regulatory failure as well, since risk systems didn't prevent it and oversight didn't catch it. To help prevent such problems in the future, he says encouraging disclosure and protecting whistleblowers are both crucial. Also important is creating a better incentive system: He suggests that regulators require companies to hold back bonuses and various other benefits not just for a year or two (as is customary now), but for extended periods of time, so that if a scandal arises, eligibility for those rewards can immediately be rescinded. "We need to make sure that compensation in any one year is related to the long haul, the long term, based on many years of contributions that have proven to be viable," he says.
Wells Fargo has undertaken a number of other measures in an attempt to right the wrongs of its fake-accounts scandal. Stumpf and Tolstedt both stepped down toward the end of 2016, and more than 5,000 employees related to the fake accounts have been laid off. Recently, the bank announced that it would pay $110 million to settle a class-action lawsuit related to the scandal. The bank has instituted some internal changes too: It has created an Office of Ethics, Oversight, and Integrity to handle complaints from employees and to monitor sales practices. It has also eliminated sales goals.
All of these seem like moves in the right direction, but, in addition to the fake-account scandal, Wells Fargo may still have deeper problems that will be harder to solve. A recent paper published by the National Bureau of Economic Research found that Wells Fargo was one of the firms most likely to punish female financial advisors much more harshly for misconduct than their male peers. A spokesperson for the bank questioned the finding, saying, "We believe there are substantial issues with the authors' methodology and the variables that underpin the study, and that its findings and conclusions are grossly distorted. We also note that the study has not been peer reviewed."
Additionally, a recently released report from the OCC that covers the years 2009 through 2012 resulted in a downgrade in the bank's Community Reinvestment Act rating, which determines whether or not banks are successfully serving their communities, particularly low-income households. The OCC originally ranked the bank as "outstanding" when it came to the primary lending test (which determines whether or not it is meeting the credit needs of the community), but then reduced the bank's rating to "needs improvement" on account of several lawsuits and settlements, which included some allegations of discriminatory lending practices related to pregnant women and minorities.
Responding to the report, a spokesperson for the bank wrote, "We take the issues cited by the OCC—some of which involved industry-wide matters—very seriously and have gone above and beyond to solve them. There are no new findings or instances of [as the report states] 'discriminatory and illegal credit practices' that we have not previously disclosed, and we have been transparent about them with extensive public disclosure and discussion." Since the report was issued, the bank has announced that it will provide $60 billion in loans in hopes of increasing the number of black homeowners by 250,000 over the next decade.
While these problems certainly aren't unique to Wells Fargo, they may point to just how big of a challenge the bank may have on its hands when it comes to reframing culture and bank priorities in the future. Susan Ochs, a senior fellow at the left-leaning New America Foundation, argues that while replacing the CEO and the head of the community-banking division are important to reframing the bank's culture, there's much more that will need to be done. "Tone from the top is incredibly important, but it is only the first step," she says. "Wells Fargo had this allegedly great culture, and this very articulate values statement and mission statement, but unless you are making sure that stuff trickles throughout the organization, it's not doing you any good."
Ochs points out that it can be difficult to track improvements in company culture, especially from the outside looking in. To a certain extent, that means that going forward, customers will have to trust Wells Fargo to be transparent about not just its own progress, but any of its shortcomings, too.