How to Think About Walmart
Last week, four economics experts publicly debated whether the retailer represents the best capitalism has to offer, or the worst.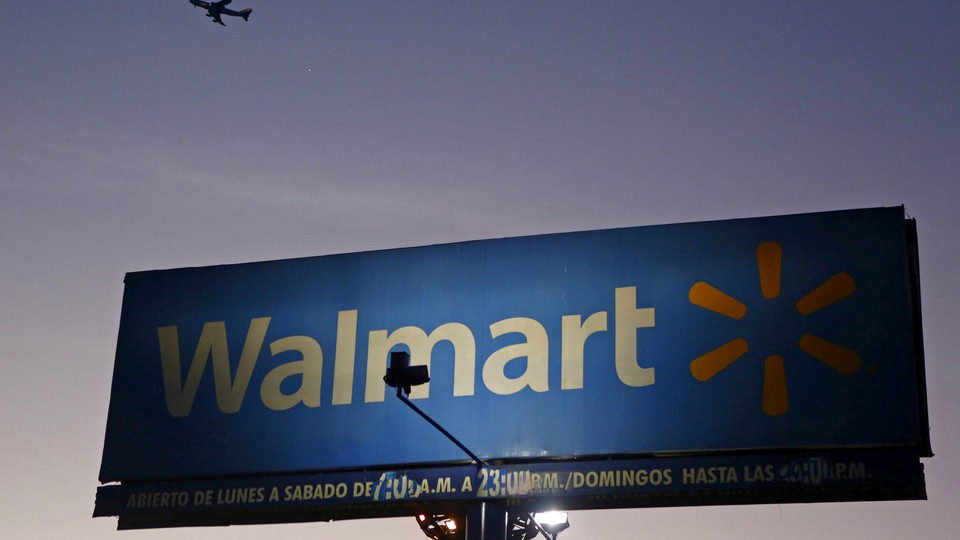 In recent decades, Walmart has come to represent the epitome of capitalist success: The company's founder, Sam Walton of Oklahoma, was a self-made billionaire and a retail pioneer who built his business on rock-bottom prices.
But for many of Walmart's workers, the company illuminates the darker side of capitalism: The company does nearly $500 billion in worldwide sales each year, but its low prices are made possible by cheap, overseas production and hourly workers' paltry pay. Walmart is the largest private employer in the U.S. About 1.5 million Americans work for the company, which is equivalent to roughly 1 percent of the U.S. workforce. In fact, the only larger American employer is the federal government. But while Walmart provides plenty of jobs, it squeezes both its employees and suppliers to the extremes.
While the company's economic impact is historic and undeniable, a recent debate, put on by Intelligence Squared U.S. in New York, asked whether Walmart's existence is something that leaves Americans better off. John Tierney, a contributing editor of City Journal, and Richard Vedder, an economist at Ohio University who wrote 2006's The Wal-Mart Revolution: How Big-Box Stores Benefit Consumers, Workers, and the Economy, argued in favor of the retailer. Making the case against Walmart were Nelson Lichtenstein, a history professor at the University of California, Santa Barbara, and Amy Traub, from Demos, a left-leaning research and advocacy group.*
The pro-Walmart team's argument was that by offering low prices, Walmart is helping poorer Americans purchase food and other household goods at a big discount—in a way, they said, Walmart is a sort of private anti-poverty program. They argued that the public disdain for Walmart largely comes from people who don't shop there. Vedder quoted a report by Jason Furman, a former chair of the White House Council of Economic Advisors, which showed the cost-savings of Walmart for Americans to be in the billions of dollars.
Vedder didn't seem to hold Walmart responsible for the economic situation its workers faced. Rather, he argued that it's just economic reality: "Not everybody is going to be in the middle class. Not everyone has the skill sets to do this ... Are there some people in poverty because of low wages? Yes. Will there always be? Yes. In every society, there's going to be some people making more than others. It's naive to say, 'Let's pay the low-income people more.'"
But the anti-Walmart team countered with criticisms of the company's low-paying jobs, classifying them as a taxpayer burden, since so many of its workers require government assistance to get by. The most persuasive part of their argument was about wealth distribution. There's a narrative that when a Walmart opens in communities, rural or urban, its price points cause customers to choose Walmart and thus, local businesses close. Even if that's just capitalism at work, there's the question of what happens to profits when local businesses are losing to national ones and whether, and how, that money goes back to the communities themselves. That's a question that's extremely important to local economic growth.
Near the end of the debate, the discussion had turned into a broader one grappling with the issues of whether capitalism demands more government intervention (such as a higher minimum wage). The question became whether Walmart is responsible for the choices workers and customers make by seeking employment and shopping there.
Both before and after Intelligence Squared debates, the organizers poll the audience to see where they come down on the question at hand, in order to later see which side was more persuasive. After the discussion last week, 48 percent of the audience voted in favor of Walmart, compared to the 30 percent who voted in favor prior to the argument. In order to win an Intelligence Squared debate, a side must earn the greatest percentage increase from an initial vote. The pro-Walmart team had an 18 percent increase, as opposed to a 13 percent increase for the against team, leaving Tierney and Vedder victorious. (Attendees can also cast their votes before and after the debates as "undecided.")
Though the crowd last week in New York—54 percent of whom don't shop at Walmart (there isn't one in the five boroughs)—sided with Vedder and Tierney, the reality Vedder lays out is grim. One hopeful possibility is that Walmart is already slowly changing because it sees that some parts of its model—for example, low wages and the lack of opportunities for promotions—would be in its own interest to change. Its executives are also likely aware that if it doesn't become a better employer soon, it risks being overtaken by Amazon.
"We want a different Walmart, and a different retail sector in general," said Lichtenstein in his closing remarks. "I think in that sense that capitalism changes, but it doesn't change automatically. People make it change. That's been true for 200 years in the United States, and I think it will be true in the future as well." Even though the debate attendees suggested that they accepted Walmart's flaws, there's nothing wrong with asking companies to behave better. Maybe that'd prompt Walmart to change into a company that more Americans could get behind.
---
* This article originally misstated Lichtenstein's department at University of California, Santa Barbara. We regret the error.