Could Trump's Financial Ties Have Influenced His Phone Call With Erdogan?
The president's property in Istanbul looms over his interactions with Turkey's leader, whether he wants it to or not.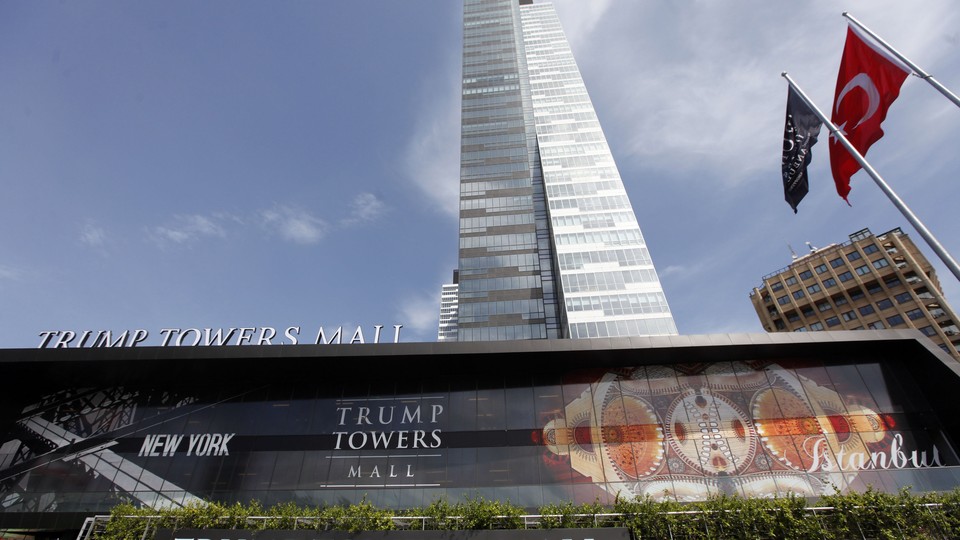 On Monday night, President Donald Trump took a moment to praise an autocratic ruler—this time, not Russian President Vladimir Putin but Turkish President Recep Erdogan. In the aftermath of Turkey's constitutional referendum, which significantly broadened the powers of the country's president, Trump called his Turkish counterpart "to congratulate him on his recent referendum victory," as well as to discuss military strategy in the Middle East. Critics soon seized on the call, not only because Trump appeared to be condoning an illiberal power grab that furthers Turkey's transition from democracy into an authoritarian regime but also because it demonstrates how Trump's business interests stand to impact his performance as president.
Trump and his team have for the most part denied that the president's properties and other businesses around the world create conflicts of interest. But that's not the case for Trump Towers in Istanbul. In a 2015 interview with Steve Bannon, at the time the executive chair of Breitbart News, then-candidate Trump acknowledged, "I have a little conflict of interest because I have a major, major building in Istanbul." That didn't stop him from bringing up the properties, albeit obliquely, when he spoke with Erdogan shortly after winning the presidency in November: In that phone call, Trump relayed praise for Erdogan from one of Trump's business partners in the region. Critics were quick to point out the conflict of interest after Trump's most recent conversation with Erdogan, as well as to note a 2012 tweet from the president's daughter Ivanka thanking Erdogan for attending the launch of Trump Towers in Istanbul.
This is not the first time that Trump has demonstrated an affinity for Erdogan. In July 2016, amid a major civil-liberties crackdown in Turkey after a failed coup, Trump praised Erdogan for "turning it around." And his former National Security Adviser Michael Flynn registered as a paid foreign agent for Erdogan's government shortly after he was ousted from his position within the administration.
So, did Trump's conflict of interest in Turkey influence his decision to reach out to Erdogan?
Answering that question demonstrates the difficulty of truly reckoning with how Trump's financial interests interact with his presidency. There's nothing to suggest that there was a quid-pro-quo, that Erdogan somehow bribed Trump for his approval or extorted him by threatening repercussions for his business in Istanbul. Nor is there evidence that Trump was actively considering his business when he decided to pick up the phone.
Instead, Trump's actions point to a subtler type of influence. Whether or not he wants it to be—indeed, whether or not he even knows it—it is natural that Trump's attitude toward Erdogan and Turkey is shaped in part by the fact that he has business interests within the country. For at least the (almost exactly) five years since Trump Towers in Istanbul opened, Trump has profited from his relationship, however tenuous, to Turkey's government and its leader. Pecuniary interactions with other people shape a person's opinion, typically for the better. Moreover, Trump's business partners in the country are (at least, right now) apparently pro-Erdogan, as evidenced in part by the fact that one of them owns CNN Turk, which has been generally supportive of Erdogan, including broadcasting his first message after the failed coup attempt in July.
Trump's friendly disposition toward Erdogan isn't especially surprising, then. Even beyond Trump's oft-noted penchant for strongmen around the world, everything prior to that phone call on Monday night indicates the kind of positive relationship that would lead to one person calling another after a major victory.
Trump's businesses create sticky situations like this all over the world. Perhaps the most direct analog is his property in the Philippines, whose president, Rodrigo Duterte, has led a brutal crackdown on drugs, but whom Trump praised during a phone call in December. Elsewhere, a branding deal in Indonesia links Trump to one politician implicated in a $4 billion extortion scandal and another linked to an Islamic-nationalist group seeking to oust Jakarta's Christian governor. Another property in Azerbaijan involves notoriously corrupt oligarchs with ties to Iran's Revolutionary Guard. Should he be required to weigh in on affairs within one of those countries, it's anybody's guess whether the residual fellow-feeling engendered by his business interests might affect Trump's response.
The problem, of course, is that Trump is no longer acting merely as the head of the Trump Organization. Now, when he interacts with another world leader, he does so as the president of the United States, which adds an additional layer of meaning and importance to his words. For the president to congratulate rather than condemn autocratic behavior could not only damage the U.S.'s standing in the international community but also have major ramifications for millions of people in countries whose leaders may feel emboldened by the president's praise.