Trump Signs More Orders Targeting Wall Street Regulations
On Friday, the president called for a formal review of the panel that can deem banks "too big to fail."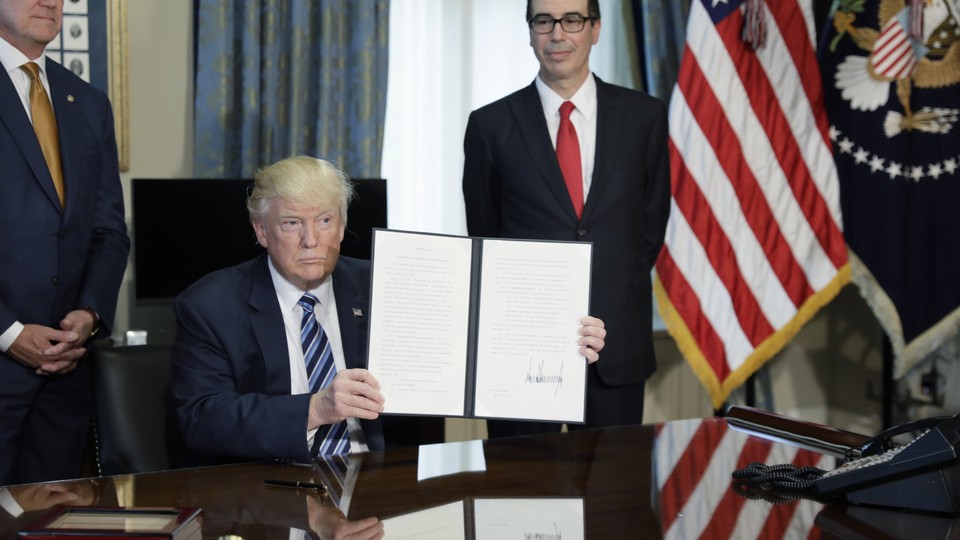 On Friday, President Donald Trump continued his efforts to scale back the Dodd-Frank Act, a sweeping piece of legislation from 2010 put in place in the wake of the financial crisis in hopes of curbing bad behavior on Wall Street. As he signed two memoranda targeting Dodd-Frank, Trump contended that the regulations put forward in the bill have "done really in many cases the opposite what they're supposed to" and "encourage[d] risky behavior."
The executive orders direct Treasury Secretary Steve Mnuchin to lead a review of two specific parts of Dodd-Frank that were implemented in order to prevent another financial crisis. One of the orders pertains to the Orderly Liquidation Authority (OLA), which empowers the government to take over financial firms during a crisis, as needed. (Banks are actually in favor of the OLA.) The other is related to the Financial Stability Oversight Council (FSOC), a panel of regulators with the power to designate institutions as systemically important, or "too big to fail"—which makes such firms subject to more government oversight and which banks don't generally take well to.
Friday's orders come after another order, signed in February, outlining a set of vague regulatory core principles and also calling for a different review of the FSOC. (The results of that review are due in June.) These new ones simply ask Mnuchin to conduct detailed investigations of the aforementioned features of Dodd-Frank over the next 180 days. What will come of those reviews is unclear, but the memoranda have more than just a symbolic meaning. They put both the OLA and the FSOC on hold during the review process, unless the Treasury deems it necessary to revive them in an emergency situation.
Trump and Mnuchin have repeatedly vowed to roll back Dodd-Frank, both arguing that the regulation is too complicated and hampers banks' borrowing and lending. Banks, for their part, have complained that the too-big-to-fail label's strict capital requirements affects their ability to do business. The insurance company MetLife, for instance, sued the U.S. government last year to remove the designation; the case is currently in appeal and awaiting a decision. But Ben Bernanke, the former chairman of the Federal Reserve, has called the OLA an "essential tool" in preventing a financial crisis, and backed the appeal of the MetLife ruling that allowed the insurance company to shed its "too big to fail" label.
The Treasury's findings could set the stage for an overhaul of at least some of the rules set by Dodd-Frank. This week, perhaps in anticipation, Republican lawmakers gave some indication of how they might replace the legislation when they unveiled a replacement plan for Dodd-Frank that would loosen many of the 2010 law's provisions.