President Trump Reverses on Candidate Trump's Economic Views
In an interview on Wednesday afternoon, the president revised his positions on the Federal Reserve's chair, the Export-Import Bank, and China's monetary policy.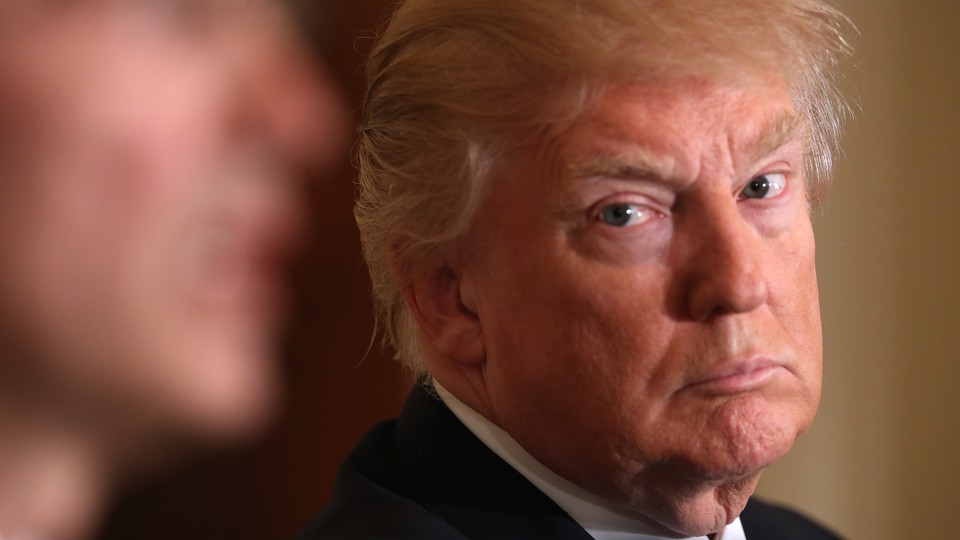 Sometimes it seems like President Donald Trump and candidate Donald Trump are two very different people.
On Wednesday, the president spoke to The Wall Street Journal about the global economy and expressed some opinions that contradict the economic talking points he focused on while campaigning.
During his conversation with the Journal, the president noted that while a strong dollar "sounds good," it comes with costs—for one thing, it makes American exports more costly overseas. A too-strong dollar is something that he has identified as a danger before, suggesting that it made it difficult to compete with countries such as China, which he was once intent on labeling a currency manipulator. But on Wednesday, his tune was a bit different. He offered more nuance about the growing strength of the dollar, and not-so-humbly suggested that it was partially his fault, "because people have confidence in me." In doing so, he also said that he no longer believed China to be guilty of willfully manipulating its currency, a complete shift from his earlier comments.
Similarly, the president revised his views on the Export-Import Bank, saying that he would move to fill two vacancies on its board, which has been floundering with three of its five seats open. Trump at one time had suggested that he would shutter the 82-year-old bank, but on Wednesday said, "It turns out that, first of all, lots of small companies are really helped." And when it comes to the North Atlantic Treaty Organization (NATO), which the president once suggested was anachronistic, Trump has new views as well. On Wednesday, he issued support for NATO, saying that it was "no longer obsolete."
The president also backtracked on previous statements about the fate of the current Federal Reserve chairperson, Janet Yellen. "When her time is up, I would most likely replace her," Trump said in May of last year as part of an ongoing critique of how the Fed operated under President Obama. On Wednesday, he hinted that Yellen might be welcomed back after the end of her term, saying "I like her, I respect her."
While flip-flopping on major issues of economic importance is generally seen as a no-no for politicians, for Trump, these shifts temper some of the extreme views he had expressed earlier. These reversals, however abrupt, put his views much closer to being in harmony with the consensus of economists.