Getting High-School Grads Into the Closed-Off World of Tech
A Silicon Valley program is matching young, lower-income workers with employers eager to diversify their ranks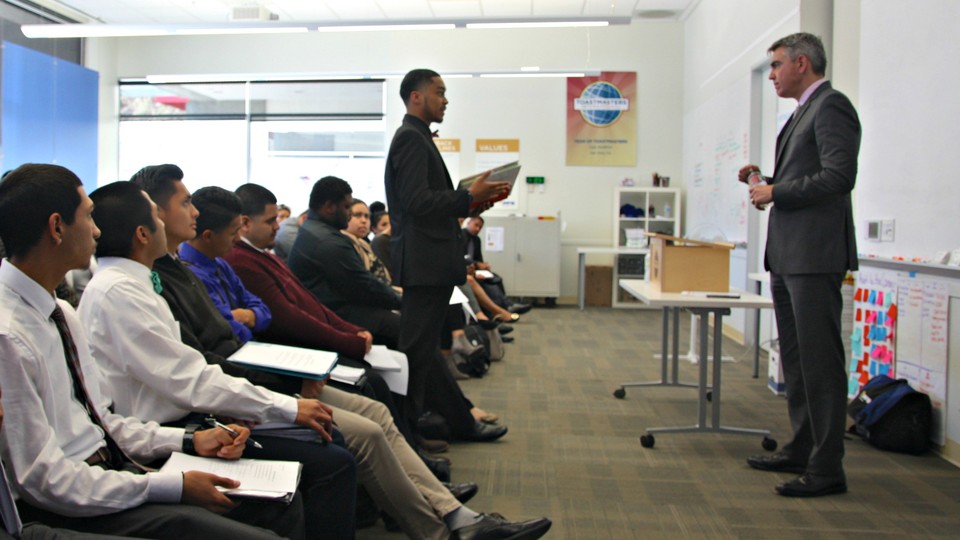 SAN JOSE—On a recent weekday, an unlikely crew of 18-to-24 year-olds gathered in a classroom in an office building, proving wrong a mantra often heard in economic development: Training programs aren't effective at getting people good jobs.
From 9 a.m. to 5 p.m., the students, mostly minorities from poor families, will tinker with computers, hone their e-mail skills,work on PowerPoint presentations, and even practice giving professional handshakes. And in a few months' time, the 80 students will move on to coveted internships in Silicon Valley, all the more impressive since the students do not have college degrees.
This is Year Up, a training program that serves more than 3,000 students nationwide every year and that is effective in getting people without college degrees into good jobs. The model solves a growing problem in a tight economy: Across the country, hundreds of thousands of people are stuck in low-paying jobs with little room for upward mobility, while employers complain that they can't find enough qualified workers for jobs that don't require college degrees. Year Up takes students who might not otherwise know how to negotiate the working world and gives them the skills they need to make it in in-demand jobs. After six months of intense training in a classroom and counseling from mentors, it connects them with six-month internships in fields like business, technology, and finance. The students in the San Jose classroom will move on to internships doing IT support or as administrative support staff at companies like Google, Salesforce, Facebook, and Tesla. In many cases, those internships will lead to full-time employment. Year Up also pays students a stipend while they go through the program.
Year Up is one of a handful of training programs that are proving that it is possible to help unskilled workers move into better jobs. The key, experts say, is that Year Up and other successful programs have partnerships with employers in growing sectors of the economy who commit to hiring participants. "There wasn't much evidence that job training works," said Mark Elliott, the president of the Economic Mobility Corporation, which evaluates programs that try to help low-income people find lasting, steady careers. "But having a program that trains people for a good job in a growing sector of the economy is what shows impact."
It's important to find something that works to prepare people for these positions—"middle-skill" jobs, which require education beyond high school, but not a four-year degree, make up more than half of the jobs in the U.S. labor market. Yet only 43 percent of U.S. workers are trained to a middle-skill level. Millions of these jobs—from health technician to paralegal to IT specialist—are expected to open up in the next decade.
The type of students who go through Year Up are a good match for some of these middle-skill jobs. Lower-income people often benefit from training programs more than displaced workers who have been in the workforce for a long time, according to Harry Holzer, a professor of public policy at Georgetown. "If you're young and you're pretty comfortable sitting in a classroom, training can work pretty well," he said. Evidence shows that this demographic is sorely in need of good work—the unemployment rate for high-school graduates aged 17 to 20 who have not completed, or aren't working toward completing, further schooling is 18 percent, and many of them are underemployed, meaning they are not working as many hours as they'd like.
Ulises Ortiz, 19, is an example of the type of person who benefits from Year Up. The San Jose resident graduated from high school in 2015 and bounced around from job to job: bagging groceries, stocking shelves, scanning packages for Amazon. He had tinkered with computers in high school, but didn't have any connections in Silicon Valley, even though some of the world's biggest tech companies were based nearby. "Growing up Latino, being in a low-income family, I don't get the doors that others do," he said. "Even being in Silicon Valley, it's hard to get in."
Year Up opened those doors. Ortiz likens Year Up to a visit to Willy Wonka's chocolate factory, where new worlds abound. Like in the Roald Dahl book, participants learn that if they misbehave, they'll have to leave the program—Ortiz started Year Up previously but said that bad habits he had learned in high school caught up with him, and he had to drop out. He's now determined to finish, and get placed in an internship that will launch his career.
Companies that provide internships and jobs to the students have to pay to do so—Year Up receives much of its funding from employers, who say they benefit because they receive classes of diverse workers whose qualifications have already been vetted by Year Up. "They're perfect model employees when they come into your organization," said Ebony Frelix, a senior vice president of philanthropy and engagement at Salesforce.
Salesforce started working with Year Up in 2008. Since then, it's had 264 interns, about half of whom are now employed there full-time. Working with the program provides a way for a tech company to connect with the local community. Salesforce's participation in Year Up might have begun as a philanthropic endeavor, but the program now also contributes to workforce development, Frelix said. "It's not about charity," she said. "It's really about they are adding value to our organization."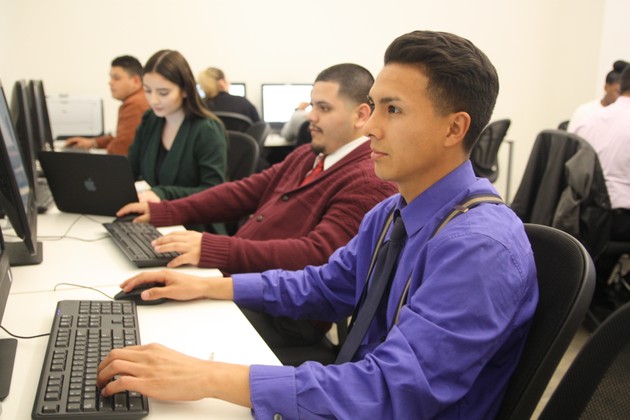 Year Up is the brainchild of Gerald Chertavian, a former investment banker who had volunteered in the Big Brother program and was frustrated to see that his little brother didn't have the access to opportunity that people from other neighborhoods would have. Chertavian started Year Up in Boston in 2000, and the program has since expanded to more than 20 other locations, including Chicago, Baltimore, New York, and Seattle. Hoping to help even more people, it recently launched a program at community-college campuses to train full-time students for the workforce.
Chertavian is an "unusually dynamic individual" who is able to convince employers to take a chance on kids without a lot of experience, said Timothy Smeeding, a professor of public affairs at the University of Wisconsin-Madison who has studied anti-poverty programs. Chertavian figured out that training that works isn't necessarily about teaching people how to do a certain job, Smeeding said, but rather, about how to prepare people to navigate the working world. In addition to hard skills, students in Year Up learn how to solicit and give feedback, how to network, how to make small talk. These skills are often learned through experience: Speakers come to the classrooms every Friday, and students must figure out how to follow up with them afterwards to make a connection. Chertavian "takes a lot of kids who have no role model, " Smeeding said, adding, "What he gives them are social behavioral skills."
Sergio Coria, 20, said he didn't know how to make professionally acceptable small talk before he started Year Up in March. His mother is a farmworker, and to earn money during and after high school, he, too, would work in the fields, cutting grape vines, picking figs and tomatoes—gaining a different type of skill set than the one needed in an office. He began Year Up in March, and in the last few months, he told me, he's learned how to make small talk and how to network, and is preparing for an internship in networking and systems administration. In a recent job interview, when an awkward pause came up, he practiced what he had learned at Year Up by making small talk about polar bears, he told me.
Elliott, of Economic Mobility Partners, evaluated Year Up in 2011 and 2014, comparing participants who were accepted into the program to those in a control group who did not. He didn't expect much when he began the research, he told me. The evaluation of Year Up was a small study, and such training programs rarely show impacts. But once he did the analysis, he found that one year after the program had ended, Year Up participants made 30 percent more than members of the control group did. Year Up participants were also more likely to be working full-time than members of the control group. "That Year Up in this tiny study had a large enough impact to be statistically significant at this scale was kind of astounding," he said.
Traditionally, workforce development offices try to get participants into jobs as quickly as possible, Elliot said. But increasingly, studies are showing that training programs that aim for good jobs, rather than any jobs, are more effective at getting people to lasting professional stability. Elliott's study suggests that Year Up participants overall earn $14.21 an hour on average, but that those who go into information technology and financial operations tend to earn more—between $17 and $19 an hour.
To be sure, these aren't necessarily jobs that will be family-sustaining for the long run. But the jobs that students get from Year Up are a good entry into the labor market. Many students will attend college while they're working, or go back to college after a few years in the workforce.
And many students who go through Year Up had tried community college, but found it wasn't a good fit. That includes Coria. He says Year Up provides support that his community college didn't. "I didn't like the way [community college] was structured—they say, 'We want you to do this or that,' but didn't offer any help," he told me. "Year Up has offered the help and the support that I'm looking for."
Year Up is also successful because it provides a close-knit community for participants, says Jay Banfield, Year Up's chief officer of innovation and scale, who opened the San Francisco office of Year Up in 2008. Year Up provides participants with individual coaches who follow up if they don't show up for class and who create plans for catching up if they fall behind on work. Some  of the students may lack stable housing or money for transportation, or may need to get extra jobs so they can help their parents pay the bills. Year Up acknowledges that and helps students work through it. Mentors check in with students frequently, and help them navigate how to handle problems that arise.  "There's a value in being seen and heard, and in knowing that when there are obstacles in the way, a support network will help get you through," Banfield said.
Year Up also provides something whose importance has long been under-recognized in efforts to promote upward mobility—social capital. It's the connections to people who might be able to tell students about opportunities or make introductions that could help their careers. Shinay Trotter, a Year Up participant, had heard of tech companies like Facebook and Google, she told me, but had never heard of companies like Salesforce, which is where she ended up interning while in the program (her mother thought the company was a retail store). When her internship ended, Salesforce wasn't hiring, but her boss at Salesforce knew of another company that was hiring, and connected Trotter. Trotter now has a full-time job at the company, called Groupware Technology. "What I learned at Salesforce is that if you don't know anyone, it's hard to get a job there," she told me. "It's all about who you know."
Another Year Up graduate, Melissa Duarte, interned at PayPal on the data-security team and now works there full-time as a database administrator. She's planning on going to a four-year college eventually, but said the work experience helped her better understand what fields she wanted to go into—previously, she had been working at Starbucks. "I never even knew there was such a thing as a database administrator" before Year Up, she told me.
Having buy-in from companies is what makes Year Up successful. Companies need to fill open jobs with good people, and Year Up takes on the responsibility of preparing those people for the workforce. "The way we engage with the labor market is something that needs to be done at a greater scale within the country," Banfield, of Year Up, said.
Of course, in Silicon Valley, where companies are flush with cash and sorely lacking in diversity, employers might be more likely to invest in a program like Year Up than employers in other parts of the country. Year Up is providing a service that is of real value to them, helping them diversify their ranks. But in many parts of the country, there are lots of middle-skill jobs that are going unfilled, which means that the Year Up model is not uniquely suited to the labor-market conditions in the Bay Area.
Investing in students is expensive—Elliott estimates that Year Up spends $25,000 on each of its participants. But it's expensive for the country to have millions of workers in jobs that don't pay well, requiring them to go on public assistance. And it's expensive for companies to have open positions that they can't fill. Programs that try to prepare workers for those jobs have rarely been successful. But with companies's support and intensive investment in workers, Year Up is showing that preparing people for good jobs can actually work.