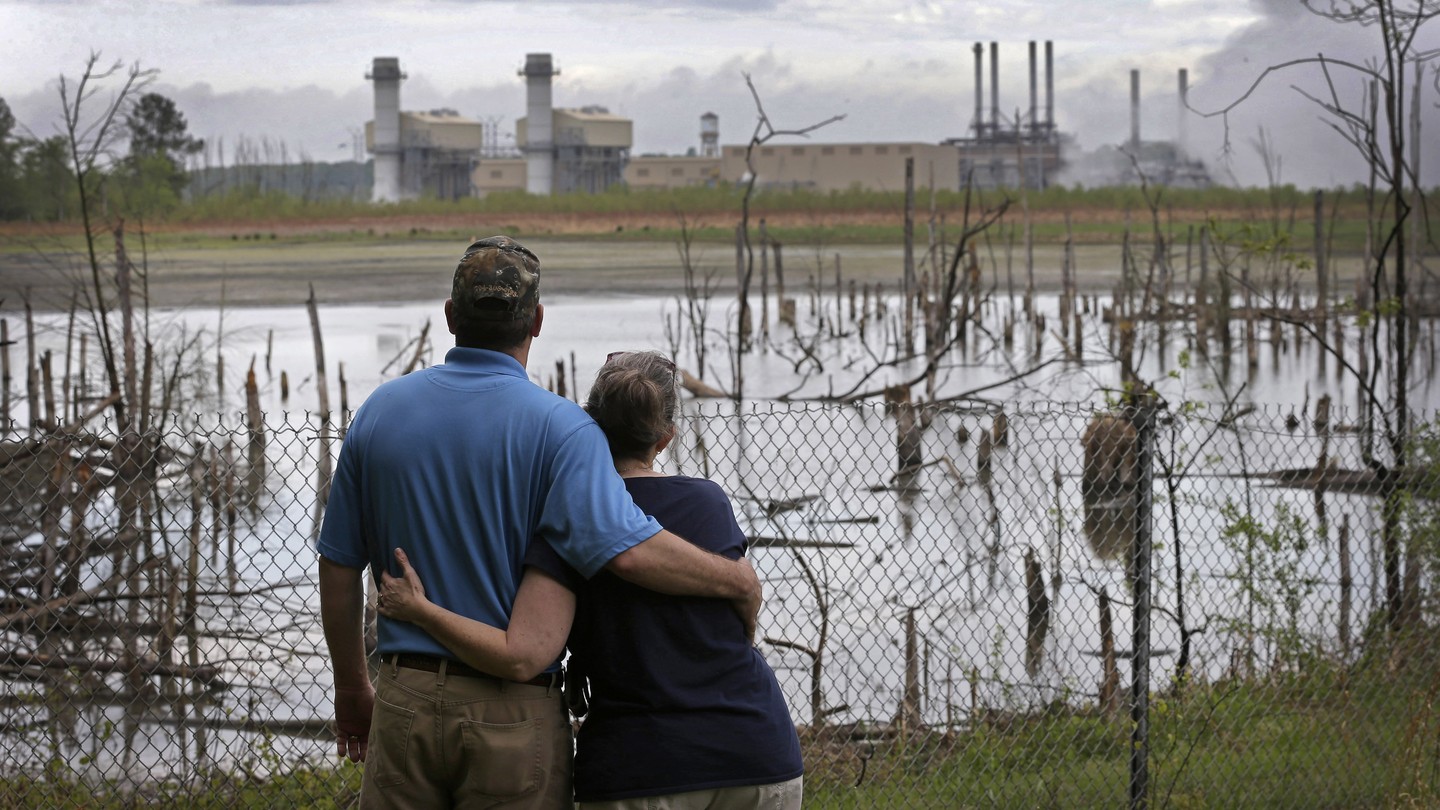 The Saga of North Carolina's Contaminated Water
The state's GOP leadership tried to make the state more business-friendly. Now residents are saying their water isn't safe to drink.
The Trump administration has not been shy about its skepticism of programs designed to protect the environment. Donald Trump has said that environmental regulations are "out of control," he has proposed slashing the budget and staffing levels at the Environmental Protection Agency, and he has appointed as head of that agency Scott Pruitt, who has spent a career repeatedly backing business over regulators. Last month, Trump signed an executive order aimed at reversing a signature Obama-era climate policy, the Clean Power Plan.
In North Carolina, the state government has taken a similar approach to its own environmental regulatory agency over the past few years. I went there to see how the state's regulatory rollback is playing out so far.
My trip brought me to the home of Amy Brown, who lives with her husband and two sons in a small single-story home in Belmont, not far from Charlotte. Inside, bottled water is stacked in corners and against the walls. Her boys, ages 11 and 4, use the bottled water to brush their teeth. Brown uses it to make them oatmeal in the morning and spaghetti at night. That's because the Browns' well water contains elevated levels of a carcinogen called hexavalent chromium and another potentially dangerous compound called vanadium. In 2015, the state advised the family and their neighbors not to drink the water or cook with it.
The Browns live a few hundred yards from a coal-fired power plant, the Allen Steam Station, and it is this plant, according to some environmentalists and homeowners, that is polluting the local well water. Duke Energy, which runs that power plant and 13 others in the state (seven of which, including Allen, still burn coal), disagrees.
Burning coal creates a residual material called coal ash, which some environmentalists say contains dangerous levels of heavy metals; Duke Energy contests the allegation that coal ash is hazardous. Duke stores its coal ash in pits near plants where it still burns coal and those where it formerly burned it. At many Duke Energy sites, including Allen, the coal ash is mixed with water and stored in unlined pits—essentially ponds—where, environmentalists say, the mixture seeps into the groundwater. Area wells then act like straws, they say, pulling up the polluted water into households like the Browns'.
But whether it's the coal ash that is polluting the drinking water is a matter of dispute. Duke Energy says that coal ash is not what's responsible for the contamination, and it points to an October 2016 study from Duke University that concluded that, though the coal-ash ponds are potentially polluting groundwater near the pits, the hexavalent chromium that is contaminating the well water is naturally occurring.
North Carolina regulators have embraced Duke Energy's version of events, environmentalists say, and have slowed down efforts to get the company to address pollution problems near coal-ash sites.  Cleanup was further set back, they say, after Republicans gained control of the North Carolina legislature in 2010 and then practically came to a halt when Pat McCrory, who had worked for Duke Energy for 28 years, won the race for governor in 2012.
In an effort to become more business-friendly, the state favored industry over environmental organizations, critics say. The McCrory administration was "very quick to cater to whatever special interest would come forward with an idea to roll something back; they were enthusiastic about it," Chuck McGrady, a moderate Republican state legislator who favored environmental protections, told me.
Over the last five years, the state's GOP leadership consistently cut resources from the Department of Environment and Natural Resources (renamed the Department of Environmental Quality in 2015). Former department staffers said the cuts made it extremely difficult to carry out their jobs. And however the drinking water was contaminated, the state confused residents like Brown about its safety, playing down the health risks and pushing back against directives from health officials that instructed families not to drink their tap water.
Even after a massive coal-ash spill from a Duke Energy plant polluted 70 miles of the Dan River in North Carolina in 2014, the state was wishy-washy on coal-ash cleanup, ultimately passing a bill that allowed the company to leave many of its coal-ash sites in place as long as the company made repairs to the basins and provided a supply of clean drinking water to households located near coal-ash sites.
And so, Brown and her family still live on bottled water, she still hustles her husband and children through the shower, and they never take baths. The Browns' in-ground pool, which has elevated levels of arsenic, among other chemicals, is strictly off-limits. "It's like our state is deaf, and the only voice they can hear is Duke Energy," Brown told me.
one of Governor McCrory's top priorities when he was elected in 2012 was to make the state more business-friendly. "The reason I'm running for governor is to represent business," he said while campaigning. His win signaled the end of two decades of Democratic control of the North Carolina governor's office, and McCrory immediately began pushing the state to weaken regulations and become more favorable to companies; he also lowered taxes and cut staffing levels at various state agencies, including those tasked with protecting the environment.
McCrory appointed as the head of the Department of Environment and Natural Resources (DENR) a man named John Skvarla, a climate-change doubter who took the business-friendly objective very seriously. One of Skvarla's first actions was to rewrite the mission statement of DENR so that a cost-benefit analysis was applied to environmental matters whenever possible. The new mission statement also emphasized that personnel should be a "resource of invaluable public assistance" rather than a "bureaucratic obstacle of resistance." Links and documents about climate change also disappeared from DENR's website once Skvarla took over.
Beginning in 2013, DENR staffers were instructed to focus on customer service, the "customers" being permit-seeking businesses, said Amy Adams, who worked at the department from 2004 to 2013, most recently as a regional-office supervisor. Staffers were no longer sure if they were even supposed to be doing enforcement actions, a range of tactics the state can deploy to compel corporate compliance with the law. "There was a new push to work with and handhold corporations rather than hold them accountable to the level that we always had before," Adams said.
At the same time, the state began slashing DENR's resources and consolidating departments. The number of full-time employees at the department fell from 5,221 in January 2010, to 4,053 in January 2012, to 1,685 in January 2016, according to the state, although many of these employees were transferred, along with the work they did, to other departments. Since 2013, a total of 69 compliance and enforcement positions were eliminated in the department, according to Jamie Kritzer, a Department of Environmental Quality spokesman.
The reduced staff numbers made it hard for DENR to conduct inspections to make sure permits were being followed, Adams said. Enforcing permits and fixing violations is a difficult process to begin with, but with fewer and fewer workers, it became nearly impossible. Resources were put into issuing permits, not enforcing them, she said. Adams, for instance, supervised an area covering 21 counties' worth of wetlands and streams, and after the Republicans took over, her staff shrank from six people to two. "There really was this overall feeling of: 'We don't send violations; we're not going to do enforcement. We're going to be customer-friendly, service-friendly,'" she said.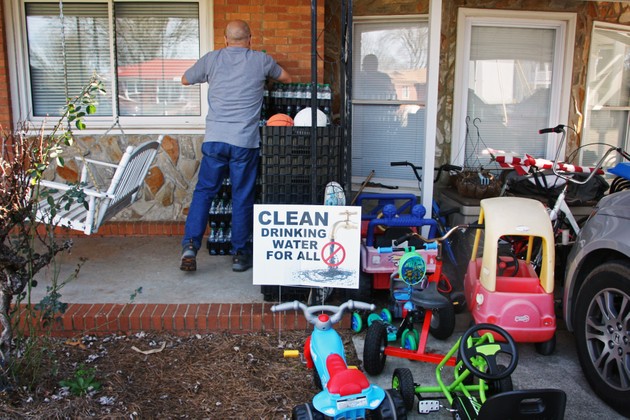 DENR's lack of enforcement actions didn't sit well with career staffers. In September 2013, Susan Wilson, who had worked for the department for 25 years as a water-quality regulator in Asheville, resigned publicly, writing in an open letter to Skvarla that "I see no reason to continue here—because my own mission—to assist all citizens and protect those that don't have a voice, would be compromised."
Adams resigned just a few months later, in December 2013. She wrote an op-ed in Raleigh's News & Observer that criticized the "soul-crushing" takeover of the department by "politically and ideologically motivated lawmakers." Staffers "are under great pressure to essentially trust the industry's word that everything is in order," she wrote, likening the system to a fox guarding the henhouse. "'Do more with less' has become the mantra of upper management, but we in the ranks heard the message loud and clear: 'Do less. Period.'"
Skvarla responded to Adams with his own op-ed, saying her article was full of "emotion, hyperbole, and conjecture." Then he defended DENR's new business-friendly approach. Under his supervision, the department had been turned from "North Carolina's No. 1 obstacle of resistance into a customer-friendly juggernaut," he wrote. "This is progress!"
Power companies have been burning coal and disposing of its waste for decades. The plants themselves have become much cleaner over time, but in recent years, environmentalists have begun to worry about the dangers of byproducts like coal ash. In 2008, a dike failure at the Kingston Fossil Plant in Tennessee dumped 5 million cubic yards of coal ash into waterways, destroying nearby homes and focusing national attention on the substance.
Coal ash contains low levels of arsenic, mercury, cadmium, and a collection of other metals. There is some dispute over what level of exposure to these materials is acceptable: The group Physicians for Social Responsibility says that prolonged exposure to coal ash can cause cancer and other diseases. Duke Energy counters that coal ash contains only very low levels of these elements and that anything can be toxic at high levels. The Environmental Protection Agency in 2014 designated coal ash a nonhazardous waste.
Until recently, there were few regulations governing how coal ash was stored, and many energy companies, including Duke Energy, routinely put coal ash into wet basins near their power plants—Duke has 31 such ponds in North Carolina. The ash settles at the bottom of the ponds, and the water on the top of the pond is cleaned and then filtered into nearby waterways. Federal law now requires that ponds with potential structural issues be closed over the next decade, and Duke says it plans to close all of its ponds by 2029.
In the meantime, the way that Duke Energy has discharged the water from its coal-ash basins over the last few years has caused controversy in North Carolina. Companies receive permits that govern how they dispose of the byproducts of burning coal, and in 2011, the Southern Environmental Law Center looked into whether Duke Energy was following its permits. The group alleged that Duke was in violation of its permits under the Clean Water Act, because it was discharging polluted water contaminated by coal-ash toxins into nearby rivers and streams in areas where it didn't have permits to do so. Duke disagreed, saying it believed it had complied with all applicable permits.
The Clean Water Act allows citizens' groups to file lawsuits against companies violating the law, but it requires them to file a 60-day notice to state regulators first. In 2013, the Southern Environmental Law Center filed one such 60-day notice, saying it planned to sue Duke Energy for violations of the Clean Water Act at a power plant in Asheville. The plant had been allowed, by permit, to discharge treated wastewater at one location, but it was releasing water contaminated by chemicals from coal combustion—including barium, cobalt, iron, and manganese—at other locations, the complaint said.
But on the 59th day of the 60-day period, right before the Southern Environmental Law Center was going to file its lawsuit, the state stepped in. North Carolina said it was taking its own enforcement actions against the plant, which meant that the organization was prevented from suing Duke Energy. The same thing happened when the Southern Environmental Law Center filed another 60-day notice for a Clean Water Act violation at another plant: At the 11th hour, the state stepped in and said it was doing its own enforcement, and the center once again could not sue Duke Energy.
The Southern Environmental Law Center alleges that the state was intervening not to hold Duke accountable, but to stop the environmentalists' lawsuit from proceeding. Even after stepping in, the state procrastinated on investigating potential pollution at coal-ash sites and on requiring Duke to address water-quality issues, Frank Holleman, a lawyer with the Southern Environmental Law Center, told me. "Instead of enforcing the law, the state was using this tool, working hand in glove with Duke, as a way to stop citizen law enforcement," he said. "It was a way to circumvent Duke having to clean up coal-ash pollution." (A new governor was elected in North Carolina in November, and the people who were in charge during the time period this story covers are no longer in office. The current administration said it would not comment on actions taken by the previous administration, but that it was working with the Southern Environmental Law Center and other environmental groups "to find acceptable solutions to protect public health and the environment from coal ash.")
Later in 2013, after a series of public-records requests, the center found that the state and Duke Energy were collaborating on how to proceed. Internal emails showed that after the Southern Environmental Law Center filed its initial 60-day notice, a Duke lobbyist scheduled a meeting with DENR officials, and Duke and the state corresponded over what direction the state would take in its enforcement actions. Duke Energy spokeswoman Paige Sheehan told me that these conversations were not unusual and that Duke has to correspond with regulators to ensure they are following the law. "It is absolutely appropriate for a highly regulated utility to have constructive conversation with the regulator who is overseeing our work," she said.
In July 2013, months after preventing the Southern Environmental Law Center from filing its own lawsuits, the state announced it had come to an agreement with Duke Energy, a $50 billion company: Duke would pay a fine of just $99,111 for violations at the two sites. The low amount drew attention from national regulators like the Environmental Protection Agency, which told the state that the amount "seems low considering the number of years these facilities are alleged to have been out of compliance."
The proposed settlement was proof that the state was getting far too "cozy" with Duke Energy, said Ryke Longest, the director of the Environmental Law and Policy Clinic at Duke University's School of Law. "It's a one-two punch," he said. First, the state "tell[s] the judge that advocates have no place at the table," and then, it turns around and "reach[es] a settlement with the polluter."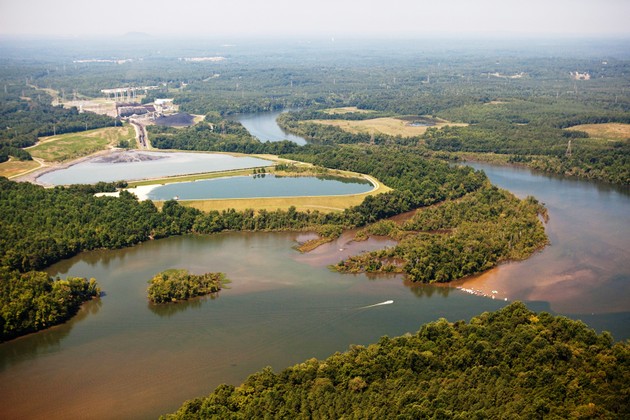 But the Southern Environmental Law Center persisted, pledging to fight the settlement. It was preparing a new round of 60-day notices for violations at other sites when the state filed more preemptive enforcement actions—for all 12 of the other sites in the state. The move prevented the center from taking legal action at any other plants in the state, including at the Dan River power plant.
A judge would soon question whether the state investigations into the Duke Energy sites were comprehensive enough. In 2014, the Southern Environmental Law Center sued Duke Energy over coal-ash disposal at its Buck plant, this time for violating federal requirements that the state was not seeking to enforce in its own investigation. Duke Energy filed motions arguing that the center was barred from taking legal action against it. But after looking into the state's efforts at Buck, District Judge Loretta Biggs in 2015 allowed the lawsuit to continue. It did not seem that the state "was trying diligently or that its state enforcement action was calculated, in good faith, to require compliance with the [Clean Water] Act," she wrote. The state had been supposedly litigating its enforcement action for two years, the judge found, but it had taken no depositions or filed any motions requiring Duke to clean up its sites. The state's prosecution "does not inspire confidence," the judge wrote.
Duke Energy disputes that the state was lackadaisical in its enforcement. Sheehan told me that there is a "robust" system in place to monitor water quality at plants throughout the state and that Duke Energy and the state are constantly engaged in dialogue about how Duke can comply with the law. The state, for example, has required Duke to come up with ways to address what are called seeps of water at coal-ash basins. "History will demonstrate that the state has been very tough on us," Sheehan said.
It was while DENR was ostensibly carrying out enforcement actions at all 14 Duke power plants in the state that a pipe below a coal-ash pit burst at a Duke Energy plant in Eden, North Carolina. The Dan River Steam Station spilled 39,000 tons of ash into the Dan River in February 2014. The Environmental Protection Agency estimates that the spill site extended 70 miles downstream from the Dan River plant.
It's possible that the Dan River spill would have happened regardless of who was in state office, but the Southern Environmental Law Center said that many of the problems that led to the spill at Dan River could have been fixed before 2014 if the state had not tried to stymie efforts to get Duke Energy to change its coal-ash disposal policies. "If the state had been assertive and diligent in enforcing the law, and if Duke itself had been careful and diligent in monitoring the site, the Dan River spill need not have occurred," Holleman said.
Duke Energy pled guilty to environmental crimes after the Dan River spill and agreed to pay $102 million in fines and restitution. In its plea agreement, Duke said that its own engineers had asked for funding to run a camera up a pipe at Dan River to inspect it for corrosion but that the company had refused the request. The camera inspection would have cost Duke $20,000, according to the plea agreement.
The state also found unpermitted seeps of chemicals into water sources at the Riverbend and Asheville plants, according to the plea agreement. At the Riverbend site, the agreement notes, "one or more individuals" created an "unpermitted channel" to allow water contaminated with arsenic, chromium, and a host of other substances to discharge into the Catawba River. Though the state's inspection was completed in 2012, the discharges continued through at least 2014, according to the plea. The state "had enough data to say there's a big problem, but they chose not to require any remedy," said Sam Perkins, a scientist with the Catawba Riverkeeper Foundation, a nonprofit that looks after state waterways.
Duke Energy says that the water that flowed into the river at the Riverbend site did not impact water quality. The Department of Environmental Quality frequently visited Duke Energy's sites and was aware of how the company was managing seeps of water from coal-ash basins, Sheehan said. A spokesman for the Department of Environmental Quality told me the state knew about the discharges and that most of them have dried up and are no longer discharging wastewater.
The Dan River spill drew national attention to Duke Energy's tight relationship with the state. "North Carolina citizens have good reason to wonder just whom their environmental regulators are trying to protect," read a 2014 editorial in The New York Times. "The state's Department of Environment and Natural Resources has engaged in a series of maneuvers that seem designed to protect the state's largest utility, Duke Energy, from paying big fines for water pollution from coal ash ponds."
The plea agreement admitted to unauthorized discharges of polluted water at Duke's sites in Asheville, Riverbend, Cape Fear, Lee, and on the Dan River. The first two of those sites were also the first sites where the Southern Environmental Law Center had filed 60-day notices of legal proceedings—and where the state first stepped in to stop those proceedings.
Yet, even after the Dan River spill, North Carolina regulators seemed uninterested in holding Duke Energy accountable. In March 2015, for example, the state fined Duke $25 million for groundwater violations at the Sutton power plant. Duke challenged the penalty in an administrative court, claiming the Sutton plant fine was "unprecedented" and that the state had calculated the fine in a way it never had before. The Department of Environmental Quality subsequently agreed to downsize the $25 million fine and required Duke to pay only $7 million—and not just for the Sutton site, but for groundwater violations at all coal-ash sites in the state. What's more, in the settlement, the state also announced it was settling all groundwater claims with Duke Energy, including all current and future claims that Duke had polluted groundwater.
To some local media outlets, the deal was yet another example of enforcement problems in the state. "This tepid response to reprehensible threats of environmental problems related to coal ash only underscores the attitude of the governor and GOP legislative leaders that business should be left alone with regards to regulation," read an editorial in The News & Observer about the deal.
An administrative court had issued the order approving the settlement, yet the groundwater claims were under review in another court, so environmental groups immediately challenged the administrative court's approval. In 2016, a Wake County judge, Paul Ridgeway, questioned the legality of the approval. He required that Duke Energy and the state alter the language of the order approving the settlement so that it would not apply to all groundwater claims. He also questioned the language of the original settlement. "I do find that the circumstances of this agreement—and quite frankly the insistence of clinging to the language of this agreement—is disturbing," Ridgeway said to lawyers in court, according to The News & Observer. "I have to suspect that there's some ulterior motive."
Amy Brown knew nothing about coal ash when she and her husband moved to Belmont in 2006. Drawn to the area by the good schools and quiet streets, the Browns bought a house at the end of a road, where their sons can safely ride their bikes. Their house has an in-ground pool, where the family used to have big parties every summer. And the neighborhood feels more rural than its proximity to Charlotte—just 30 minutes away without traffic—would suggest. The Browns weren't concerned that the house was just a stone's throw from Duke Energy's Allen power plant: Such plants have been outfitted with emissions technologies that make them much cleaner than they used to be, and Brown said she barely noticed the plant. "It's not like I can see a big, ugly, nasty pit through the trees," she told me.
But then, in late 2014, in the wake of the Dan River spill, the Browns received a postcard in the mail telling them they could have their water tested because they lived near a coal-fired power plant. They agreed to have the testing done, and in April 2015, they received the results. The well water, the testing showed, contained elevated levels of vanadium, which can cause lung damage and symptoms such as nausea, diarrhea, stomach cramps, breathing difficulty, and eye, throat, and skin irritation. Brown's water was found to have 6.8 parts per billion of vanadium; the state recommended a maximum level of 0.3 parts per billion. Subsequent testing also found elevated levels of hexavalent chromium, a carcinogen made famous by Erin Brockovich, who investigated levels of that chemical in the water in Hinkley, California. Brown's water had 2.2 parts per billion of hexavalent chromium; the state's recommended maximum level was 0.07 parts per billion. (Concentrations of hexavalent chromium in Hinkley ranged, depending on when the testing was done, from 1.2 to 3.1 parts per billion.)
Brown was shocked. For years, she had been cooking for her children with this water, cutting juice with it, rinsing off bottles and dishes with it. Now, she was being told that the water was not safe to drink. "I thought, 'Oh my God, what have my children been exposed to?'" she told me. "Your mind starts doing all this work, thinking, 'How many meals did I cook with this water?'"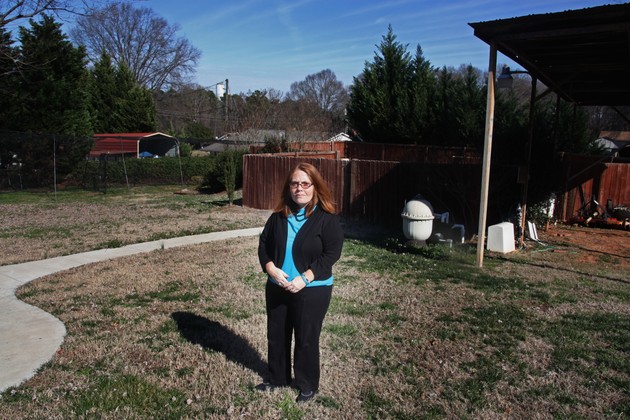 Scientists aren't sure what is causing the elevated levels of hexavalent chromium in the water. The scientific community is in agreement that keeping coal ash in ponds can contaminate groundwater, which is the water found below the surface in cracks and spaces in soil. Groundwater supplies drinking water for about half of the U.S. population.
"I think it's fair to say that most of these impoundments that have not been built to contain and prevent leaking are in fact leaking and are in fact polluting the groundwater," said Patrick Parentau, a professor of law at Vermont Law School who studies water-quality issues.
There are a number of documented cases in which coal-ash basins have contaminated nearby groundwater and surface water. In March, a federal judge found that arsenic from a coal-ash pit operated by Dominion Virginia Power was leaking into the groundwater, which then made its way to the surface water in violation of the Clean Water Act. The Environmental Protection Agency, in coming up with rules on the disposal of coal ash, documented more than two-dozen proven "damage cases" where coal-ash ponds had contaminated groundwater and surface water with chemicals, including arsenic, cadmium, and chromium. The agency listed three sites in North Carolina.
Yet whether the substance is contaminating drinking water is a matter of dispute. It can be difficult to determine the direction that contaminated groundwater is traveling—to do so requires expensive tests that include sinking wells in various locations and testing the water pulled from those wells, Parentau told me. "When it comes to toxicology, that's an incredibly technical thing to establish," he said.
Avner Vengosh, a professor of geochemistry and water quality at Duke University, told me that his team had spent 10 years studying coal ash in the South. In the case of North Carolina, he said, they found that coal ash was potentially polluting the groundwater but not the water in wells. "It polluted groundwater that is not used for drinking," he told me. The homeowners with elevated levels of chemicals were seeing those elevated levels because of factors unrelated to coal ash, he said. The Southern Environmental Law Center says a separate study from scientists at the University of North Carolina, Charlotte, has found that drinking-water wells near the Allen Plant, where Amy Brown lives, are indeed drawing groundwater contaminated by coal ash. But an author of that study, William Langley, said it was a draft that modeled a worst-case scenario that may not represent what is actually happening on the ground.
Whatever the source of the contamination, families probably shouldn't drink the water, and most people in North Carolina agree on one thing: The state did not do a good job of communicating the health risks to residents. That's because, in addition to recommending that the homeowners avoid drinking their water, letters from the state also contained a line that read, "While this recommendation represents the maximum in health protection, your well would still meet all the criteria of the federal Safe Drinking Water Act for public drinking water sources." But this was misleading: The water met federal standards only because there is no federal Safe Drinking Water Act standard for vanadium, and while there are such standards for total chromium, they do not specifically address levels of hexavalent chromium. Meanwhile, the water did not meet standards calculated by the state health department for hexavalent chromium, which used the threshold of a one-in-a-million cancer risk—essentially the presence of one additional case of cancer during a lifetime in a population of a million people.
The letters about the water "were very poorly handled," McGrady, the moderate Republican legislator, told me. "I don't think anyone in the state thinks the state handled that well."
According to former state toxicologist Ken Rudo, the line that the water met federal standards was added by state environmental regulators against the wishes of state health-department staff, which had been pressured to downplay the risks of drinking the water. In a deposition, Rudo said that he was asked to send out letters warning people that the drinking water contained elevated levels of chemicals. But just as he was about to send out those letters, he later testified, the state contacted him and wanted him to add a line telling people the water was safe to drink. Rudo and his colleagues objected—because of "ethical reasons more than anything," he said in the deposition—and said if the state were to send out such language, he wanted his name taken off the letter. The state added the line anyway, when he was on vacation, Rudo said in the deposition. "They added language basically saying this was the maximum risk, literally right after we are telling people not to drink their water," he said. "And it was just amazing, misleading, and dishonest language."
In 2015, McCrory appointed a new deputy secretary in the state's Department of Health and Human Services, Randall Williams, who pushed back against the staff recommendations on the levels of chemicals that could safely be in the water. Williams thought that the standards the state health department had used to issue the do-not-drink letters were too conservative, and he had the department send out another round of letters telling well owners that their water was safe to drink. "Now that we have had time to study and review more data, we have concluded that it is appropriate to return to drinking and using your water for cooking and other uses," the letter read. No new testing had been done—Williams instead used a different standard from the one Rudo used when issuing the initial health recommendations.
The McCrory administration, Duke University's Longest said, was essentially countermanding public-health officials' judgment over what levels of hexavalent chromium and vanadium in the water are dangerous. "It was really about allowing the health director to use concern about political fallout to influence a risk decision, which is completely unprecedented," he said.
The controversy over whether the well water was safe to drink didn't end there. Once Rudo's deposition became public, Tom Reeder, an official with the Department of Environmental Quality, and Williams, the deputy health secretary, published an open letter in August 2016 questioning Rudo's calculations about whether the water was safe to drink, calling his approach "unprofessional."
Many people in North Carolina, however, stood by Rudo. "It's clear that the state's overall water quality is at risk under an administration and a legislature that see environmental regulation as a nuisance that hinders industry," The Charlotte Observer wrote in an editorial last August.
The direct attack on a state scientist also rattled health-department staffers. Megan Davies, who was at the time North Carolina's state epidemiologist, told me that Rudo had arrived at the levels for vanadium and hexavalent chromium in compliance with a North Carolina law passed in 2014 that referenced state groundwater rules. These rules specify that recommendations for groundwater contain no more than a one-in-a-million increase in the risk of cancer, she said, which is how the environmental agency's toxicologists came up with the number 0.07 parts per billion for hexavalent chromium. Soon after Reeder and Williams published their letter attacking Rudo, Davies resigned. In her resignation letter, she reminded the state that other departments had approved of the way Rudo had calculated the water standards, and she accused Reeder and Williams of misinforming the public. "I cannot work for a Department and an Administration that deliberately misleads the public," she wrote.
After the Dan River spill and the controversy over the drinking water, some state legislators redoubled their efforts to get Duke Energy to clean up its coal-ash basins. But they said they were largely stymied by pressure from the company and from the governor's office.
"It's nearly impossible to do anything in the legislature that Duke Energy hasn't signed off on," Pricey Harrison, a Democrat in North Carolina's General Assembly, told me. Harrison has been trying to pass coal-ash cleanup bills since 2008 but says that she "keeps running into all kinds of roadblocks due to Duke's pervasive influence in the legislature and the governor's office."
Duke Energy says those allegations are "ridiculous." Duke works for the best interests of its customers, Sheehan, the spokeswoman, assured me, and does so using science-based decisions "that protect people, the environment, and manage costs." But Harrison isn't convinced.
There are two main ways to get rid of coal ash. The most thorough—and expensive—way is to excavate the basins, which means the ponds are drained and the coal ash is dug up and moved away from waterways. (Dry pits can also be excavated.) But the pits can also be capped in place, which means the ponds are drained of water, covered with a synthetic liner, and contained. Though North Carolina initially said Duke Energy would likely have to excavate all of its basins in the state, it later reversed itself, Harrison said, due in large part to pressure from Duke Energy.
Compare this with the state's neighbor, South Carolina, where every utility company is excavating the coal ash from their unlined waterfront coal-ash basins, according to Holleman. That's in part because the Southern Environmental Law Center filed lawsuits against two power companies in South Carolina in 2012 and 2013 over coal-ash pollution, and South Carolina's environmental agency did not intervene, Holleman said. The Southern Environmental Law Center then reached settlements with the two power companies, and both are now digging up coal ash and moving it elsewhere. (Duke Energy also operates in South Carolina, and it is excavating the coal-ash basins at its two plants there.)
For a short time, it seemed that the state of North Carolina would force Duke Energy to dig up all its coal-ash basins as well. In 2014, the state passed the Coal Ash Management Act, which McCrory claimed was at the forefront of such legislation nationwide. That law required Duke to evaluate all its coal-ash basins across the state. The Department of Environmental Quality was then required to review Duke's evaluations and rank the sites as presenting high, intermediate, or low risk, which would in turn determine whether they'd be excavated or capped. High- and intermediate-risk sites would have to be excavated; low-risk sites could potentially be capped in place.
Environmentalists oppose the capping approach because they say it puts a bandage on, but does not address the crux of, the problem—covering the coal ash, rather than removing it. Duke Energy, however, says that excavation is time-consuming and expensive, and that it can cause more environmental damage, through truck traffic and pollution, than leaving the pits in place. Few communities want new coal-ash pits nearby, so it can also be difficult to find a place to put the material.
Robert Percival, the director of the environmental law program at the University of Maryland's law school, told me that capping does have some benefits. Capping would slow down the process through which contaminants leak into groundwater, for example. But if coal ash is stored in an unlined pit, even one that is dry, chemicals will eventually leak into groundwater, he said. "Just putting a cap over an unlined pit isn't going to completely solve the problem," he said.
In presentations to the legislature, Duke Energy estimated that the cost of excavating all of its coal-ash basins in North Carolina would range from $2 billion to $8 billion. Longest, the Duke University professor, said he attended one such presentation to the legislature. "You could see in the room the reaction of the legislature and their faces, when they saw what the cost of cleanup was going to be," he told me. The expense would likely be passed along to their constituents.
When the Department of Environmental Quality issued its site rankings in May 2016, it found that all sites in the state were high- or intermediate-risk sites and thus needed to be excavated. (The department also requested it be allowed to revisit the rankings in 18 months.) In response to the rankings, both the state regulatory agency and Duke Energy said they wanted to see changes to the 2014 legislation. Without changes, Duke said, "the state will have chosen the most extreme closure option that will have a significant impact on customer costs and hinder economic development."
Soon thereafter, in the summer of 2016, the state passed the Drinking Water Protection/Coal Ash Cleanup Act, which Holleman calls "The Duke Bailout Bill." The act stated that if Duke provided drinking water to people living near certain sites and if it repaired dams at those locations, then those sites could be classified as low priority and, under a subsequent process, may not have to be excavated.
Duke Energy says that the original recommendations to require excavation were based on incomplete information and that the state did not have enough time to incorporate relevant scientific research. The utility is already embarking on an aggressive closure effort as it plans to drain its ponds, Sheehan told me. The 2016 bill will allow science and engineering to drive decisions about which coal-ash basins will be closed, Sheehan said, and it will bring North Carolina up to speed with the rest of nation in how such basins are managed.
North Carolina was not unique in allowing the utility to cap its coal-ash pits. The Tennessee Valley Authority is planning to close and cap 10 coal-ash ponds at power plants in Tennessee and Alabama. The Environmental Protection Agency also requires that coal-ash ponds that are closed and capped be monitored to make sure they aren't having an adverse affect on the groundwater, according to Jim Roewer, the executive director of the Utility Solid Waste Activities Group, a trade association that handles solid- and hazardous-waste issues for the utility industry.
But the legislation disturbed some lawmakers in both parties. McGrady, who helped craft the original legislation, voted against it. "It basically said that everything that was left was going to be capped in place, which included some of the biggest basins out there," he told me. Harrison said that the bill "was a gift to the governor and his administration, and to Duke Energy."
Amy Brown told me she was disappointed but not surprised when the bill passed. The law means that, despite regulators' initial recommendations to excavate the coal-ash pits, Duke Energy can instead drain the ponds and cap the dry pits. All that Duke has to do now is fix some dams and provide the Browns and other families across the state with an alternative supply of water. "It was a way for them to look like they're doing something for us, but in return, they still get what they wanted," she said.
Although Duke Energy contends that its coal-ash pits are completely safe and that it has safely handled its coal-ash sites across North Carolina, in January it sent out a "goodwill" package to homeowners like the Browns who live near coal-ash sites. It offered each household $5,000 and volunteered to make up for lost property values if people were trying to sell their homes and found their property was selling below market rates. It also said it would subsidize their water bills if they connected to public water lines.
Duke Energy says it is offering the package to homeowners to help "ease their transition" to a new water supply. Neighbors are concerned about having a water bill they've never had before, Sheehan said, and the company is trying to address those concerns. "We wanted to be responsive to concerns of long-term residents," Sheehan told me.
But there's a catch. If residents accept the goodwill packages, they must agree not to sue Duke Energy or seek additional compensation over water-quality issues. It is this requirement that has led Brown and other homeowners to question Duke's intent. The company says it is not culpable for contaminants in the water, but it wants nearby residents to sign away their legal rights anyway, Brown said. "Normally, goodwill doesn't come with strings attached," she told me.
The State's ACtions in North Carolina echo the approach the Trump administration seeks to bring to federal environmental regulation. North Carolina cut staff and funding from the state's Department of Environment and Natural Resources, cuts that former staffers said made it impossible to enforce the laws; Trump's team has vowed to reduce the workforce of the Environmental Protection Agency by two-thirds and cut its budget in half.
Skvarla, the head of North Carolina's Department of Environment and Natural Resources, said he treated the private sector as "partners," turning his department into a "customer-friendly juggernaut," where the customers were businesses. Emails released in February indicate that Scott Pruitt, the new head of the Environmental Protection Agency, closely collaborated with oil and gas producers and electric utilities to weaken environmental regulations when he was Oklahoma's attorney general.
After successful lobbying by the coal industry, in June the North Carolina legislature passed a law that allowed companies to keep many coal-ash pits in place, overriding an earlier law that would likely have required companies to excavate them. Earlier this month, in a letter to the president of the Environmental Council of the States, Pruitt said that his agency plans to reconsider a rule that establishes limits for some of the toxins and heavy metals discharged by coal-ash sites and that the agency seeks to push back a 2018 compliance deadline.
If North Carolina is any indication, the country could see an Environmental Protection Agency with less regulatory verve and an environment with more pollution, said Longest. "The same fate may befall the U.S. Environmental Protection Agency as befell the North Carolina Department of Environment and Natural Resources—a demoralized and decimated workforce and a public left to fend for itself," he said.
Some members of the public have taken seriously the responsibility of fending for themselves, stepping in to hold Duke Energy accountable when they felt the state did not. Groups like the Southern Environmental Law Center battled Duke Energy repeatedly in court, and they continue to do battle with the state, even though the fight over coal ash has gone on for more than five years. Anyone who wants to influence environmental policy can't just trust their government, Holleman told me. "Environmental laws will be adequately enforced, and our natural resources will be protected," he said, "only if citizens and nonprofit citizen organizations take direct action and insist in the public arena and in the courts that our water and our air be protected."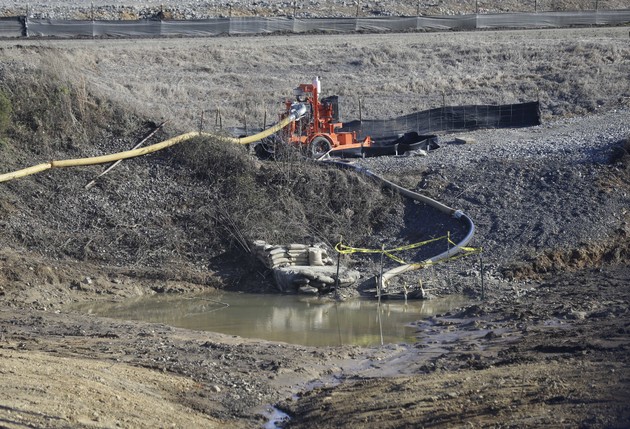 That's what Amy Brown did. Once she learned that her water was not safe to drink, she started making phone calls. She called the state, Duke Energy, and local reporters. After a month, she had convinced Duke to provide her with bottled water every few weeks—before they began doing so statewide. When she found out that Duke wasn't providing bottled water to her neighbors, she started going door to door, giving her neighbors a phone number to call, a person to nag. The truck started delivering water to the whole neighborhood.
The blue Dasani bottles are stacked everywhere—on her kitchen counter, next to the brown leather couch where her son watches television, outside under the carport, and next to a sign in her front lawn that reads, "Clean Drinking Water for All." In many places, the stacks of water are taller than her 4-year-old.
What she has learned, Brown said, is not to trust anyone but herself. "We get comfortable and assume that these people in these positions are doing their job, which is to act in the best interest of the people," she said. "But that's just not the case."
It is partly because of people like Brown that McCrory lost his reelection to Roy Cooper, a Democrat, in November 2016. Cooper campaigned hard on the coal-ash issue, running ads about the controversial "do-not-drink" letters and about the spate of resignations from state departments. A poll of North Carolina residents, commissioned by Human Rights Watch and conducted by a Democratic polling firm, found that of the top-three reasons people said they didn't vote for McCrory, the number-two reason was his handling of coal ash.
Brown herself was a registered Republican, but she changed her party registration to Independent after her experience with the state and coal ash. She supported Cooper in the election. "I started to realize the connection between the big companies and the Republicans," she said. "They would rather protect the polluter than the people."
Brown is now a full-fledged activist and is constantly on the phone with reporters, neighbors, and other families who live near coal-ash sites. Her young son has learned to wait patiently while she sits at her kitchen table poring through documents relating to coal ash. She despairs that he's growing up in a household where he can't take a bath and where he can't drink the water. "You don't even know that you need protection until you've had to fight for it," Brown told me. It's something that millions of Americans may discover for themselves in the years ahead.