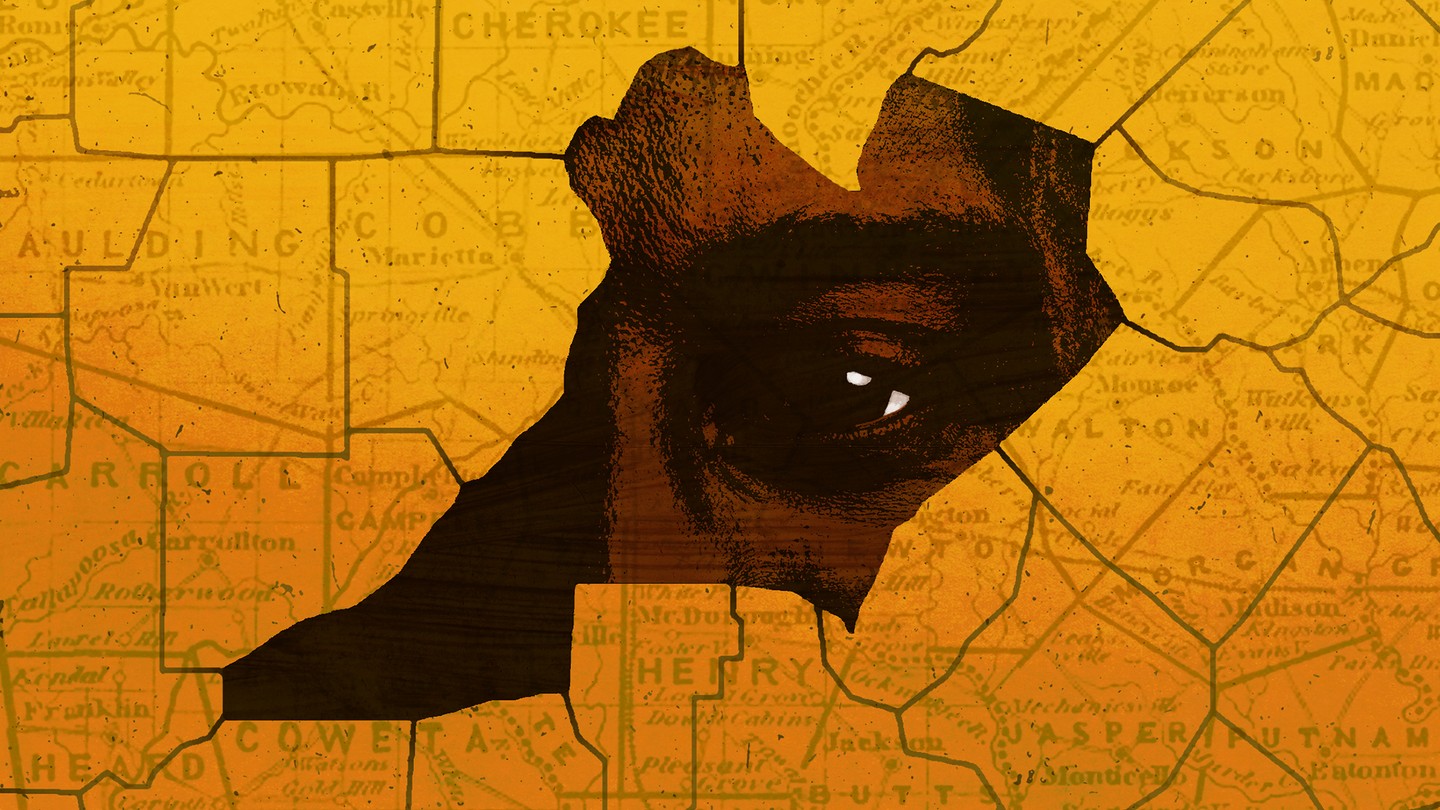 Atlanta's Controversial 'Cityhood' Movement
Recent border battles have once again redrawn the lines of the metro area.
On the Saturday before Election Day last November, Jason Lary, a former insurance executive, crouched on a rough patch of grass at the center of a busy intersection 20 miles outside of Atlanta in DeKalb County. Lary was holding a hammer, and he tapped carefully on the thin wire base of a campaign sign. "My hand is like Fred Flintstone's right now because I banged my hand in the night," he said, noting his latest sign-related injury. This hazard, though, was worthwhile: "If you don't start [the sign] with your hand, it will bend. It takes longer—guys are 10 times faster than I am. But my sign's still gonna be up."
This was a non-trivial advantage for Lary, who for the past month had begun most mornings with a kind of ground-game whack-a-mole. He would put up signs under the cover of night, only to have his opponents dislodge them by hand or, when that failed, run over them with their cars. Nevertheless, Lary was feeling good. "My opposition? Worn down," he told me. "They don't even have any more signs. And I kept a stash, knowing this time was coming. This is not my first picnic with nonsense."
Lary's opponents were from his own community, folks who were fiercely against turning their stretch of the county into a new city called Stonecrest, Georgia. Lary, the president of the Stonecrest City Alliance, had been working for four years to turn a 50,000-person swath of unincorporated DeKalb County into its own city. If the referendum passed the following week, it would become the latest and most symbolic victory for the "cityhood movement," a local-government arms race that, for the past decade, has been reshaping the political, economic, and racial landscape of metro Atlanta.
Between 2005 and 2015, eight unincorporated neighborhoods in Georgia's three largest counties—Fulton, Gwinnett, and DeKalb—voted to form their own cities. In doing so, they rejected the county's political leadership and withdrew much of their resources from the county's tax pool. Prior to incorporation, all of these areas were putting more money into the county via taxes than they got back in services. Pulling their money out of the county pool has thus been a boon for these new cities, which can reprioritize and increase services to meet the needs of their more homogeneous constituencies without raising taxes.
For those left behind in unincorporated parts of these counties, however, the cityhood movement has been disastrous. Data on the overall economic impact of the movement doesn't yet exist, but the withdrawals of wealthy enclaves have left county governments with a recurring and unpleasant choice: raise taxes or provide less. In 2012, Fulton County's manager calculated that the cityhood movement had cost the county $38 million per year.
These losses have exacerbated racial inequality in an area that was found, in a landmark 2013 study, to be one of the nation's worst for economic upward mobility. All of these new cities, The Atlanta Journal-Constitution wrote in 2015, "have become mostly white islands of safety and affluence. What's remaining is heavily black [and] less well-off."
But Lary, his supporters, and his opponents—the folks ripping up his campaign signs—are not the white people at the center of the cityhood movement. Rather, they are a black community: If Lary were to succeed, Stonecrest would become the 15th-largest city in Georgia and the first majority-black city created by its own residents since Reconstruction. Many of Lary's neighbors and friends couldn't believe that he was aligning the area with cityhood and employing the strategies of the very people whose political tactics had weakened local black communities for more than a decade. Worse, not only had Lary aligned with the cityhood movement; he had enlisted its most famous advocate.
And so, with a swollen hand, the help of a world-renowned government-efficiency expert, and only a few days left before the vote, Lary was scrambling to convince these folks that he really did have their best interests at heart.
Lary's predicament is deeply rooted in the spatial and racial politics of metro Atlanta in the post-civil-rights era—and in the story of Sandy Springs, Georgia.
In 1950, Atlanta Mayor William Hartsfield had annexed the white suburb of Buckhead in order to preserve a two-to-one white voting majority in the city and to expand the city's tax base—all part of Atlanta's "Plan of Improvement." It worked: Atlanta became a thriving and diverse Southern metropolis. By 1961, Hartsfield was bragging about the city's combination of racial progressivism and booming business, dubbing Atlanta the "City Too Busy to Hate." There was, to be sure, a great deal of hyperbole and cynicism in this declaration, but there was also a sliver of truth: Hartsfield had indeed established a political coalition of racially moderate Democrats, white business leaders, and black voters that outpaced much of the South in its relative racial harmony.
This coalition, however, also birthed a vehement opposition movement of working- and middle-class whites who wanted no part of Atlanta's expansion. So, in 1965, when Hartsfield, by then out of office, attempted to replicate the success of the Buckhead annexation, things did not go as smoothly. Hartsfield wanted Atlanta to annex Sandy Springs, a majority-white, wealthy neighborhood just outside the city limits in Fulton County. He was met with outrage and obstruction. Two spokesmen for Sandy Springs promised to "build up a city separate from Atlanta and your Negroes and forbid any Negroes to buy, or own, or live within our limits." Atlanta's annexation plans had "forced this on us," they wrote, "and we will fight to the finish."
Facing a Sandy Springs community fervently opposed to joining Atlanta, the city backed off. (In Georgia, the decision to annex comes down to the wishes of the annex-ees, not the annex-ers.)
In his 2005 book White Flight, the Princeton historian Kevin Kruse tells the story of this white counter-coalition and the effects of their resistance on conservative politics not just in metro Atlanta, but nationwide. White flight, Kruse writes, "was a political revolution," one that saw white Southern conservatives "abandon their traditional, populist, and often starkly racist demagoguery and instead craft a new conservatism predicated on a language of rights, freedoms, and individualism." Resistance to the integration of public schools, for instance, transformed during this era from an objection to multiracial classrooms to a crusade against "forced busing"; segregated neighborhoods were similarly defended in the name of preserving Americans' "freedom of association."
Throughout the 1970s, '80s, and '90s, metro Atlanta's whites employed this new, ostensibly colorblind language to resist integration and preserve their race-based advantages. In some cases, though, it was easy to read between the lines: In 1975, for example, one Cobb County leader quipped that suburban whites in his area thought of the Chattahoochee River as a "moat" that protected them from Atlanta. "They wish they could build forts across there to keep people from coming up here," he said.
In Fulton County, which is bisected by Atlanta, this battle was most often fought over two overlapping issues: taxes and annexation. By the 1980s, as American studies scholar Michan Connor has noted, the residents of Sandy Springs had long felt that their county taxes were being unfairly redistributed to nonwhite communities in other parts of the county, with whom they shared little common ground. Then, in 1987, black candidates secured a majority of the seven-member Fulton County Commission. Four years later, Fulton County raised taxes. This move was, in part, demanded by the state of Georgia, whose revenue commissioner had ruled that Fulton's wealthy, white areas were being taxed below statewide minimum rates. That wasn't, however, how the wealthy, white areas viewed it.
Many in Sandy Springs characterized the new taxes as racially motivated—against whites. Two Sandy Springs residents, lawyers Mitch Skandalakis and Robert Proctor, sued the county to block the new tax codes and supported groups like RIOT (Rollback Increase of Taxes) and STOP (Stop Taxing Our Property). Skandalakis and Proctor ultimately failed to derail the new taxes, but in 1993, the grassroots energy of these groups reshaped the county government, as Connor has written. When the black chairman of Fulton's Board of Commissioners left office to run for mayor of Atlanta, Skandalakis replaced him—defeating Martin Luther King III for the vacated seat.
As a white Republican, Skandalakis was a minority on the commission, but he was a loud and controversial voice. Less than a year into office, Skandalakis was sued for libel after funding racist campaign materials against a black candidate. A few years after that, Skandalakis ran for lieutenant governor and was again sued for libel, again for campaign ads with racist overtones. (Both matters were settled.) Meanwhile, Skandalakis and Proctor—who has been described by Connor as "Atlanta's Rush Limbaugh with a legal license"—were elevated to folk-hero status. (Years later, Skandalakis was investigated yet again and sent to prison in 2003 for lying to an FBI agent.)
In 2004, Republicans took complete control of the Georgia state government for the first time since Reconstruction and opened the door for the creation of new cities—something the state's Democrats had blocked for decades. Sandy Springs could finally realize its dream of "build[ing] up a city separate from Atlanta," and it incorporated the following year, precipitating a wave of white neighborhoods throughout metro Atlanta eager to follow suit and insulate themselves from their counties via incorporation.
The cityhood movement was a major milestone for the politics of "suburban secession," according to Kruse. These communities wanted "to get away from metropolitan Atlanta, both in terms of their identity, but largely in terms of having political, economic, or legal obligations to the city of Atlanta, its people, and what were regarded as its problems," Kruse told me. "They wanted to be separate. And once that benchmark was laid down, that model was something that other suburban communities could easily look to."
It wasn't a moat, but the town of Sandy Springs in Fulton County had raised the bar—insulating themselves with a new, protective layer of government.
Many people, however, completely reject any version of this history that connects the cityhood movement to the racism of decades past. They see the movement not as the embodiment of white flight, but instead as the wise reassertion of local control in the face of a wasteful and corrupt county government. But, when the county government is black and the people incorporating are white, many see racial resentment as a driving force.
"We're largely talking about black faces in places of public power and influence," said Michael Leo Owens, a political-science professor at Emory University and a DeKalb County resident. "So when whites decide to create new cities, and the language they use is a language of serious critique against the county government, … it has to raise, in some people's minds, the question of whether or not it is legitimate, what people are seeking, and the grounds upon which they're seeking it."
On the other hand, Owens noted, "There are other reasons why people would want to have greater control over their communities. … People are dissatisfied with the county as not being a good provider of public services or a good steward of public finances."
Jason Lary counts himself firmly among the dissatisfied. As I accompanied Lary on his campaign stops, he told the story of his DeKalb County neighborhood, an area that, while middle-class, had been hit hard by the recession and hadn't recovered. "You see these houses out here?" he asked me as we drove around the Stonecrest footprint, checking on his signs. "In north DeKalb, these would be $300,000, $400,000 houses. Here? $150,000, $165,000. They were built new at $400,000, and when [the market] crashed, they never came back. And this is the heart of Stonecrest—your average homeowner."
The area has a large upscale shopping mall, includes the Arabia Mountain National Heritage Area, and sits just a few exits from downtown Atlanta, and yet Stonecrest hasn't drawn much interest from businesses or developers. "I've tested this before," Lary said. "As an insurance executive, I call on nothing but CEOs and vice presidents. And I will talk about having a location in DeKalb County—they just snicker and laugh … They won't even stop on our exit to take a look at us, because of the DeKalb County government."
DeKalb County's reputation, in this regard, is well-earned. In 2013, a grand jury released the results of a yearlong investigation, which found wide-ranging corruption that spanned nearly a decade and covered two separate administrations. Vernon Jones, who in 2000 became DeKalb's first black CEO, helped expand the powers of the county's top position—he also presided over an administration that, according to the grand jury, routinely rigged bids on government contracts, steered contracts to vendors with ties to government officials, and allowed some of those contractors to drastically overcharge the county for municipal services. DeKalb once gave a $2.2 million per year tree-trimming contract to a fake company created by a Cartoon Network illustrator. The man had zero tree-trimming experience and did not own a chainsaw.
Burrell Ellis, Jones's predecessor, was sentenced to 18 months in prison in July 2015 after being convicted of extortion, having threatened to terminate government contracts with companies that didn't contribute to his campaign fund. (Ellis was also convicted of perjury, but in March 2016 was released from prison early, and in November 2016 the Georgia Supreme court overturned his conviction. A month later, he was reinstated as CEO.) In total, roughly 40 DeKalb County elected officials, political appointees, teachers, police officers, and other county employees have been convicted of various corruption-related violations in recent years.
County corruption is emblematic of the central complication within the cityhood debate. Politics in DeKalb and Fulton—the Georgia counties home to all but one of the movement's newly created cities—are areas with robust black political leadership and, as Kruse and others have shown, a history of whites who object to black leadership on purely racial grounds. But after years of corruption, when whites in these counties criticize their leaders, it can be hard to tell whether they're invoking deep-seated racial hatred or simply asking for better government—or both.
In the 1960s, the residents of Sandy Springs were clear about why they wanted to become a separate city: Atlanta had "forced Negroes" on them. These days, a corrupt county government makes the cityhood trend more understandable, but it may also give cover to those seeking segregation. In this way, the cityhood movement has become a kind of polarizing racial Rorschach test. Some see engaged citizens fighting distinct political battles with corrupt county governments; others see whites across metro Atlanta hell-bent on finishing the racial isolationism that previous generations started.
I have been investing in this town for 25, 30 years," Lary told me. "We thought that the county would have done better for us, and it didn't happen." But then he noticed "cities starting to form on their own." When Lary caught wind of these incorporation campaigns, he saw the cityhood movement's potential to transform his own community. When a neighborhood called La Vista Hills tried to become a city, Lary started dropping in on their meetings: "Not only am I the only black guy there—I'm the only black guy there in a suit!" But Lary quickly befriended the La Vista Hills leadership, "and from there," he said, "I watched and learned."
The campaign to create Stonecrest was thus ironic from the start: The incorporation of white, wealthy enclaves in metro Atlanta had left already maligned, black-led county governments with a depleted tax base and less power with which to serve the largely black neighborhoods that remained under their control. By adding Stonecrest to the cityhood movement, Lary was attempting to use the very political tactics that weakened his community in order to save it.
That irony was not lost on his detractors. "It gets to a point where you're completely surrounded by cities, and they all just selectively annex everything that's valuable until there's no tax base left," said Marjorie Snook, the leader of the anti-cityhood DeKalb Strong, an organization that successfully derailed the creation of La Vista Hills in 2015.
Lary sees it this way, too. "The fight amongst us was: Black folks feel like white folks have been taking from them—like La Vista Hills was going to, like Tucker did, like Dunwoody did," Lary explained. Where Lary and Snook disagree is over how to solve the problem. "And now here's crazy Jason Lary coming along, and he wants to be like them. He's an Uncle Tom; he's not a real black man," Lary said, mimicking his detractors. "The Uncle Tom thing burned. That hurt." As far as Lary is concerned, Stonecrest is not so much a part of the cityhood movement as it is a reaction to it—an attempt to save his neighborhood before it's too late.
Snook understands, but doesn't like where that thinking leads—to small, homogenous communities that nurture resentments over turf. She said she watched the logic of cityhood flip from offense to defense: "Whether we want to do this or not, we're going to become sitting ducks. If we're not the ones who grab the tax base now, somebody else is going to grab it from us," she said, distilling the latest pro-cityhood argument. "So it really becomes this war between communities for resources, for a tax base." And Snook doesn't want her local communities to be at war.
Lary, though, is comfortable with confrontation. "You cannot be a cotton ball for the kind of work I'm doing," he told me. "It's some Jimmy Hoffa-level work." As he embarked on his war for Stonecrest, the hostility he faced from his friends and neighbors was countered by an unexpected source: a wave of conservative white support from across metro Atlanta. Lary quickly transitioned from a student of surrounding cityhood movements to a unique political ally. He raised funds and stumped for La Vista Hills' ultimately unsuccessful bid to incorporate, and in the process, he gained a platform to drum up support for his own campaign—support Lary would badly need as he and his small team attempted to push Stonecrest's incorporation through the Republican-controlled state legislature and onto the ballot in DeKalb.
Lary told me about one conversation he had with "a Tea Party guy" at a La Vista Hills fundraiser. "He says, 'Hey, I just got to ask you a question: How are you going to get the rest of these black people to vote for you?'" Lary laughed. "I said, 'I'm not. Your folks are going to vote for me!'"
No support, however, would be as crucial as that of a man named Oliver Porter. Lary is built like a linebacker and speaks in a theatrical baritone, but when he describes his first encounter with Porter, his voice lowers to an awed hush: "In the third [La Vista Hills] meeting, the master shows up: Oliver Porter." After the meeting, Lary chased him down in the parking lot. "He thought I was trying to rob him!" Lary cackled. "And from that point on, I didn't let him out of my sight."
Lary was wise to do so. If the cityhood movement can be said to have produced anything resembling a political star, that star is Oliver Porter. Porter, now 80, was a longtime resident of Sandy Springs when it won its fight for incorporation. As interim city manager at the time, he not only got the city up and running, but, more significantly, served as its ideological architect.
Porter turned Sandy Springs into a kind of free-market Disneyland, outsourcing every possible municipal service he could to private industry in both the United States and abroad. Aside from its police and fire departments, Sandy Springs has only eight public employees—half of whom oversee the city's relationships with the private companies that provide its services. (Georgia state law requires that schools be run at the county level.) At one point, a company from San Francisco collected the trash, a company in England gave out business licenses, and a business based out of Pasadena, California, ran the city's court system.
No longer so beholden to the rest of Fulton County, Sandy Springs has dramatically improved its services without raising taxes. Visitors to the city can even take a tour of its municipal ingenuity, which features a stop at the city's high-tech traffic-control center. In 2010, Sandy Springs was named a runner-up in the "Better Government Competition" held annually by the Pioneer Institute, an influential free-market think tank. Sandy Springs is now home to the headquarters of more Fortune 500 companies than the city of Atlanta, despite being, by population, less than a quarter of its size.
When Sandy Springs became the first city to incorporate, other communities flocked to Porter for guidance. His written instructions to fellow cityhood enthusiasts grew to manuscript length, and so he published them; then he wrote a second book a few years later. As the cityhood movement grew, Porter became known as the guru of lean, effective local government. The first time we spoke, he had just returned from giving a series of lectures in Hawaii. He has worked with municipalities in Honduras and across the United States; recently, his book became a best-seller in its genre ("Government") in Japan. It is safe to say that there is no cityhood movement without Sandy Springs, and there is no Sandy Springs without Oliver Porter.
Porter looks like Ronald Reagan dressed up like Colonel Sanders. We met at his home in Sandy Springs, which sits at the end of a tranquil street lined with trees that were striking in their beauty but eerie in their uniformity. We sat in his library, which was entirely mahogany and leather, with floor-to-ceiling bookshelves. Down the hall was a plush carpeted room that incongruously contained nothing but a hot tub. Porter mentioned that he and his wife had just hosted a black-tie party for his birthday two days earlier. He then paused and apologized, with arresting sincerity, for having not invited me.
At first glance, it seems odd that Porter, who has never held public office, became the face of the cityhood movement. Really, though, his prominence is not in spite of this fact, but because of it. Porter is an engineer and a former AT&T executive; he considers his work within the cityhood movement to be utterly apolitical. "Everyone expected me to run for office," he said, "and I'm just not psychologically attuned to being a politician. Compromise doesn't make sense to me. It's right or it's wrong—there's nothing in between."
Given Porter's obsession with government efficiency and his disdain for politics, he embodies precisely what the cityhood movement has long claimed to be about. The more he is recognized as its figurehead, the more the cityhood movement distances itself from its racially charged past.
Porter willingly cites Sandy Springs' decades-long fight for incorporation but blanches at the connection of this history to the tax revolt led by Skandalakis or to race. In Porter's telling, the incorporation of Sandy Springs was inspired by conflicts with the county over zoning. Fulton County, Porter told me, had passed a rule stating that no more than 40 percent of housing in Sandy Springs could be multiunit, and yet that number had climbed all the way to 52 percent.
"It seemed to us—and this may sound a little harsh—that they'd let anything be built that would generate some revenue that the county could then take and spend somewhere else," he said. "We were getting swamped with apartments."
I assumed that this concern over apartments was primarily about taxes, but Porter offered a different reason. "Mainly there was a concern that apartment-dwellers are not as devoted to the community as people who buy homes, pay property taxes, and all. They're more transient and just not as involved in communities," Porter told me. "Apartments also tend to—and this is not true of all—but tend to have a greater impact on public safety. There's more crime—again, because of the transient nobody-knows-who-I-am sort of thing. Crimes, in our case, were tending to center in apartments. And again, the county was nonresponsive."
Porter said that the creation of Sandy Springs, and, in effect, the entire cityhood movement, could have been easily prevented: "If the county had been a little more understanding or responsive to what the community was saying to them, it never would have happened."
In 2007, two years after Sandy Springs' incorporation, as Connor has written, U.S. Census data that tracked owner- and renter-occupied homes by race showed that white people headed roughly 90 percent of homes that were owned in the city. Black people and Latinos accounted for around 3 percent each. Roughly 90 percent of black-headed households and 80 percent of Latino-headed households in Sandy Springs rented their homes.
Porter, however, is passionately insistent that race had nothing to do with Sandy Springs' zoning concerns. "I can tell you personally, from having sat on the organizing committee for 10 years, that race was never an issue," he told me. The only time race was discussed, Porter said, was when the committee brainstormed methods of minority outreach as it planned the new city.
It was clear from our conversations that Porter is deeply troubled by this line of criticism. "We're not, as The Atlanta Journal [-Constitution] called us, a bunch of 'white racists,' or 'rich, white racists,'" he said, pointing out that the percentage of residents of color has grown in Sandy Springs post-incorporation. Porter feels that the local media played a large role in painting the cityhood movement as discriminatory. He described a cycle by which negative media coverage gave Sandy Springs an unfair reputation on issues of race, breeding distrust and miscommunication that the media then highlighted further.
"I tried reaching out to the black community," Porter said, "but there was no organized way to get to it. Normally, you get there through black churches … I went to a large one right across the border, seeking out help on how to reach folks with information. And the Atlanta paper wasn't doing anything but criticizing. They weren't publishing any real information." Porter then added, with a mix of humor and contempt, that Cox Enterprises, which owns the Constitution, is headquartered in Sandy Springs but "wouldn't admit it for many years. They always said, 'We're in Atlanta.'"
Porter's insistence on the cityhood movement's race neutrality comes down to a question of historical aperture. Porter seemed disgusted and frustrated as I read back to him the quote about how Sandy Springs once wanted to "build up a city separate from Atlanta and [its] Negroes." Days after our meeting, he emailed me to even more strongly reject the criticism of the cityhood movement as racist. "1960," he wrote, referring to the general provenance of the quote, "was over half a century ago." Then, in a bulleted list, he continued:
You were not born.

The cityhood movement did not start until about 1980.

I did not live in Sandy Springs until 1983.

The civil rights movement had hardly begun [in 1960] and the Civil Rights Act may not have even been passed.
From this vantage point, then, Lary and Porter make natural allies: Both are heavily invested in distancing the cityhood movement from charges of racism. When I asked Porter if a Stonecrest victory on Election Day would be good for the racial optics of the movement, he thought it would be, but he was also pessimistic. "In a perfect world, it would," Porter said. "But there are still those who will oppose cityhood and will try to make it a racist issue, and you'll say, What about Stonecrest? And they will say, Well, that's an anomaly. But I do think it could help a lot."
Lary agrees with Porter, but his understanding of their alliance is also shaped by hard-won pragmatism. After stating that Republican support for Stonecrest was due in part to earnest people "knowing it was the right thing to do," Lary smiled and recounted something his father told him about the campaign: "He said, 'You're gonna win this, because you're not in the white folks' way. You don't have something they want to take away from you and keep for themselves.'" Lary seemed to demure to his father's perspective even as he delivered it with knowing laughter.
Owens, the Emory professor, echoed that sentiment. New, majority-black cities, he said, "ultimately strengthen the rhetoric of those on the north side who have already created cities. All they have to say is, Look, we're doing, obviously, what other people in the counties wish they could be doing, and we encourage them to keep trying to do it," he said. "Behind that, I think, is the idea of, Yeah, you create your city, and we have our city over here."
Tax revenue and government power may be the flashpoints of the cityhood debate, but undergirding the tension between each side is a fundamental disagreement about the definition of community. Many who oppose cityhood see the balkanization of metro Atlanta as the death of a county-wide unity they have long held dear. Snook, the leader of DeKalb Strong, told me that the preservation of the county's identity was at the core of her organizing work.
"The big question that everything hinges on," she said, "is, who is 'us'? Where are the boundaries of my community? And one reason that this breaks my heart and upsets me so much is that, when I think of 'us,' I am thinking of the whole county. I think of the whole county as my community, and so I don't think of my tax dollars as diverted elsewhere if they're being spent within my county. But for some people, if it's not in their little patch of land, they feel like somehow it's being diverted, it's being taken by other people. And it comes down to, who do you think of as 'other people' and who do you think of as 'us'?"
For Lary, solidarity is something only his wealthy, white neighbors to the north can afford to cherish. After speeding away from a strip of highway median on which Lary had, daringly, parked in order to hammer down some signs, I brought up Snook's criticism. As we idled at a red light, he took his hands and spread them far apart. "She's here on this issue," he said, gesturing with his left, "and I'm way over here," shaking his right. "I want to shed that ugly [DeKalb] image. Because they have business in central and north DeKalb. They have industry, they have strong homes." As long as a town carries the DeKalb brand and not its own, Lary said, nothing "is really going to happen with them."
While Lary and Porter are unwavering in their advocacy for the cityhood movement, they both acknowledge that achieving their goals means leaving behind a group of increasingly disadvantaged neighbors. When I asked Porter about this, he jumped in before I could finish the question. "So the issue is: People say, Well, it isn't fair to the rest of the people who got left behind," he said. "My answer to them has been: Form your own city. If you want to get good government, form your own city. Don't just keep depending on someone else to subsidize you."
This position is key to Porter's argument. People in unincorporated areas may be worse off as a result of the cityhood movement, but the county is still exploiting them—and all they have to do to mitigate the damage from the incorporations around them is to incorporate themselves.
"What bothers me is, out there, all of these existing governments operating so inefficiently," Porter said, practically seething. "And I've studied them, and I know they could be doing it much more efficiently for their citizens and providing them better service at the same time … And yet, you cannot get elected officials to do it, because they basically are more concerned about their own jobs than they are the citizens."
Lary was more blunt: "Hey, go get your own. Do it for yourself."
But this is easier said than done. Incorporation campaigns are expensive. In addition to standard campaign costs, would-be cities must pay for nonpartisan feasibility studies to prove their economic sustainability. Lary went into significant debt financing the Stonecrest campaign and put in a huge amount of time. As the cityhood movement spreads across more of metro Atlanta, the people left in unincorporated areas will be the same ones with the fewest resources needed to form a city themselves. But this "get your own" attitude is reflected in the very rules for incorporation in Georgia. The only people who get to vote on the creation of a new city are those who would become its residents. Everyone else gets left behind without a say.
Lary acknowledged all of this but was unmoved. Sticking it out with DeKalb County, he told me, "got us fucking trash on the ground, and trees growing out of the highway, and a bad economy, and houses that are underwater. So no—I'm ready to branch off." Everyone else, he said, "can go somewhere else."
On Election Day, Lary's efforts paid off: Stonecrest, Georgia, became its own city. It passed with 59 percent of the vote. So did South Fulton, a previously unincorporated part of Fulton County with racial demographics nearly identical to Stonecrest's. (It passed with 59 percent, too.)
At its core, the cityhood movement has been a referendum on the question of belonging—to whom certain communities feel beholden and what that responsibility entails. With Stonecrest, it seems fair to say that the ethos of the cityhood movement—with its winnowing away of communities' imagined size and their responsibility to outsiders—is gaining steam. The White House is now guided by the mantra "America First." The cityhood movement is, essentially, "Your Neighborhood First."
Neither are new concepts. The political maneuvering involved in cityhood has been around a long time. "In terms of drawing municipal boundaries in order to self-interestedly get a tax base, or avoid constructing apartments, or avoid having affordable housing—let he without sin cast the first stone," Paul Lewis, a professor at Arizona State who studies the creation of new cities, told me. "The Northeast—areas like Philadelphia and New York City and Boston—were doing stuff like this 50 or more years ago."
Owens, though, told me, "In a place like Atlanta … perhaps, it's about more than just what's presented on the surface." This uncertainty, of course, is how structural racism works. By incentivizing and even celebrating the consolidation of racial privilege, it makes it impossible to see where racial discrimination ends and citizen engagement begins. Indeed, it often makes these things—for whites—one and the same.
And yet, since being voted into existence, Stonecrest has made good on some of the promises Lary's critics said were the most farfetched. Lary and his team promised an influx of economic development, and in February, the city announced a deal with the Atlanta Sports Connection, which will build a 200-acre, $200 million athletic complex—featuring, among other things, 28 sports fields, a 15,000-seat stadium, and a 380,000-square-foot entertainment district—right in the heart of Stonecrest.
Lary and his team also promised to give their neighbors a political voice, and the races for Stonecrest's five city-council seats have been unusually dynamic. Mary-Pat Hector, for example, a 19-year-old Spelman College sophomore ran for one of the seats—losing last week in a runoff by just 22 votes. She's the youngest person to have ever run for public office in Georgia.
"When Obama ran for president, we voted for him because he was a symbol of what we can be," Lary told me. "That's what Stonecrest is—it's a symbol of what we can be." He wants "to show people that just because it's black," that doesn't mean Stonecrest will fail. "That's what's happened with DeKalb County. It's black, and it's screwed up, and we were in charge of it for two decades." Now, he wants black communities around Georgia to see Stonecrest as a model and beacon of black self-determination.
"I think Stonecrest and South Fulton put the nail in the coffin for unincorporated areas. There will be no more unincorporated areas. Everyone will incorporate, everyone will have a city," Lary said.
At the victory party for Stonecrest, Oliver Porter told the attendees how proud they should be to have someone like Lary working for their "independence." And Lary has already been strategizing with other cityhood hopefuls, whom he said were "anxious to get started, because they now feel empowered." He envisioned himself paying it forward as a mentor and adviser, as Porter did for him.
First, though, Lary will start work at his new job. In March, the citizens of Stonecrest elected him to be their first mayor. Nearly every aspect of the cityhood movement has sown discord, and yet Lary's election seems to be the only fair outcome of this chapter in Stonecrest's history. The man who put the city on the map is now responsible for keeping it there.