The Product-Placement Presidency
The First Family can't seem to stop advertising their business empire.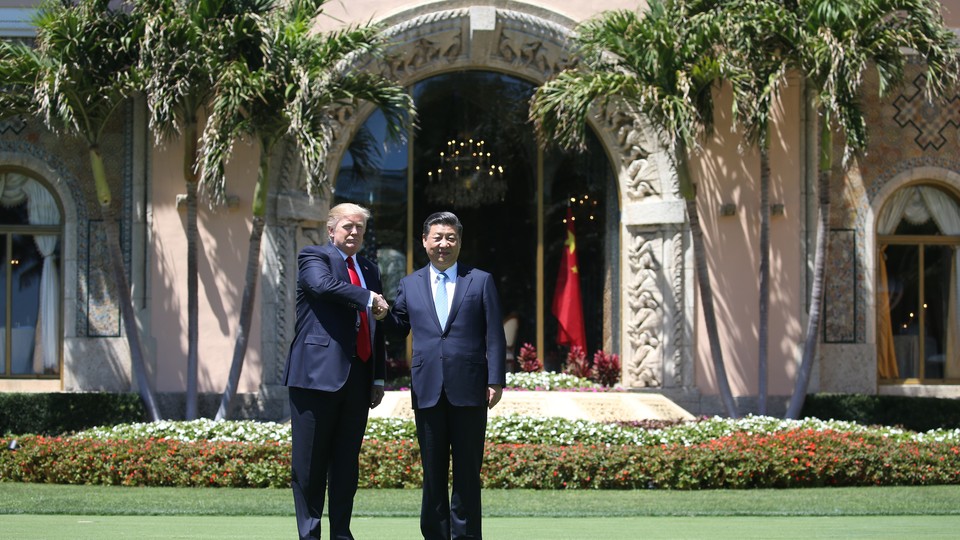 When you hear the name Ivanka, what do you think?
Chances are that the first thing that springs to mind is President Donald Trump's eldest daughter. And she wants to keep it that way: According to Advertising Age, Ivanka Trump has filed for trademarks in both the United States and China to make sure that she, and only she, can market products under not only her full name but also just "Ivanka" on its own. That doesn't necessarily mean she's actively expanding her brand; in China especially, proactively pursuing trademarks to ward off knockoffs is fairly common practice. Her company received three of those Chinese trademarks, for jewelry, bags, and spa services, on April 6—the same day she joined her father and Chinese President Xi Jinping for dinner at the Mar-a-Lago Club in Palm Beach, though there was nothing to suggest the timing was anything more than a coincidence.
Nevertheless, Ivanka's quest to legally protect her own name is yet another demonstration of the ethical ambiguities that arise from a powerful businessman in the White House, staffed by members of his family. Quite often, the line between the Trump brand and the Trump administration is not a clear one. Famous (and profitable) as the family's names were before Donald became president—there's speculation that the name is the Trump Organization's most valuable asset—Trump's ascension to arguably the highest office on earth, and his subsequent decision to bring his daughter into the White House, have drastically increased their visibility.
This fact has not escaped them. Speaking to The New York Times in March, Eric Trump said he believes "the stars have all aligned" to make their brand "the hottest it has ever been"—although he didn't go so far as to explicitly acknowledge the role his father's presidency may be playing in that heat. Likewise, the Trump Organization's decision to double the initiation fee at Mar-a-Lago in January has been read by many critics as an implicit acknowledgement that Trump's brand is more valuable now that he's in the Oval Office.
Sometimes, that apparent awareness has devolved into outright product placement. Shortly after Trump won the presidency, Ivanka's company put out, then withdrew, an advertisement for the bracelet she wore in a 60 Minutes interview alongside her father. In February, Kellyanne Conway, the president's counselor, drew consternation from congressional leaders of both parties and the nonpartisan Office of Government Ethics when she urged people to "buy Ivanka's stuff" in a televised interview in apparent violation of federal ethics laws; the White House announced that Conway was "counseled," although what exactly that means remains unclear. In a lawsuit against the Daily Mail, Melania Trump's lawyers alleged that an article suggesting the First Lady had once worked as an escort might deprive her of a "unique, once in a lifetime opportunity" to "launch a broad-based commercial brand" during her time as "one of the most photographed women in the world." (Her lawyers later said that Melania "has no intention" of profiting off of her husband's presidency.) And at the National Prayer Breakfast, Trump himself mused about The Apprentice's declining ratings, generating major free publicity for the program.
More generally, a few of Trump's properties have been front and center over the first three months of his presidency, so much so that various organizations have begun tracking how much time he's spent in buildings with his own name on their facades. Philip Bump of The Washington Post identified that, as of April 15, Trump had visited one of his properties 31 of his 85 days in office; two days later, he noted that Trump had spent more than one fifth of his presidency so far at Mar-a-Lago—seven of the 13 weekends since January 20.
All those trips, be they down to Florida or just to his golf course in Virginia, amount to an enormous amount of free publicity for Trump's properties. Much the same can be said of the numerous photos and videos of the president that have emerged from those visits, which not only showcase the properties themselves but also demonstrate just how close guests can get to the president by paying admission. Trump's idiosyncratic interview style only adds to this tendency: Speaking to Maria Bartiromo on Fox Business on April 11, Trump went on an odd tangent about how he was at Mar-a-Lago eating "the most beautiful piece of chocolate cake that you've ever seen, and President Xi was enjoying it," when he authorized an airstrike in Syria.
His two adult sons, who have been running the Trump Organization on their father's behalf since he became president, have likewise seen their fame grow of late, with the benefits naturally redounding to the family business. A March profile of Donald Trump Jr. in the New York Times highlighted his role as "a defender of the family name," focusing on his at-times awkward transition into being a public figure and his dual roles as the head of a massive multinational corporation and son of a sitting president. More recently, Eric Trump sat down for an interview with the Irish Independent about his father's presidency so far—which also included a lengthy conversation about the Trump Organization's many properties and, specifically, his family's golf course in Doonbeg, Ireland, where the conversation was being held.
Intentional or not, all of these incidents have ensured that the Trump brand has remained eminently visible throughout the first three months of the Trump presidency. In fact, two lawsuits brought against the president since he took office, as well as one against Ivanka, allege that using the Trump name now constitutes unfair competitive practices in part due to the visibility the presidency provides and the potential for profit that visibility creates. That said, as Trump has often noted, there's no actual law precluding the president from making money off of his businesses in office.
In one sense, it's not uncommon for presidents to develop and promote a personal brand. On top of receiving lucrative book deals on the way out of the Oval Office, all five living ex-presidents have charitable foundations that fundraise in part off of their name-recognition and clout. Unlike the Trump Organization, those foundations are all non-profits dedicated to advancing a cause rather than for-profit businesses. (Trump, too, has a foundation, although an investigation by David Fahrenthold of The Washington Post found major problems with its nonprofit status and little actual charity.)
More importantly, those ex-presidents waited until they were actually out of the White House to capitalize on the office, which meant that their actions as president were not clouded by questions of personal profit. Donald Trump, on the other hand, doesn't seem to be waiting: Even if he's not actively trying, he and his family are engaged in a constant, massive advertisement for a brand from which they stand to be the top beneficiaries.