What Panera Gets From Its $7.5 Billion Sale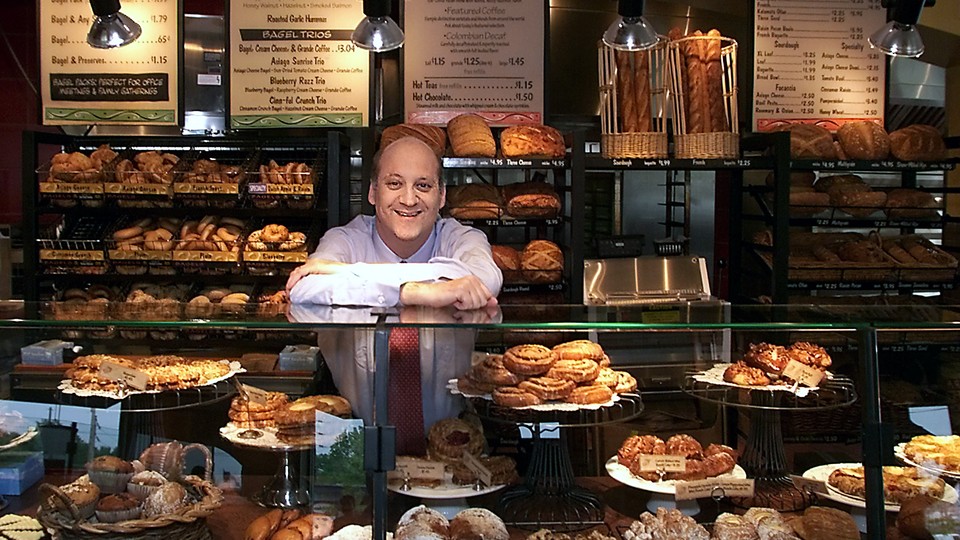 After speculation during the first half of the week, Panera Bread Company, a fast casual chain, announced on Wednesday that JAB Holdings Company, a German conglomerate, would purchase it for roughly $7.5 billion. JAB's reasoning seems staightforward enough: the company has been snapping up coffee chains in the U.S. including Krispy Kreme, Peet's Coffee & Tea, Stumptown Coffee Roasters, Keurig Green Mountain, and Caribou Coffee. Panera is an expansion of that acquisition spree, as JAB pushes forward from the fast-growing coffee industry into the lunch market. But Panera will get something, other than money, out of the deal too.
The German billionaires that control JAB, the Reimann family, are known for bold business decisions and direct investments. That's likely something Panera's management wanted: After the deal closes, Panera will go from a public to private company. Ron Shaich, Panera's founder and CEO, told CNBC on Wednesday that going private will allow the company to focus on long-term goals, citing a common concern that chasing shareholder returns results in short-term thinking that can plague public companies, including Panera. Economists have even found that some companies avoid going public so corporate management can remain free of such pressures which can undermine a company's performance in the long term.
Panera is a Cinderella story in the fast-casual restaurant business: It consistently ranks at the top of the bakery cafe chain category in terms of sales volume, and is considered a leader in the fast-casual restaurant space. With the recent uptick in stock price on the rumor of its impending sale, the stock has gained over 8000 percent in the past 20 years.
Panera's history includes another well-known cafe bakery chain, Au Bon Pain. Au Bon Pain acquired the Saint Louis Bread Company, in 1993 and rebranded it as Panera (which, according to the company, is a portmanteau for "time for bread" in Latin). Eventually Au Bon Pain was sold, but Ron Shaich, one of the co-founders of Au Bon Pain, spun off the Panera brand and ran it himself. Shaich has said in interviews in the past that he saw Panera as "a gem" in the 1990s. He has since grown the chain to over 2,000 outlets across the U.S.
Part of the Panera's secret sauce was that it provided casual over-the-counter service that felt upscale. For that, its customers were willing to pay a little more. But it hasn't all been positive. The past several years have proved difficult, with competition from fast-food chains and casual dining increasing. In 2013, the company's slow service was criticized and rising costs have also hampered profitability. However, the company excels at things that those in the industry consider forward-thinking: Panera has been successful getting customers to order on mobile, as well as strategically converting some stores into outlets that can handle catering and delivery. Panera has also been a leader in healthy-food initiatives, including pledging not to use any artificial ingredients and being transparent about the sugar content in its drinks.
Investors have long believed in Shaich's ability to make money from selling lunch. Panera going private could allow for more interesting, and eventually profit-driving, initiatives at the brand. But now, Shaich will be able to operate away from the constant watch of anxious shareholders, and with German billionaires backing his business.