Advertisers Are Ditching Bill O'Reilly Over Harassment Allegations
More than two dozen companies are pulling ads from the most-watched cable-news show amid yet another scandal at Fox News.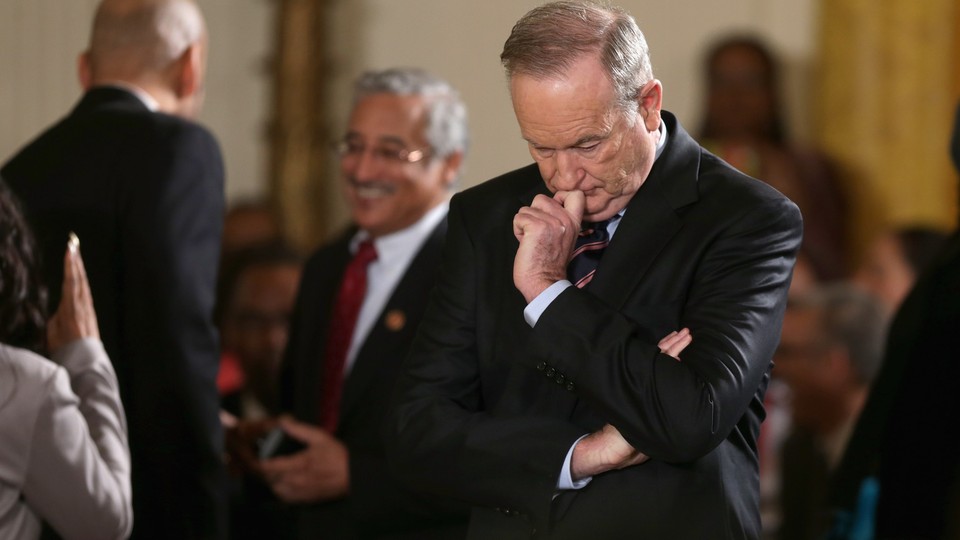 Updated on April 5 at 2:44 p.m. ET
In a recurring segment on his show, The O'Reilly Factor, Bill O'Reilly likes to take on an "Unresolved Problem," something he judges the media and national conversation at large to have glossed over without a close enough look. Now O'Reilly and his network are facing an unresolved problem of their own, in the wake of the publication of a New York Times investigation that found that he and his employers have paid out a total of $13 million to settle with five women who alleged O'Reilly had harassed them, sexually or otherwise. Making matters worse, a follow-up report turned up yet another claim against Roger Ailes, the former Fox News chairman who himself was ousted last summer amid a host of sexual harassment allegations.
As of Wednesday afternoon, 31 companies have said they won't do business with The O'Reilly Factor, either by pulling ads slated to air during O'Reilly's 8 o'clock show or by committing to stop running ads on the show in the future. Among those advertisers were GlaxoSmithKline, BMW, Mercedes-Benz, Allstate, UNTUCKit, T. Rowe Price, Bayer, Esurance, Subaru, and Orkin.
The public firestorm is perhaps not surprising given some of the details in the Times report, which expands on what has been publicly reported about two cases that were already known and brings three others to light for the first time: In one case, a female Fox News employee said that while she was on the phone with O'Reilly, it sounded like he was masturbating, and in more than one instance the complaints allege that O'Reilly stopped his show from working with women who had rebuffed his sexual advances.
In a written statement in response to the Times, O'Reilly's employer stood by its star:
21st Century Fox takes matters of workplace behavior very seriously. Notwithstanding the fact that no current or former Fox News employee ever took advantage of the 21st Century Fox hotline to raise a concern about Bill O'Reilly, even anonymously, we have looked into these matters over the last few months and discussed them with Mr. O'Reilly. While he denies the merits of these claims, Mr. O'Reilly has resolved those he regarded as his personal responsibility. Mr. O'Reilly is fully committed to supporting our efforts to improve the environment for all our employees at Fox News.
O'Reilly also put out a statement of his own on his show's website, speculating about his accusers' motivations. His accusers, he said, "want me to pay them to avoid negative publicity." And after echoing Fox's point that he hasn't received harassment complaints via the company's internal HR channels, he added an explanation of why he'd paid to settle cases he maintains have no merit: "I'm a father who cares deeply for my children and who would do anything to avoid hurting them in any way. And so I have put to rest any controversies to spare my children."
These advertisers' departures are not just symbolic. The O'Reilly Factor garners the highest ratings of any cable-news show, and, per ABC, it pulls in the most ad revenue of any show in the category—$126 million in 2015 alone. While some companies have stuck to boilerplate language about reassessing their strategies in light of recent developments, many of the advertisers defecting from The O'Reilly Factor's primetime advertising slots specifically cited their commitment to women in the workplace as the reason for their departure. UNTUCKit, one of the five biggest spenders on advertising on the show according to Ad Age, said that one of the reasons for its decision was its mostly female workforce. Bayer, in a statement, said that it "supports a safe, respectful and non-abusive environment for women and we have reached out to Fox to voice our concerns regarding this matter."
There is never a good time for something like this to happen, but the scandal over O'Reilly's behavior comes at an especially bad one for Fox News, given the recent ignominious departure of its longtime chairman and chief institutional architect, Roger Ailes. On Monday, news of yet another lawsuit against Ailes broke, adding to the dozens of accusations that emerged after the former Fox personality Gretchen Carlson went public with claims that she had been harassed by the Fox chairman in the summer of 2016.
Many Fox News personalities like nothing so much as a story that casts them and their viewers as put-upon victims—the last, lone sane ones, standing up for ordinary morality and common sense in a world gone mad. Whatever else can be said of it, this narrative has been an extremely effective one for Fox: The network has been rewarded by advertisers who have made Fox shows the most lucrative in the business. In the wake of the scandal that cost its chairman his job, the network can't be relishing another episode that makes it impossible to imagine that Fox News is the one being victimized.