Steven Mnuchin Thinks Trump Can Fix Taxes
"We like hard challenges," the treasury secretary said at an event in Washington, D.C., shortly before the release of details about the president's plan.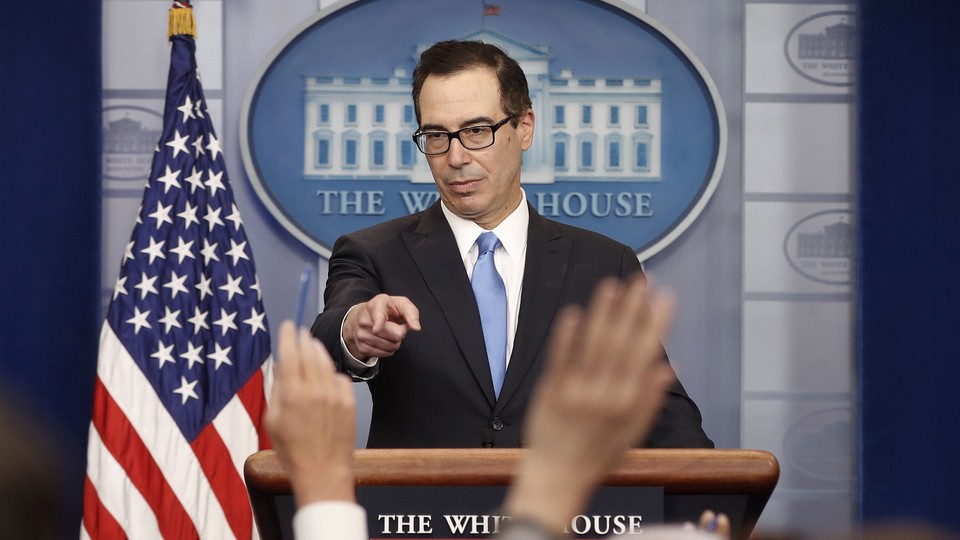 Treasury Secretary Steven Mnuchin says he wants comprehensive tax reform, and he thinks the Trump administration can get it done. On Wednesday, ahead of the release of the White House's new tax plan, Mnuchin joined The Hill's editor in chief, Bob Cusack, to discuss the soon-to-be-unveiled proposal and his economic priorities for the next four years.
At the event held at the Newseum in Washington, D.C., Mnuchin confirmed that Trump's tax plan would involve cutting the corporate tax rate from 35 percent to 15 percent—a promise that Trump made repeatedly during his presidential campaign. The U.S.'s current corporate tax rate is one of the highest in the world, and Mnuchin argues that this makes American businesses less competitive and hampers economic growth. Critics have argued that slashing the corporate rate would allow rich business owners to use what's called pass-through accounting to lower their individual tax rates, a financial maneuver not possible for most workers. Mnuchin dismissed this criticism, saying, "What this is not going to be is a loophole to let rich people who should be paying higher percents pay 15 percent."
Another common critique of Trump's tax plan is that it's not clear how it'd be paid for: The proposed tax cuts would significantly decrease revenues to the government, yet Trump has said that he doesn't intend to cut spending for major programs such as defense or entitlements. When asked about this lack of offsets, Mnuchin insisted that the plan would be paid for, at least in part, by the additional economic growth unleashed by Trump's economic policies and slashed taxes—growth that Munuchin and Trump's advisors say will be around 3 percent. "The difference between 1.6 percent, 1.8 percent, and 3 percent GDP is staggering—it's trillions of dollars of revenue," he said.
Many have wondered whether it is wise for the Trump administration to tackle something as enormous and nuanced as tax reform on the heels of such a large, public loss in the attempt to repeal the Affordable Care Act. As my colleague Derek Thompson has written, building a consensus around tax reform will not be much easier than building one around health-care policy. Instead of undertaking full-on reforms, the administration could opt simply for tax cuts, which would expire after a decade or so. But Mnuchin says that he is still focused on reforms. "The goal is to make it permanent but, if we have them for 10 years, that's better than nothing," the secretary said. "We like hard challenges—that's why the president's here."
While Mnuchin is unsurprisingly optimistic about the administration's ability to move forward with its tax plan, tax reform has been a contentious topic since well before the election. During the second half of Wednesday's event, a panel of several tax experts took issue with the administration's tax plan. Jared Bernstein, a senior fellow at the nonpartisan Center on Budget and Policy Priorities and a former advisor to Vice President Joe Biden, said that even if the administration accomplishes its stated goals, he's not sure that those goals actually qualify as comprehensive tax reform. "Tax cuts shouldn't be conflated with tax reform. This is tax cuts," he said. "What I call tax reform is not what Secretary Mnuchin was describing, by a long shot." Bernstein explained that reform would entail a more comprehensive restructuring of tax codes and policies, not just  reductions in taxes.
And then there were those who focused on the math of how exactly the tax cuts would work without proper budgetary offsets. "If they're really focusing on growth, you want a plan that's paid for," said Maya MacGuineas, the president of the bipartisan Committee for a Responsible Federal Budget. "Tax reforms that are paid for grow the economy more than those that aren't. What I don't want to see is that this tax reform is going to be paid for by magic." Grover Norquist, the founder of the conservative group Americans for Tax Reform, disagreed, arguing that the 2003 Bush tax cuts were successfully offset by economic growth.
The administration's tax proposal is set to be released Wednesday afternoon. But even after the details of the plan are made public, Trump and Mnuchin will still have a very tough political task to accomplish if they hope to implement all of their proposed tax policies.