What Is Janesville, Wisconsin, Without General Motors?
Eight years after its GM assembly plant closed, the city of 63,500 is still trying to answer that question.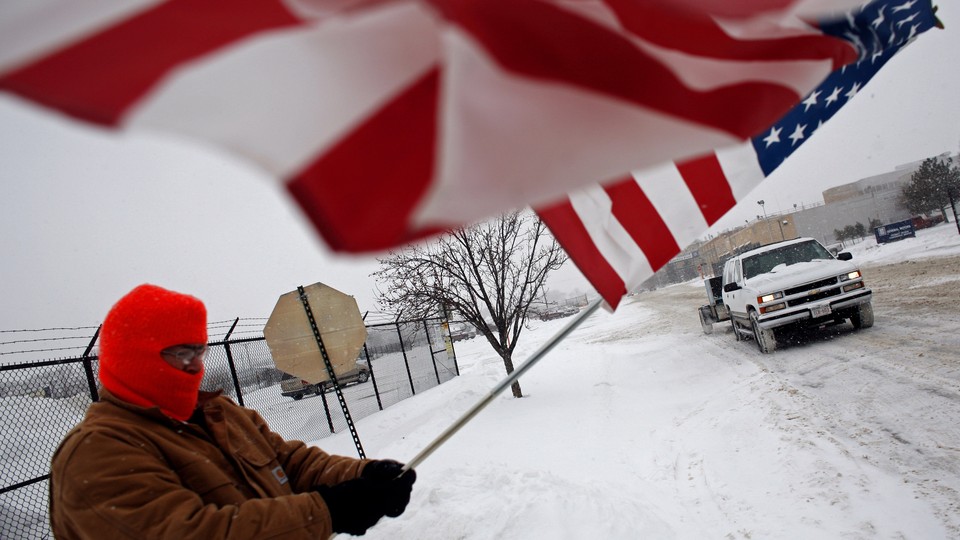 Vice President Mike Pence ended his sixth week in the White House last month by following House Speaker Paul Ryan to the small city in southern Wisconsin that is the speaker's hometown. When Pence arrived mid-morning in Janesville, Wisconsin, he met with a few local farmers and business owners. Before he left mid-afternoon, he got lunch at an Irish pub with photos of Ryan's ancestors on the wall.
And in between, he delivered a speech at the headquarters of Blain's Farm & Fleet, a regional discount retailer that has been in the same family since the 1950s. Speaking before 350 of the company's employees, Pence extolled them as "the backbone of our economy, of our country" and said that "Janesville has almost taken on an epic quality in America because what works in Janesville will work for the American people."
In that speech, however, Pence omitted some significant facts. He did not mention that he was, at the time, standing just three miles east of a vacant industrial behemoth, the Janesville Assembly Plant—the nation's oldest operating General Motors plant until it shut down two days before Christmas of 2008. Nor did Pence note that, in the years since the plant closed, the city has struggled to regain its economic footing and find a path toward a future as prosperous as its past.
Janesville began turning out Chevrolets in 1923. In the assembly plant's heyday, it had about 7,100 workers and propped up thousands of jobs at other local companies that produced supplies that the plant required. As other communities across the Midwest slid into the Rust Belt, largely starting in the 1970s, the assembly plant went on and on, buoying Janesville's economy as its unionized workers turned out well-made sedans, pickups, and SUVs.
Back during the Great Depression, the assembly plant shut down and reopened a year later. The Great Recession was harsher. General Motors made its decision to stop production in Janesville four months after the company posted the largest annual loss in its history and a year before GM filed for bankruptcy.
For a community of 63,500 with a proud industrial past and a can-do spirit, the first reaction to this blow was neither grief nor panic. It was denial. Ryan (climbing at the time through the House GOP ranks), local business leaders, and many autoworkers themselves believed that it was simply a matter of time until GM would bestow upon Janesville another vehicle model to manufacture.
They turned out to be wrong. Roughly 9,000 jobs vanished in 2008 and 2009 in Rock County, the swath of southern Wisconsin in which Janesville is the county seat. In a cascade, the plant's closing drove away work at its suppliers, and the combination left fewer people with enough spending money to support the shops and other small businesses in town.
By last month, when Pence visited, more than eight years had elapsed since the assembly line stopped. Lately, the U.S. auto industry has had record sales. Even in Janesville, the unemployment rate has settled back from its stratospheric level of more than 13 percent to just under 5 percent. And yet, while factory jobs have been cropping up in some parts of the U.S., Janesville is not one of them. According to the Bureau of Labor Statistics, Rock County has nearly one-fourth fewer manufacturing jobs than it had just before the assembly plant shut down. Meanwhile, wages have sagged.
So, the vice president's ode to Janesville as an economic role model nicely echoed the language of Donald Trump, whose promise to make America great again helped catapult him into the White House. But Pence's praise did not hint at how recent years have reordered residents' lives in Ryan's hometown, at the hard choices many families have made.
For one, Pence did not hint at the circumstances that led Matt Wopat to become a "GM gypsy," as someone who moves from plant to plant is often called. Wopat's father, Marv, worked at the assembly plant for 40 years until retiring a few weeks ahead of his son's layoff. With a wife and three daughters, Wopat, who himself had been at the plant for 13 years, went back to school at Blackhawk Technical College to retrain in hope of working for the local cable company. But by the time the prospects of such jobs faded and his union layoff benefits were running out, he felt he had no choice but to do something he had vowed he would never do: join a brigade of Janesville GM'ers who retrieved $28 an hour by commuting to other assembly plants hundreds of miles away—in his case, in Fort Wayne, Indiana. Wopat begins the four-and-a-half-hour drive at 8 a.m. every Monday and drives back late into the night every Friday, unless there is Saturday overtime in Fort Wayne, in which case he drives back for one day at home.
Nor did Pence's "what works in Janesville" praise hint at the choice Jerad Whiteaker was left to make. His father and father-in-law live on their good GM pensions—the future Whiteaker had expected for himself. Instead, after the plant shut down and a brief stint of retraining, he began bouncing from poorly-paid job to poorly-paid job. Unwilling to live away from his wife, twin daughters, and son—who were unwilling to leave Janesville—Whiteaker finally took a buyout from GM, forfeiting his rights to transfer to a different plant, as Wopat has done, and any possibility of a pension in exchange for a few thousand dollars and six more months of health insurance. Even though he was working and his wife was juggling two part-time jobs, they were not bringing in enough money. The Whiteaker twins, bright and industrious high-schoolers, worked five jobs between them, helping to cover the groceries and slipping their brother a few dollars now and then so he wouldn't need to miss middle-school recreation nights.
Mike Vaughn, meanwhile, was the union shop chairman at the Lear Corporation, the assembly plant's biggest supplier, manufacturing the seats for the GM vehicles. The role made Vaughn the third generation of his family on the executive committee of United Auto Workers Local 95. When Vaughn's job ended, he scoured listings on unionjobs.com but didn't find anything that made sense for him. His wife had lost her job at Lear months before, and she was retraining at the technical college. He followed her back to school and chose to study human resources—a good fit, he thought, after all his union work. Vaughn graduated, found an entry-level job, and has gradually been working his way along his new career. But he is no longer on the union side. He is management.
The lives of Matt Wopat and Jerad Whiteaker and Mike Vaughn—and so many others in town—have been reordered even though, as small cities hit by economic misfortune go, Janesville has certain advantages. It possesses considerable ingenuity, philanthropy, and resilience. One social-studies teacher created a "closet" at her high school stocked with donated canned food, toiletries, and even used prom dresses for students whose families used to be middle-class but aren't anymore. The leading banker in town co-founded a regional coalition, called Rock County 5.0, to try to draw new businesses and encourage existing ones to stay.
During the past few years, some promising economic signs have begun to appear. A start-up called SHINE, run by a Madison nuclear engineer who invented a novel process for producing a medical isotope, chose Janesville as its manufacturing home. If the company finishes surmounting regulatory hurdles and raises enough capital, it expects to bring 150 jobs to town. More recently, Dollar General decided to locate a distribution center and 300 jobs in Janesville. (The lingering hunger for work—and for $15- to $16-an-hour wages—was on display not long ago when 3,000 people turned out for a Dollar General job fair.)
Promising though these signs are, they nevertheless attest to how difficult economic recovery is. Luring new businesses requires immense public investment. The strapped city government agreed in 2013 to give SHINE $9 million in economic incentives—a record until it agreed to give Dollar General more. Janesville also has learned that job retraining—a rare economic policy on which Republicans and Democrats tend to agree—has limited usefulness when jobs are still scarce. Meanwhile, the once-mighty UAW Local 95 has been decimated.
Still, Janesville has remained a Democratic town, voting against Wisconsin's anti-union governor, Scott Walker. In November, 52 percent of Rock County voters favored Hillary Clinton. So, when Pence said last month that "communities just like Janesville were really the wellspring of support for President Donald Trump in this campaign," he was twisting his facts. Though it surely is true that the kind of economic catastrophe that befell this small city produced the kind of unease that prompted working-class Americans elsewhere to help elect the current president.
At the end of his remarks at Blain's Farm and Fleet, Pence borrowed his boss's line. "And with your help and with God's help," the vice president said, "I promise you, Wisconsin, I promise you, Janesville, we're going to make America great again."
The reality is that, for nearly a decade, people in Janesville have been trying, with intelligence and determination, to make their lives and their economy great again. They are trying still.