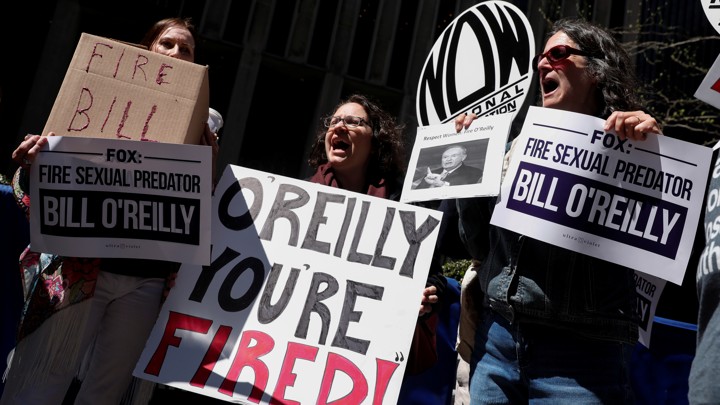 Eighteen days after a New York Times investigation revealed a slew of sexual-harassment settlements with the biggest star on the biggest cable news network in America, Bill O'Reilly is out at Fox News. In the last two weeks, up to 50 advertisers abandoned The O'Reilly Factor, even as its ratings increased. But this afternoon, 21st Century Fox, the parent company of Fox News, released the following statement: "After a thorough and careful review of the allegations, the company and Bill O'Reilly have agreed that Bill O'Reilly will not be returning to the Fox News Channel."
It's hard to overstate just how popular Bill O'Reilly is. He's coming off the highest-rated quarter of any cable-news program, ever. With 3.15 million average viewers in his last week on television, O'Reilly's audience wasn't merely the largest on cable news. It was as large the average audience of each host in CNN's primetime lineup—Erin Burnett at 7 p.m., Anderson Cooper at 8 p.m., and Don Lemon at 9 p.m.—combined. O'Reilly is the co-author of this week's number-one New York Times bestselling nonfiction hardcover, Old School, along with the number-seven hardcover (Killing the Rising Sun) and the number-five paperback (Killing Jesus).
O'Reilly's success has both fueled and been fueled by his network's similar hot streak. Cable news is dominating the pay-TV landscape, and Fox News is the undisputed king of its medium. In the first three months of this year, the network had the largest audience in the history of cable news. The network accounts for 10 percent of the revenue and 25 percent of the profits for the Murdoch-controlled 21st Century Fox (which also owns other Fox stations and the film studio 20th Century Fox).
So what happens now? O'Reilly will not return to the network in any capacity. In all likelihood his 8 p.m. time slot will go to Tucker Carlson, the puckishly combative populist who has enjoyed his own ratings boomlet after taking over for another recently departed Fox News star, Megyn Kelly.
The O'Reilly-free future for Fox News will be a unprecedented test of its ability to dominate the cable landscape without its leading man. O'Reilly himself earned about $18 million a year from Fox News, but his show generated nearly $450 million in advertising revenue for the company between 2014 and 2016, according to estimates from the market-research firm Kantar Media. In his first four days of vacation, viewership for O'Reilly's substitutes declined 23 percent. And the value of an anchor like O'Reilly is not only in the audience for his time slot, but also the spillover effect for later shows. If O'Reilly's viewership craters, it could hurt audiences in the 9 p.m. and 10 p.m. slots, sapping revenue from O'Reilly's former slot and those around it.
O'Reilly's lawyers have made noises about a vast left-wing conspiracy to dethrone the king of cable, but for now his ouster is an unambiguous win for investigative journalism. The Times's Emily Steel and Michael S. Schmidt spent months reporting out the $13 million in settlements that Fox News has paid the women who accused its biggest star of sexual harassment. It is reminiscent of the work of Gabriel Sherman, the New York Magazine reporter whose doggedness played a role in the ultimate downfall of Roger Ailes, after Gretchen Carlson filed suit against the network's founder last summer. The result is an astonishing reputational catastrophe for the company. One year ago, it was arguable that the three most famous people at Fox News were Megyn Kelly, Bill O'Reilly, and Roger Ailes. Now the first has decamped for NBC, and the latter two have been fired.
For now, Fox News remains the dominant empire of cable news, but like several empires before it, the story of its wealth is inseparable from a despicable cultural legacy—of intimidation, abuse, and systemic misogyny at the highest levels of the company. Yes, 21st Century Fox made the right call on Wednesday. But that does not wipe away the exhaustive corporate efforts to cover-up the crimes of its biggest stars and silence their most vulnerable victims. Indeed, Bill O'Reilly is gone, not because his company just learned of his alleged assaults, but rather because they just learned they cannot profitably fund his hour of television now that the allegations are known to their corporate sponsors. Steel, Schmidt, Sherman, and others have illuminated an institution where predatory behavior was permissible as long as the assailants were profit-generating males whose advertisers couldn't see the potentially criminal behavior off-camera. What does it say about Fox News that, in order for them to decide, somebody else had to do the reporting?
We want to hear what you think about this article. Submit a letter to the editor or write to letters@theatlantic.com.
Derek Thompson
is a staff writer at
The Atlantic,
where he writes about economics, labor markets, and the media. He is the author of
Hit Makers
.