Companies Can't Solve the Gender Pay Gap All at Once
After a salary audit and adjustment in 2015, Salesforce has found that it needs to constantly monitor compensation, or inequality will keep creeping back in.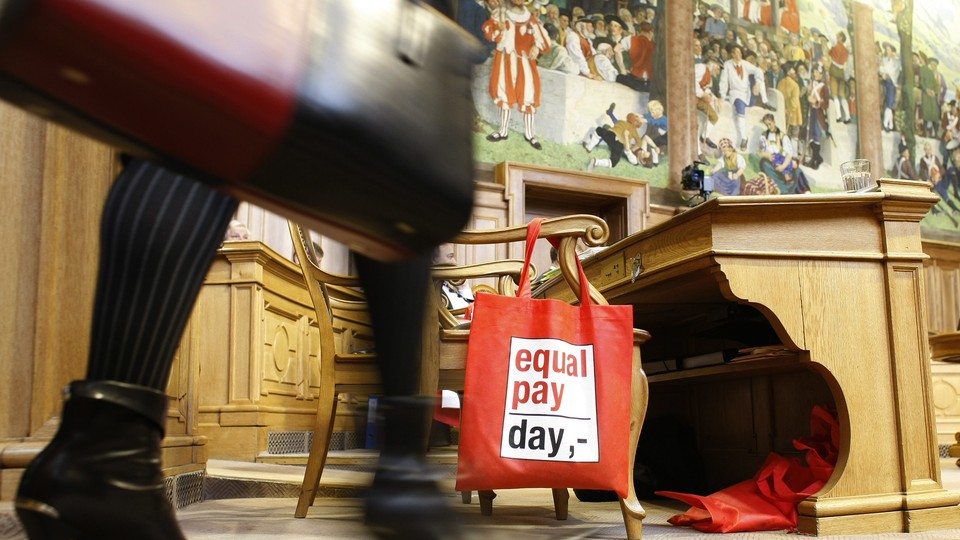 It's hard to capture all the factors that can hold women's careers and wages back. While the famed 82-cents-per-dollar statistic helps to make a point about inequality, the gender pay gap is actually much more complex than a single figure. That's why more and more companies are making an attempt to better understand how discrepancies happen, and what ongoing solutions might be.
One straightforward approach involves conducting an internal pay audit and then addressing discrepancies between men and women who perform the same job by giving low earners a raise that bridges the gap. That's exactly what the cloud-based software company Salesforce started doing two years ago. Cindy Robbins and Leyla Seka, senior officers at the firm, brought the issue of pay inequality, and a proposed fix, to the CEO Marc Benioff. After the inaugural internal pay audit, Salesforce spent $3 million adjusting the salaries of its employees to ensure equal pay among the genders.
Since then, Salesforce has committed to auditing its payroll for possible gender-pay discrepancies every year. The company did a second audit for 2016, and again spent $3 million on adjusting salaries. Robbins, an executive vice president in charge of HR for all of Salesforce and one of the women who initiated the first payroll audit, said that continuing audits and payroll adjustments are necessary, particularly in light of the fact that the company hired 7,000 new employees and acquired 14 companies in 2016.
"When you have that growth, you definitely need to look at your pay practices. We also broadened the scope of the second assessment to include salaries and bonuses, as well as race and ethnicities specific to the U.S.," explained Robbins.
Those changes have meant that the most recent pay audit conclusions were slightly different than the inaugural one. While the first audit gave raises to 6 percent of its employees—half men and half women—to ensure equal pay, the second audit found that 11 percent of its employees required raises, 68 percent of whom are women.* One percent of minorities were given raises as well. Robbins says that in terms of organizational hierarchy, adjustments were needed was across the board.
Those figures may seem to show that gender-based wage inequality got worse for Salesforce in 2016, but Robbins says that the need to adjust pay for so many female workers is because the firm has been growing. Further, that's the whole point of doing these audits yearly: to see if the company has failed to address existing problems, or if new ones have cropped up. "I describe this as a journey," said Robbins. "We're committing that this is now part of the DNA of our culture. That was a shift for us, that's when we started to take a more serious stance around equality and everything that promotes an inclusive workforce."
Robbins says that in addition to the pay audit, the company also has educational programs for managers and employees on unconscious bias, which may lead manager to make decisions that can exacerbate pay inequities. The company is also addressing how managers hire and promote their staff, and emphasizing equal pay in its goal planning process.
Research into initiatives meant to promote women, such as quotas for executive boards in Norway, have found that ultimately what's so important about such efforts is that they change the culture of a company. Similarly, the pay audit at Salesforce has helped shift the culture and change how managers interact with employees. Robbins says that managers whose team members have gotten pay adjustments start paying attention to why that happened on their team.
"I get a lot of feedback from managers when they find out that someone on their team is getting an adjustment. They want to understand what they could have done differently, and what can they do in the future to ensure that people on their team are paid equitably. Those are the right questions to ask," says Robbins.
That's part of the reason that a one-time audit isn't enough, the effort has to be continual. Robbins says that annual audits becoming a norm is ultimately a good thing, especially as companies pay more attention to the issue and tout their achievements in pay equity. Last year, Facebook and Microsoft both announced that they had achieved gender pay parity, joining a handful of other large companies such as Apple and Intel. SAP, another company that's closed its gender pay gap, points out that men benefit from these audits too.
"I think the momentum in the industry that's happened in the last couple of years is great. It's very positive and great to see more companies be transparent around this. I think it's all positive, but I don't see the finish line yet," says Robbins.
---
* This article originally misstated that the second audit found that 68 percent of women at Salesforce required raises. We regret the error.
---
Related Video: