Unions Are Wondering: Resist or Assist?
Labor leaders are sizing up a president who could be a friend or, more likely, a foe.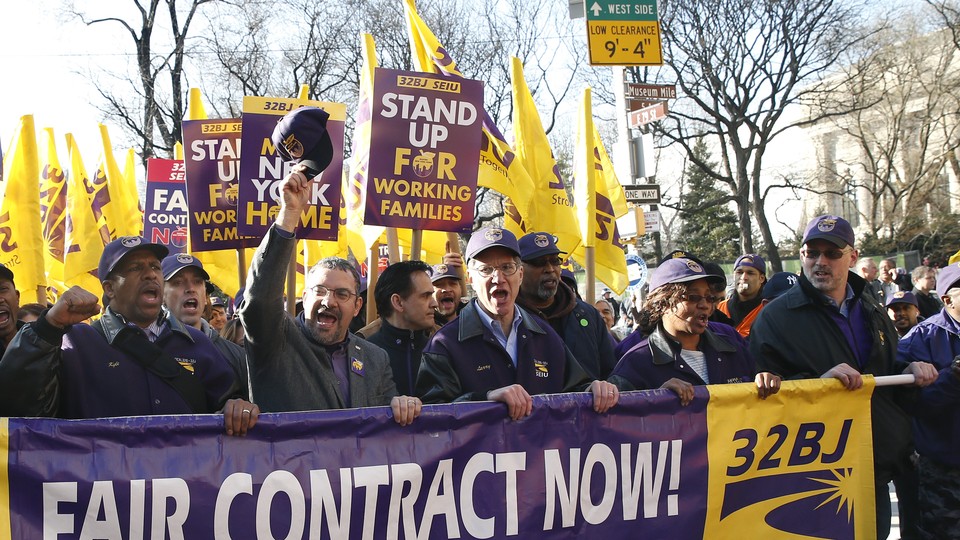 The first month of the Trump administration was mostly a discouraging one for labor unions. Since taking office, the president has frozen federal hiring (though he did pledge to hire 15,000 border patrol agents) and restated his support for a national "right to work" law that would disrupt unions' funding mechanisms. He also sought the confirmation of Andy Puzder, a fast-food CEO who's not fond of minimum-wage or overtime rules, to head the Department of Labor, only to see him withdraw amid public outcry.
Still, some within the labor movement have cheered Trump's use of the presidential bully pulpit to harangue employers who send jobs overseas, and voiced optimism about Trump's stated desire to "buy American and hire American."
This has left many labor unions with a decision about how best to serve their members going forward: Should they try to get along with Trump, in the hope that they will be able to help guide his efforts to court working-class voters? Or should they take to the streets alongside progressives calling for workplace-based actions, like the recent nationwide strikes by women and by immigrants?
Union leaders have diverged on their answers to these questions. For example, Richard Trumka, the president of the AFL-CIO, wrote in The New York Times that Trump's "emerging cabinet and policy pronouncements seem to treat actual working people as bottom lines rather than human beings." Nonetheless, Trumka and other union leaders have voiced limited support of Trump's views on trade, specifically applauding him for withdrawing from the Trans-Pacific Partnership, or TPP. Mary Kay Henry, the president of the SEIU, which represents service workers and significant numbers of immigrant workers, took a harder line, saying she was "battening down the hatches" to prepare for a Trump presidency. At the other end of the spectrum, public-safety union officials have enthusiastically embraced Trump's policies, including his plan for a wall along the U.S.'s southern border.
Trump's campaign message resonated with a larger segment of union workers than that of other recent Republican candidates, much to the chagrin of the labor-union leadership that largely opposed him. But unions' attempts to get concessions from Trump have not yet produced results, as evidenced by two recent events. First, after Trump initially included union representatives, Trumka among them, in his business advisory council, he then excluded them from its next meeting. Second, Trump appointed James Sherk, a former research fellow at the Heritage Foundation who is generally not sympathetic to unions, to the White House Domestic Policy Council, where he will advise on labor and employment issues.
These developments suggest that unions inclined to work with Trump can likely expect repeats of what happened when a group of building-trades union leaders met with him to discuss plans for infrastructure spending. (Building-trades unions have historically been less likely to align with progressives than many other unions.) Even though they came away commending the president—"He intends to do the work on the issues he discussed on the campaign trail," Sean McGarvey, the president of North America's Building Trades Unions, later said—they had little to show for their meeting. Indeed, when the building-trades leaders pushed Trump on preserving the Davis-Bacon Act, which requires the federal government to pay the "prevailing wage" on construction projects, Trump was reportedly noncommittal. Sherk has advocated the repeal of the Davis-Bacon Act, so his new White House role should give those unions cause for concern.
In contrast, the labor movement has had some success working against the Trump administration, as was seen in the successful effort to defeat Puzder's nomination to be secretary of labor. And as the labor lawyers Moshe Marvit and Leo Gertner predicted, some workplaces are becoming sites of opposition to Trump's policies. For example, some Yemeni bodega owners and taxi drivers affiliated with the New York Taxi Workers Alliance protested Trump's executive order on immigration and refugees by stopping their work temporarily. And the Day Without Immigrants and the Women's Strike called upon immigrants and women to protest a range of policies by withholding both their labor and their purchasing power. While it is difficult to point to concrete policy changes that resulted from these demonstrations, one important effect may be that they mobilized workers who had not previously been involved in political advocacy.
One interesting element of these actions is that they called on participants to act not just as workers, but also in solidarity with other communities and advocacy groups: The taxi workers and bodega owners struck in recognition of the harsh effects of the executive order on racial minorities and Muslims, and the organizers of the Women's Strike worked in solidarity with a large number of groups with diverse priorities. This represents a departure from what many think of as traditional workplace advocacy—bargaining between a single union and a single employer—or even from the building-trades unions' meeting with Trump. With that meeting, the unions seemed to see an opening for mutual gain: Trump and his advisors could benefit from appearing to have blue-collar bona fides, while the unions wanted a chance to work on an issue for their members. And in traditional bargaining situations, workers and unions are often focused on winning specific, tangible contract items. All of these tactics have always been present in labor's arsenal. But with the apparent growing public appetite for politically-oriented strikes, there might be a resurgence in labor activism directed broadly at the Trump administration, rather than at individual employers.
Existing labor laws, though, complicate this strategy. The National Labor Relations Act prohibits and aggressively punishes unions that engage in "secondary" strikes—that is, ones aimed at influencing an entity other than the strikers' own employer. This provision was originally written to prevent strikes over working conditions from becoming too economically disruptive, but it applies equally to attempts to influence government policies. That much was decided by the Supreme Court in 1982, after the International Longshoremen's Association engaged in a secondary strike to protest the Soviet Union's invasion of Afghanistan. Rejecting the union's argument that the First Amendment should protect its politically motivated activity, the Court said that striking "in aid of a random political objective far removed from what has traditionally been thought to be the realm of legitimate union activity" made the union's actions undeserving of legal protection.
But that provision does not (and, per another Supreme Court decision that same year, could not) apply to other groups, including worker-advocacy groups that do not qualify as labor organizations under the NLRA, such as the Taxi Workers Alliance, which led the JFK strike. (Because most taxi drivers are classified as independent contractors, they are not protected by the NLRA and cannot bargain collectively.) That is usually a disadvantage—it means these groups cannot compel employers to come to the bargaining table, as unions can—but it does mean that the Taxi Workers Alliance is excluded from the NLRA's limitations on secondary activity.
In one sense, then, non-union labor groups such as the Taxi Workers Alliance, the Restaurant Opportunities Center, or the Coalition of Immokalee Workers (a farmworker advocacy group) have more freedom to partake in political advocacy than their organized-labor counterparts. But that freedom might be at risk: For years, conservative and business-backed groups have been lobbying for the National Labor Relations Board (NLRB) to take a broader view of what kinds of groups are covered by the NLRA and its ban on secondary boycotts. While these efforts faded under President Obama and a union-friendly NLRB, they have been revitalized since President Trump took office—and presumably they will only get stronger once Trump fills the two vacant NLRB seats, making for a majority-Republican Board. To be sure, widening the ban would mean beating back a free-speech or free-association challenge—the Supreme Court has become much more hawkish on the First Amendment since the 1982 longshoremen's case—but there is still room for industry groups to try.
It is not an exaggeration to say that, as unions weigh their current situation, the future of the American labor movement is at stake. Not only is the NLRB under Trump likely to roll back pro-union rules announced during the Obama administration, but he's likely to fill the open seat on the Supreme Court, meaning that the Court may again address the constitutionality of public-sector-union funding mechanisms, as it was poised to do when Justice Scalia died. Taken together, these developments would make it more difficult for unions to organize and represent workers in collective bargaining, as well as to engage in political advocacy. If unions are not creative in finding new ways to advocate on behalf of workers, a vicious cycle could result—one in which labor is unable to beat back union-unfriendly elected officials, who in turn make it more difficult for organized labor to operate.