Trump's Taking Credit Where No Credit Is Due
The president says he's already succeeded in bringing auto-sector jobs back. Has he?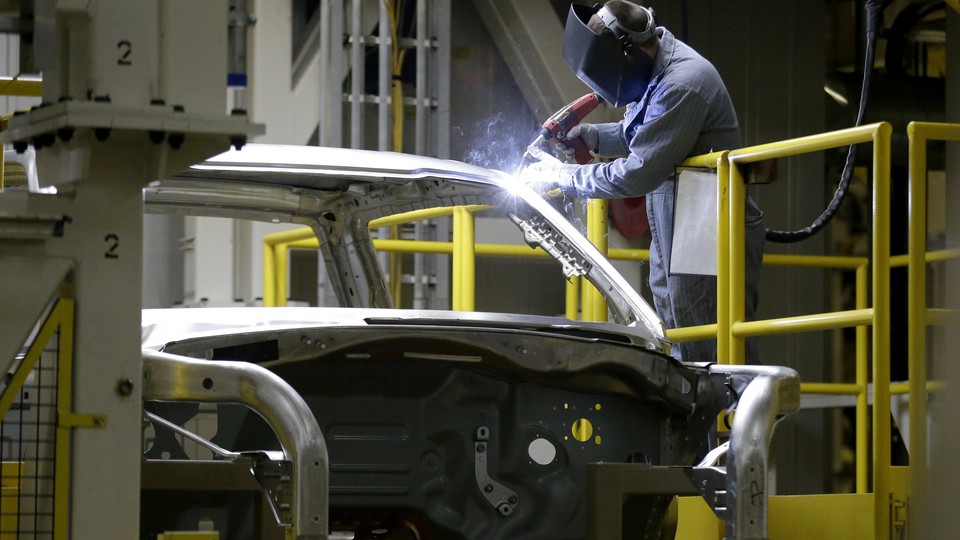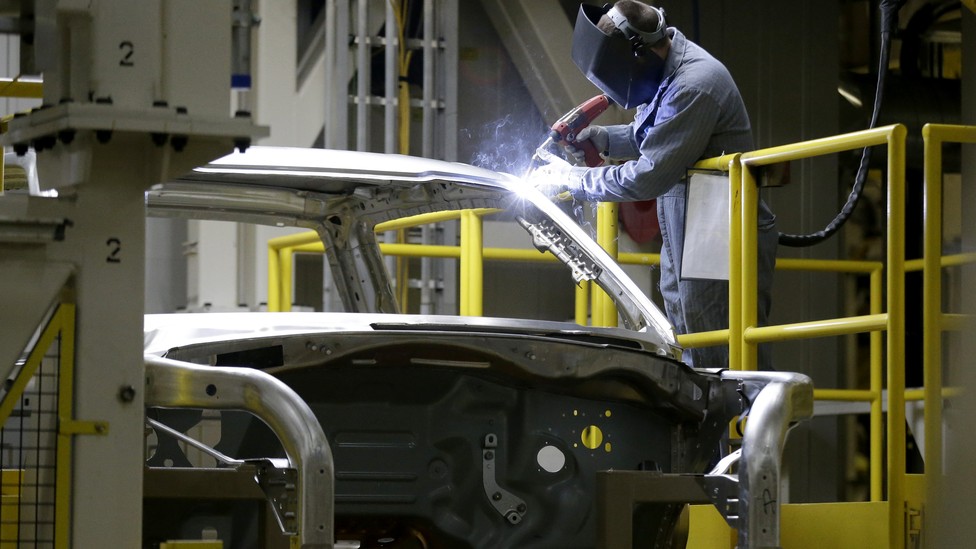 On Tuesday, Ford Motor Company announced a $1.2 billion investment in three Michigan plants—a move that was preceded by a 3:30 a.m. tweet from President Trump touting the job gains that the company's announcement would bring. But as much as Trump tries to link himself to increases in auto-industry investment, the narrative is a dubious one. Massive car companies take a long time to make large investments, and it's market forces, not White House policy, that are mostly behind recent moves from Mexico to the U.S.
According to Ford's announcement, the company is putting $850 million toward retooling its Michigan Assembly Plant in Wayne to produce the resurrected Bronco SUV and Ranger pickup. It also plans to use $150 million to increase production at an engine parts plant in Romeo and to put $200 million toward a new data-storage facility in Flat Rock.
Big announcement by Ford today. Major investment to be made in three Michigan plants. Car companies coming back to U.S. JOBS! JOBS! JOBS!

— Donald J. Trump (@realDonaldTrump) March 28, 2017
It's arguably more of a swap than a new investment: Production of the smaller C-Max hatch and the Focus compact sedan, currently being produced at the Michigan Assembly Plant, will move to an existing facility in Mexico's state of Sonora. Ford said the change will maintain 3,600 American jobs, create 130 new jobs in the U.S., and retain another 2,900 jobs at the Mexican plant. *
Tuesday's early morning tweet isn't the first time that Trump has pointed to automakers' investments in American manufacturing as evidence that his economic agenda is already successfully bringing jobs back to a beleaguered heartland; it's not even the first time he's done this with a Ford investment in Michigan. He spent the better part of the two weeks leading up to his inauguration praising companies that are moving work to the U.S. and bashing those moving work to Mexico. And top aides are doing the same: Kellyanne Conway also heralded the move on Twitter, implying that the president had influenced Ford's business decisions at a meeting two weeks earlier (in fact, the meeting she appears to be referring to occurred on February 23).
This sets up a system in which car companies, keen to avoid the president's public-shaming campaigns, allow partisans to cast decisions they were going to make anyway in a Trump-friendly light, handing him political wins that, factually speaking, he often doesn't deserve.
Ford's move doesn't come as a surprise. In fact, the company has been committed to this change since negotiating the terms of its 2015 contract with the United Auto Workers. Details have been public since before Trump's inauguration, though the size of the investment has grown by $350 million since then. This is, in part, why the premise that Trump's policies or his messaging are driving these companies' decisions is demonstrably false. Though the president said that Ford's Michigan investments are evidence that car companies are beginning to "come back to the U.S.," those shifts have been in the works for years. According to the head of Ford's operations in the Americas, Joe Hinrichs, "these Michigan Assembly Plant and Romeo Engine plant announcements are consistent with what we agreed to and talked about with the UAW in 2015 negotiations." The changes are also consistent with a larger trend: SUVs and trucks like The Bronco and Ranger models are being revived because the U.S. market has an appetite for them. These bigger car classes, which also yield bigger profit margins, are increasingly popular in the U.S. More compact types of cars, meanwhile, are hot worldwide, which is part of why many are being built in (and therefore exported from) Mexico, a country with a world-beating number of free-trade deals.
Indeed, announcements by major car companies about such business decisions are more likely attributable to timing—given the months and years it takes to work out the legal, financial, and logistical practicalities involved in these kinds of things—than to Trump. That will be true for at least several more months.
The argument that a president can return American industrial manufacturing to the jobs-intensive economic engine it once was doesn't really work in theory either. Even if the president could claim credit for the Ford deal, and those like it, such investments save jobs by the hundreds even as other industries like trucking, to pick but one example, threaten to lose millions of jobs to automation as technology progresses in the coming years.
Still, Trump returns to this subject for a reason. He understands the symbolic power the Detroit motor industry holds for a country that's been told that the lowest common denominator of the American Dream is "a chicken in every pot and a car in every garage" and the road to this middle class idyll is "a job at Ford's." His economic promise, after all, isn't merely to "make America great" by pushing it forward through the uncertain, if inevitable, change from an industrial to an information-based economy. His promise is to "make America great again," pointing back to a vague but heady idea about what being middle class in America should feel like, an idea symbolized in the American mind by nothing so much as by the car.
---
* This article has been updated to clarify the number of U.S. jobs Ford said would be committed to Bronco and Ranger production. This article also originally misstated the number of jobs at the Mexican facility as 4,000. We regret the error.