Is Target Losing Its Cool?
The retailer is having a tough time translating its trendiness and in-store experience to digital consumers.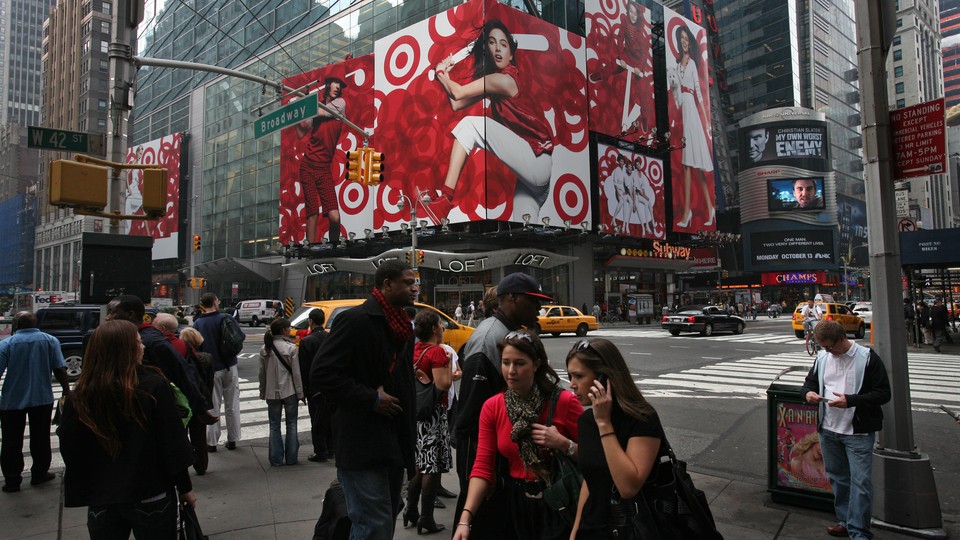 Earlier this week, Target reported some disappointing news to its investors: The retailer missed sales and earnings expectations at the end of 2016. Perhaps most worrisome is that fact that same-store sales were down 1.5 percent—something Brian Cornell, Target's CEO, called "unexpected" and attributed to "rapidly changing consumer behavior." Moreover, the company's 2017 projections weren't promising, with a low-to-mid single-digit decline in sales expected this year. The result of this bevy of bad news led to the largest ever one-day decline for the company's stock.
One reason Target's store sales are declining is that, like many big-box stores, the company is locked in competition with Amazon. As online retailers and shipping companies became more aggressive about shipping large and bulk items in recent years, retailers such as Target lost one of the few remaining competitive advantages they had. According to Target's 2015 annual report, the company's most lucrative sales category has been household essentials, which accounted for 26 percent, or $19 billion, of its $73 billion in annual sales. But those sales too are threatened by online retail. Since Amazon Pantry launched in 2014, an estimated 60 million Prime members can now get their toilet paper and groceries delivered for a small fee. And that's not to mention Target's other major competitor in this area: Walmart, which boasted a 1.8 percent increase in sales and increased traffic in its grocery-focused Neighborhood Market stores.
But what's especially disconcerting for Target when it comes to customers moving online is that it further discounts the two things Target has been so good at in the past: Offering superior store experience and style. Waning in-store sales raise the question of whether the Target formula is failing: Is the problem that Target has been losing its cool? Or that customers simply don't care about the things Target is good at?
Since the 1960s, the company successfully sold itself as a different kind of big-box store, one that mixed low-price goods with an upscale retail experience. Target's cheap but chic aesthetic appealed to customers who lovingly gave it the middlebrow moniker Tar-jay. However unlikely, Target made itself a discount retailer that was, for a time, also a tastemaker.
Target had some extremely successful collaborations with high-end fashion designers in the last decade, but in recent years these collaborations hit some snags. The Lilly Pulitzer partnership, though wildly popular, got caught up in culture wars and was criticized by both fashion and business experts. And the store's recent collaboration with Finland's Marimekko left some mainstream customers scratching their heads as to whom the collaboration was meant to appeal to. Target has even tried the indie collaboration route. This year's fashion partnership with Victoria Beckham will be surely be a test of whether Target's collaborations are still working for them.
It's hard to imagine that Amazon or Walmart will ever be stylish in the same way, but in terms of cool physical spaces, Amazon has been making strides: The 1,800 square foot Amazon Go store in Seattle (currently in a test phase) has no lines and no cashiers; customers scan their own items with an app and simply walk out after picking up items.
Shortly after Target released its earnings report, the company announced a turnaround plan. Cornell, Target's CEO, pledged to invest some $7 billion into digital platforms, and to upgrade stores and lower prices over the next three years. One key question will be whether Target can recreate online the same kind of shopping experience that customers once valued in 1,800 outlets across the country. There's hope here: Target's online sales grew 34 percent in the fourth quarter, signaling that Target customers may be willing to stick with the brand, just in a different format.
As for whether Target can regain its mojo, that might depend on who the customer is. As previously reported by Bloomberg, Target has been looking to grow in the areas with high margins, with style being one of them. In particular, the company's focusing on style for children. So even if Target's no longer cool with this generation, the next generation might still embrace the brand—and maybe even come up with their own trendy nickname for the store.