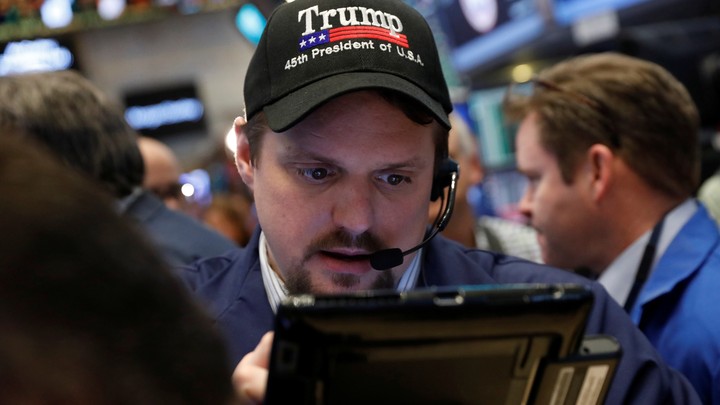 For the past few months, President Donald Trump has happily, and consistently, claimed credit for at least one economic indicator: the rising stock market. But on Tuesday, the Dow, Nasdaq, and S&P—the indices that Trump loves to point to as proof of his economic success—all precipitously declined by at least a full percentage point, the worst showing since Trump's victory. Both the S&P 500 and the Dow Jones Industrial Average dropped more than 1 percent, their worst performance since the fall of 2016. The Nasdaq dropped nearly 2 percent.
The so-called Trump Bump refers to stock market indexes climbing since November of last year, soon after it became clear that Trump was going to pull off a surprising victory over rival Hillary Clinton. What many thought might be a short-lived phenomenon was solidified when the rally continued into 2017. In January, less than a week after Trump officially took office, the Dow hit 20,000 for the first time ever (a largely psychological milestone).
In fact, all three major market indices hit new highs, gaining more than 10 percent in the post-Trump victory market. And many U.S. companies, including Goldman Sachs, Citigroup, and Delta, announced strong fourth-quarter earnings. Analysts speculated that markets seemed to be doing better amid political clarity, and hoped that a pro-business administration would lower corporate taxes and curb regulations. In February, Press Secretary Sean Spicer proudly linked the economic gains to the new administration saying, "the President knows better than anyone what businesses need to create jobs, and the market is responding to his policy improvements."
But Tuesday's decline shows that taking credit for stock market gains surely won't all be smooth sailing. To be certain, a decline of 1 percent isn't disastrous. But it becomes a notable talking point amid a rally that has been so heavily politicized. If politics is why the markets went up in the first place, it may be precisely why the market suddenly tanked as well: While it's often hard to determine one root cause of a market drop, it's possible that some investors are losing faith in Trump's ability to speedily implement the radical reforms he promised for issues such as health care, taxes, and regulation. Businesses may also be unsure of how some of Trump's policies, such as immigration reform, could impact their workers and bottom lines.
This market reversal is also notable because at one point, before Trump became president, he insinuated that the bull market was the result of a stock bubble caused by low-interest rates, not genuine growth—a claim that he hasn't repeated since he began tethering the market's upward trend to himself. On Tuesday, in response to whether or not the dip in the market should also be considered a reflection of the administration's performance, Sean Spicer told the press, "You can't look at one indices and say that's the benchmark for an entire economy." That's precisely the advice that many have been giving all along.
We want to hear what you think about this article. Submit a letter to the editor or write to letters@theatlantic.com.