Holy Ethics Disaster, Batman!
Treasury Secretary Steven Mnuchin may have violated federal ethics rules when he endorsed The LEGO Batman Movie, which he executive produced.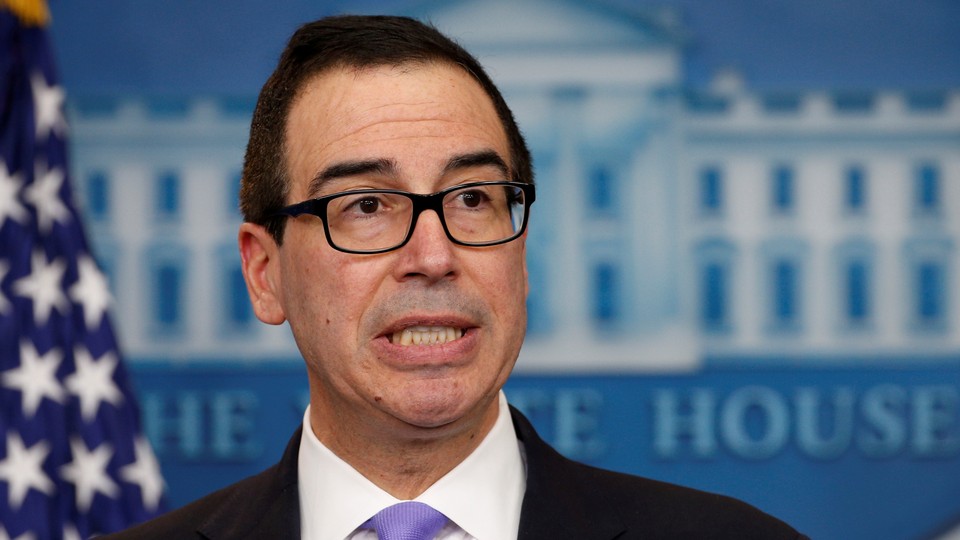 Updated on March 24 at 4:35 p.m. ET
Before his confirmation, the most controversial part of Treasury Secretary Steven Mnuchin's past was his role running a bank that critics dubbed a "foreclosure machine" at the height of the financial crisis. But it's his role as the executive producer on The LEGO Batman Movie that is landing him in his first dustup.
At an event held by the online news outlet Axios, Mnuchin was asked about the many movies on which he has served as a producer. Mnuchin at first hedged: "Well, I'm not allowed to promote anything that I'm involved in. So I just want to have the legal disclosure that you've asked me the question and I am not promoting any product," he said, seemingly referring to a federal rule that "An employee shall not use his public office for his own private gain, [or] for the endorsement of any product, service or enterprise."
"But you should send all your kids to LEGO Batman," he continued.
Critics immediately cried foul. Mnuchin, they said, was violating the very rule that he had just apparently acknowledged. "In my view, the Secretary is using his public office for private gain in violation of" the rule, Norm Eisen, who served as an ethics lawyer for the Obama administration, said via email. "There can be little doubt that [Mnuchin] was invited to speak because of his position, and about issues related to it."
Asked about Mnuchin's statement, a spokesperson for the Treasury Department pointed out that Mnuchin had been specifically asked if he had any recommendations for a movie the interviewer should see. "As his statement reflects," the spokesperson said via email, "the Secretary clearly recognized that he generally may not promote private interests and specifically gave the legal disclosure that he was not promoting a movie, but answering a question he was asked directly."
Eisen sees Mnuchin's statement as part of a series of similar ethical lapses on the part of the Trump administration. "He is promoting a product, just as Conway promoted Ivanka [Trump]'s brand and was found to have violated the rules," Eisen continued, invoking the controversial incident in which, in the aftermath of Nordstrom's decision to drop the elder first daughter's fashion line, the counselor to the president Kellyane Conway provided what she herself dubbed a "free commercial" for the brand on live television from the White House briefing room. Amid loud public outcry, including from the nonpartisan Office of Government Ethics and both Jason Chaffetz and Elijah Cummings, the Republican chairman and Democratic ranking member of the House Oversight Committee, respectively, the White House announced that Conway had been reprimanded.
That the Trump administration already appears to have tripped this particular wire twice in just over two months in office is a marked departure from previous administrations. The story of Michael Punke, the author of The Revenant, which in 2015 was adapted into a film that would go on to gross $180 million and win three Academy Awards, offers a more typical approach to the rule. A profile of Punke in The Washington Post noted that, at the time of the film's release, Punke's role as the deputy U.S. trade representative and ambassador to the World Trade Organization prevented him from even mentioning his book or the ensuing film, let alone telling people to go to see it. Punke never did.
Eisen and Richard Painter, who served as ethics lawyer under President George W. Bush, have been continually criticizing what they see as the administration's "flagrant disregard for ethics and other law." The duo lead the watchdog organization Citizens for Responsibility and Ethics in Washington, which is suing Trump for allegedly violating the Constitution. On March 20, before Mnuchin mentioned The LEGO Batman Movie, they published a column stating that "the president and his Cabinet are heading for a train wreck of a magnitude unseen since Watergate." Since then, Eisen says, "you have additional issues cropping up: Ivanka falsely claiming she is not an employee and ethics rules don't apply to her; news that [the former national security adviser Michael] Flynn did not sign the ethics pledge despite being required to do so; and troubling new allegations about Wilbur Ross and his conflicted investments."
This trend, Eisen says, fits in with the Trump administration's broader stance toward the rule of law: "Disregard for ethics is of a piece with the disregard for law and norms that has among other things created the Russiagate and Muslim Ban messes. They are driving off a cliff, ethics and otherwise."