Is This the End of Sears?
The company has been struggling for a decade, but its most recent SEC filing paints a grim picture of the future.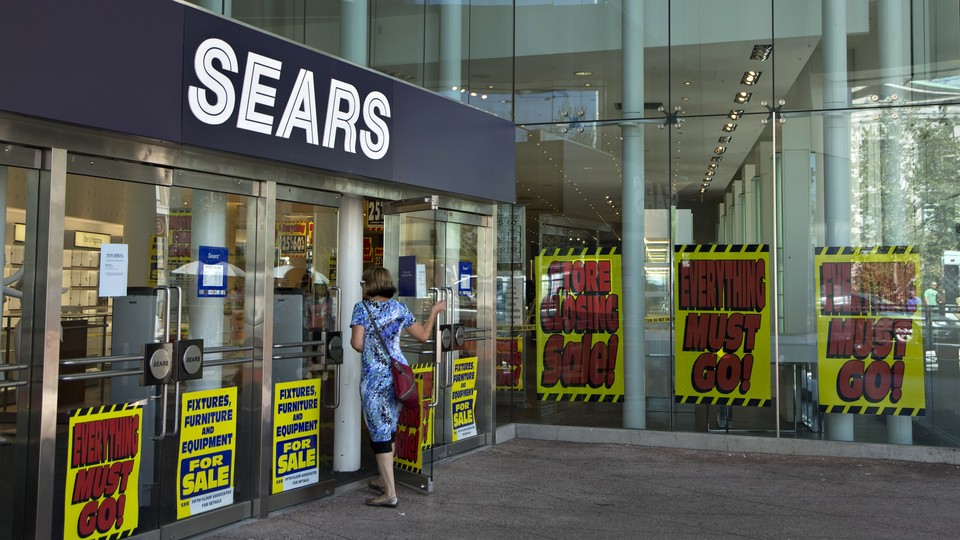 Sears, along with most other department store chains that used to serve as mall anchor stores, have been in continuous decline for a decade, with sales and profits dipping lower and lower. On Wednesday, the company released its annual SEC filing and one sentence in particular stands out as cause for concern. In the document, the company said that "substantial doubt exists related to the company's ability to continue as a going concern." That's led some analysts to believe that the end is nigh for the 131-year-old household name.
In the past decade, Sears sales have been halved. And changing dynamics in retail have forced the company to close hundreds of stores, cut its pension obligations, take on debt, and sell some of its best assets. That's led to ongoing bankruptcy worries for Sears Holdings, the parent company of Sears, Kmart, and Lands' End, since 2012.
When asked for comment on the company's worsening financial situation, Sears  referred to a blog post on its website where the company says that the grim sentence in its annual filing is "in line with regulatory standards that require management to assess and disclose potential risks the company could face within one year from the reported financial statements." It goes on to downplay the potential downsides, saying "despite the risks outlined we remain confident in our financial position and remain focused on executing our transformation plan."
That transformation plan seemed to be a potential antidote to some of the company's financial woes. The plan, introduced earlier this year, was meant to provide $1 billion in savings for the company through getting rid of several store locations, cutting jobs, and selling more of its associated name brands, including its Kenmore appliances. Sears already sold its Craftsman brand of tools back in January to Stanley Black & Decker.
It's hard to tell whether Sears has fallen victim to the challenges of every other department store in an era when customers prefer low prices and online shopping, or if some of its troubles have been caused by bad management choices. An in-depth report by Crain's Chicago Business a few years ago found a toxic and dysfunctional corporate environment at the failing company. Questions also surround CEO Eddie Lampert's obsession with shareholder value (he's the largest shareholder), and the questionable way the company has been spinning off companies and borrowing from Lampert's hedge fund. The company recently settled a lawsuit, for $40 million, by some of its shareholders that alleged Lampert stood to benefit in a deal which spun off Sears' best stores.
It's possible that Sears will be able to double down on its cost cutting, and salvage what remains of the brand. But no matter what, the force of online retail, the waning popularity of malls, and the changing appetites of American consumers have forever changed the place of the once ubiquitous retailer. Its downfall will be mourned by those who remember a time when the retailer had a pulse on what Americans wanted to buy, and yet probably haven't shopped there in years.