How REI's Co-op Retail Model Helps Its Bottom Line
An interview with the company's CEO, Jerry Stritzke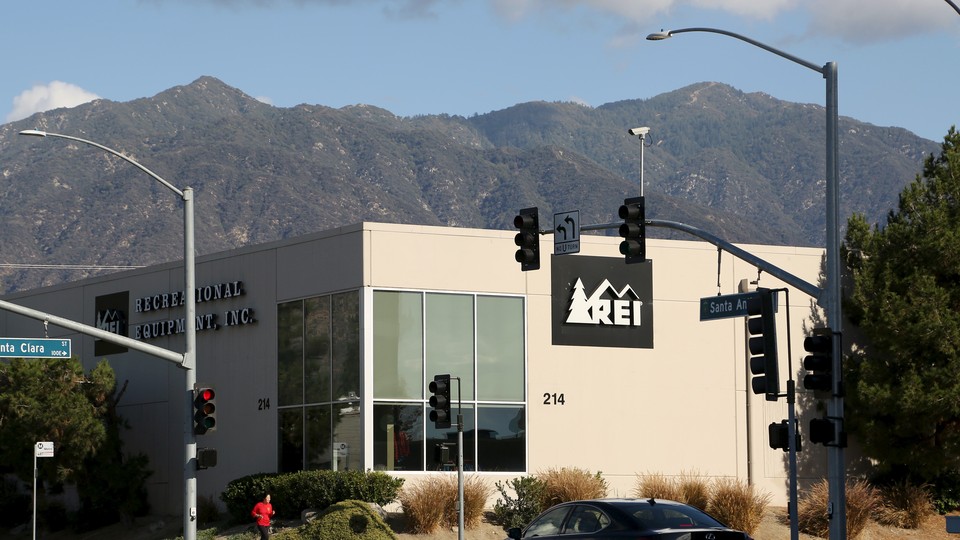 For a few years retailers have been facing some big challenges: falling in-store sales and the shuttering of big box stores. That's led many to wonder how outdoor specialty retailer Recreational Equipment Inc. (REI) could be doing so well, as seemingly similar companies, such as Sports Authority, go bankrupt. REI's annual revenue grew by 5.5 percent in 2016, and the company reports healthy sales growth for both its brick-and-mortar and online stores.
The answer to all these questions may have something to do with the company's business structure: REI is a retail cooperative, meaning it's owned by its members. The company has created somewhat of a community by offering memberships, offering its over 6 million active members a dividend for future purchases at REI and one vote in an annual board of directors election for $20. That might seem innovative, but perhaps what's more surprising is that, in many ways, REI is just practicing old-school retail wisdom.
Jerry Stritzke has been the CEO of REI since 2013. I talked to him about the company's record annual revenue of $2.56 billion in 2016, their decision to close on Black Friday, and the retail landscape through the eyes of a co-op. A lightly edited transcript of our conversation follows.
---
Bourree Lam: REI is probably the most well-known retail co-op in the U.S. In the past, you've been in leadership positions at private companies, including Coach and The Limited. How has being at a co-op been different?
Stritzke: I've loved being a part of the co-op. It's been just a great experience for me as a leader and my development. There's a real sense of community that's phenomenally important. I would say it's a compelling competitive advantage, and as we look to the future, I think that idea of having a community organized around a shared passion—in this case a love of a life lived outside—is really important.
That aspect of the co-op is a big thing. We gave away over $9 million dollars to a number of nonprofits partners. That's playing a central role in advocating for what we're passionate about, and being in that community.
The last thing is it's a long-term perspective. [In] so much of the publicly traded environment, which I've come from, there's such a pressure from a short-term perspective. To really be able to look out and ask, what does it mean to be vibrant, to be compelling over a three-, five-, 10-year horizon? That's phenomenally important. Frankly, that's front and center in the co-op much more than what I'm doing in a particular quarter, or even in the context of a year or a couple years period. So that long view, the values, and being the center of a community, it creates a powerful combination.
Lam: What advice do you have for companies that are centered around short-term thinking?
Stritzke: It's obvious that retail is undergoing some fundamental shifts. The next generation of consumers is going to engage with brands and retailers very differently. Having a reason for being is pretty compelling. It may sound like an obvious statement, but it's got to be more than just selling stuff.
I believe that understanding what you're about, embracing that, placing yourself at the center of the community, acting in the best interests of that community—all of those things become incredibly important. There's no substitute for being a great operator and being smart. The hardest edge that all retailers are facing right now, even if you are a purpose-led company, is how do you differentiate in the digital space. We're working hard on that, and probably have an advantage in that our business tends to be centered on experiences. I think that translates well.
Lam: That differentiation seems really important, since huge e-retailers, such as Amazon, are cutting into brick-and-mortar business more and more each year.
Stritzke: The key is—and this was true before Amazon, and this was true for decades—is that there's mass, and then there's specialty. Amazon is this next-generation mass player. It's convenience. It's selection. And they're doing it phenomenally well. You see a lot of big players chasing them, like Walmart and Target.
If you're specialty, how do you differentiate? I think community, experiences, and doing it both in-store and online. You could argue that's old-school retail strategy, but it's still relevant. We have to continue to pursue that aggressively. We'll survive and thrive. And those that don't are in for a rough trip.
Lam: Have you seen other so-called "old-school retail" practices that are relevant anew in the age of e-commerce?
Stritzke: Another old-school idea is this idea of customer first. What I think is challenging about that, and a new twist in that old wisdom, is understanding the power of that computer that we're all carrying in our pocket—the impact that mobile has on relationships, the role it plays in community. If I were to talk about a shift, I would say a lot of brands have focused on "identify with." You have to move to a different word that's called "relationship." But I would argue that's still a customer-centric approach, which has been true for a long time. Amazon will pride themselves on being customer-centric, but more on that mass model.
Lam: REI has taken sides in different retail culture wars, for instance by deciding to close on Black Friday.
Stritzke: I think it is [easier to do here], because we have a clear sense of purpose around this idea of a life lived outside. Our values allow us to function more long-term.
I do believe there was an explicit decision that we needed to do a better job telling people what we believed, what we're about. And [Black Friday] allowed us to do it, in what turned out to be a very effective manner. The idea of a love for the outdoors, that aligns with our purpose, and then having that purpose shared by our members who are passionate about that. When you're consistent with that, you're preaching to the choir. It resonates; it's empowering; it's encouraging; and it creates a healthy dialogue.
I believe it was easier, but I also believe it's smart. I think that you find that, in today's world, most brands that stand for something that resonates have to find their voice as part of that value proposition.
Lam: How do you decide what to react to and when to take a stand on an issue? For example, you took a strong stand against the Trump administration's immigration ban.
Stritzke: We draw the biggest bull's eye in the middle of our passion: this idea of love for the outdoors. You will see us be most aggressive and most active when it comes to subjects associated with getting people outside.
When we move farther away from that bull's eye, we're more thoughtful about how we do that. You're still living values that I think are reflected in the co-op, but you'll note that the idea of the co-op is founded on the idea as being open to all, and accepting to all, and that that was kind of at odds with this idea of singling out people based on where they were from or what they believed.
We're at an unusual time as a country, where you have to either have values and stand from them, or you don't. And, standing for something is going to be more important, now and in the future, than not standing for anything.
Lam: How do you keep in touch with customers, members, and staff to stay updated on what that bull's eye looks like?
Stritzke: The center of the bull's eye is pretty easy, because it's centered around a life lived outside. We find that those wind up being bipartisan-supported issues. Something like public lands: The hunting and fishing people are as passionate about that as the recreation people are. There were two acts passed by the Congress, after Trump was elected, through unanimous votes; both of them were in support of the outdoor industry. We have a pretty broad mandate to advocate for the outdoors, getting people outdoors, creating access and protecting our lands, and advocating for environmentally conscious behavior. It's seldom we get out of touch with our key constituents.
As you move away from that and we get further afield, there's a little more of a [need to] thread the needle. We have 150 stores around the United States. We have 12,000 associates. We have a practice of what we call town halls. When I was in Joshua Tree (on a camping trip with REI employees) ... we sat there for an hour and had an open Q and A, talking about what's going on politically with regards to public lands. How's REI's position? What are we passionate about? What's important? Those kinds of conversations happen in our stores on a regular basis.
Lam: Did the Reddit AMA a few years ago, which got a lot of media coverage, change how you talk to employees?
Stritzke: It did. This morning we had a town hall. We set up and broadcast to our employees everywhere. We adopted, for the first time in this town hall, a Reddit-type question and answer vote-a-question-up process. We spent almost an hour with our entire associate base doing Q and A. I thought that idea of getting the issues of the table, talking about them; what are people most interested in, what's really important. I don't believe in ducking hard issues; I think those hard issues are where the biggest opportunity to differentiate or make important decisions exist.
Lam: How do you deal with the ability of employees to get messages out to the broader public, via a blog post or Reddit AMA, about what it's like inside a company?
Stritzke: It's important to create and encourage that as much as possible in an internal environment. If you respect that, and you create that dialogue, you have a chance to participate versus forcing your employee base or someone outside of the system.
When there's something to work on, we're transparent about it. When we have a great story to tell, we love telling that story. That's the best way to handle it, and I think it'll force you to make smart and right decisions.
Lam: What are some future initiatives for REI?
Stritzke: One thing I'm really intrigued about is Opt Outside. It struck a nerve and got an incredible response. What is the role of the outdoors and of getting outside in the future of American society? We're looking at stepping into that space more aggressively. Something we're very passionate about is the subject of public lands. We're coming off a year of supporting the National Park Service in their hundred-year celebration. No one has the track record of giving to support trails and access and maintenance and support of public lands that we do over decades. So that's a high priority for us, just to understand the narratives and conversations there. We're having a dialogue about, how do I make the outdoors more accessible for all, particularly as we think about becoming more urban, as the outdoors becoming more difficult to access for different classes of a society?
Lam: What about compensation, an issue that's come up in past town halls? Will there be more raises at REI?
Stritzke: We started a conversation with our employees about compensation almost a year ago. We rolled out the pay increases for 75 percent of our retail hourly employees in 2016, and we're addressing the remaining 25 percent this year. They're such an important part of our story. We took an unusual step of looking across the United States and what it means to take their comp to a more sustainable place. We spent another $20 to $25 million dollars, a big number for us, and took numbers up across the board. It's a unique package in the market. But we also have the longest tenure of people. We hang on to our people, which is kind of unusual in the retail market. That's one of the reasons we have longevity, plus the fact that as a values-led company, we're aligned around purpose. We have a very different kind of work environment. We're a 12,000-person company; we had over 100,000 job applications last year. We're proud of that, we think it's part of our success formula. We think it's part of who we are as a co-op.