March Madness Isn't the Workplace Distraction It's Made Out to Be
The camaraderie of following the tournament with coworkers can balance out the time spent not working.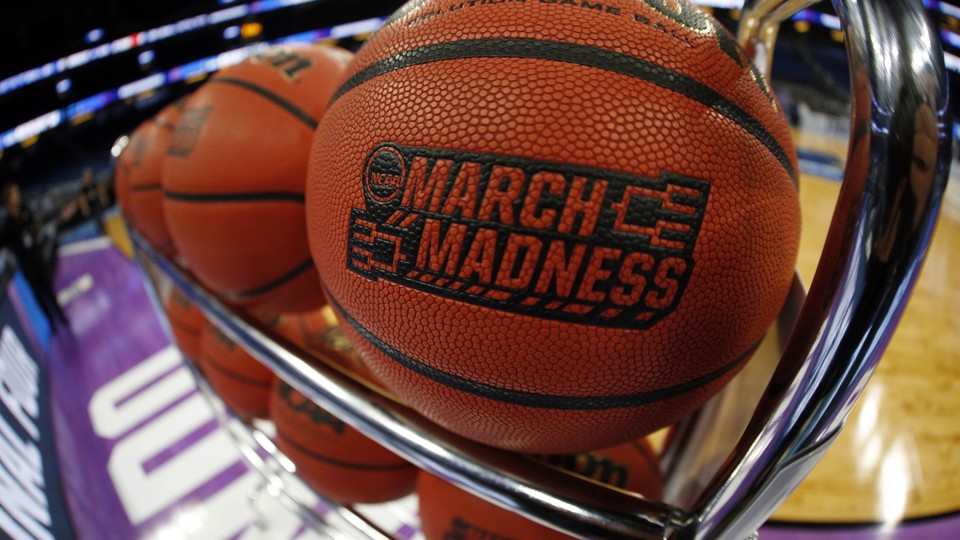 With brackets completed, March Madness 2017 is officially underway. And a new survey says that while the three-week long National Collegiate Athletic Association (NCAA) basketball tournament may be a huge distraction, it may also be a great tool for employee bonding.
For some workers, checking the performance of one's bracket at work can prove worrisome. Like checking Facebook, it's a distraction most would rather their manager not witness. But it can also be a bonding activity in the workplace—something a manager would likely want to see.
A recent survey by Randstad U.S., an HR and staffing company, quantified just how much American workers enjoy participating in office pools. The survey asked over 1,000 workers about March Madness, and found that 89 percent of those surveyed said that participating in NCAA brackets at work helped build team camaraderie, and that this simple activity made their jobs more enjoyable. Perhaps the most surprising number from the survey: Seventy-three percent of workers said they look forward to going to work more when they're part of an office pool.
Ben Wright, a marketing professor at Ball State University who was not involved with the survey, says it's silly for companies to fight March Madness. He believes companies should integrate college basketball into the workplace, not only because curbing office pools might not be feasible, but because any perceived productivity losses are likely inflated, and they're also offset by boosts in morale. The only exception seems to be among workers at colleges that experience unexpected tournament wins. In those cases, one study found that work declined by 19 percent on the day following a win.
"Over 70 million brackets will be filled out this year," said Wright over email. "Clearly, there is a desire to watch these games, and if employers can embrace the opportunity, it may create a more content and cohesive workforce."
The love of sports at work is nothing new. But despite the benefits, there are some reasons for concern. Fifty-three percent of workers in the Randstad survey reported watching sporting events (whether the NCAA tournament or other games) on their computers while at work in the past.
Wright says that there are a few things managers can do to  prevent any issues, such as clarifying whether betting is allowed and going over situations where it's not appropriate to talk about office brackets. One of those situations might be discussing the tournament around colleagues who don't like sports. "Managers need to be sensitive to varying levels of interest in an extracurricular event like the NCAA basketball tournament," Wright says. "Of course, attempting to include all employees in the camaraderie of this annual phenomenon via office pools, short 'watch party' breaks, and casual banter throughout the work day is ideal."
The bottom line is that managers shouldn't worry about it too much. March Madness and office brackets are likely just like any other distraction at the workplace, whether it's cake in the breakroom or a cheetos tasting. Any disruption in the workday can sacrifice productivity, Wright says, but one that ultimately brings people together can make for a better workplace.