The Fed Raises Interest Rates
The U.S. central bank's decision on Wednesday was widely expected, and is a sign of the economy's strength.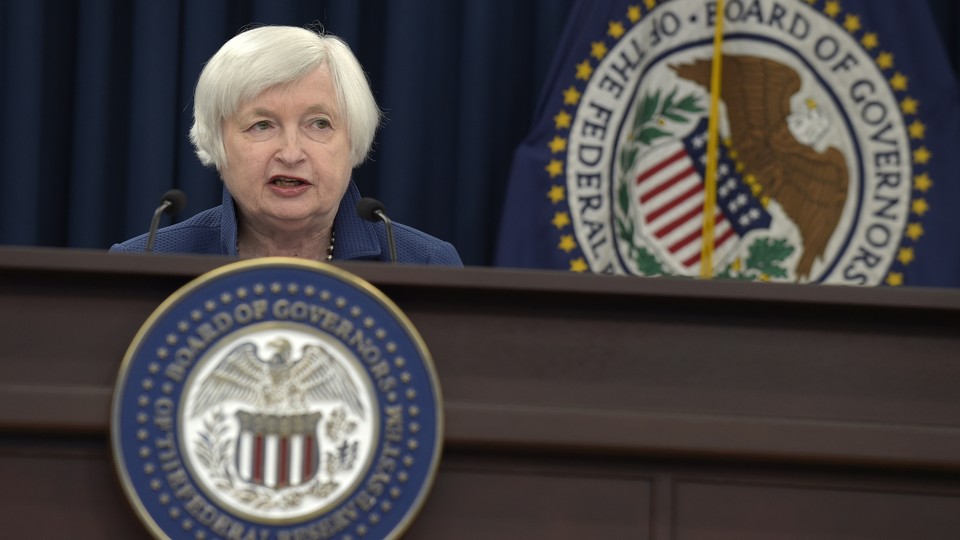 The U.S. Federal Reserve voted to raise interest rates for the first time in 2017 at its two-day Federal Open Market Committee (FOMC) March meeting, which concluded on Wednesday. The move was widely expected by analysts and Fed watchers: Economic indicators have been pointing an economy that's near full employment, and inflation seems to be firming up despite being weak in 2016.
The U.S. central bank will raise the target range for the federal funds rate to 0.75 to 1 percent.  This is the third time the Fed has raised interest rates in the last decade; the last time the U.S. central bank voted to raise interest rates was in December of last year. At a press conference following the decision, Federal Reserve Chairwoman Janet Yellen said, "Our decision to make another gradual reduction in the amount of policy accommodation reflects the economy's continued progress toward the employment and price-stability objectives assigned to us by law."
---
---
The March rate hike has brought up the perennial question of whether the Fed is raising rates too soon (or too late). On Wednesday, economists and market participants were looking for signs pointing to whether Fed policy makers are ready to move away from historically low interest rates, which have been in place since 2007 as part of the post-recession recovery effort.
In recent months, Yellen has sent the message that raising rates "too soon" is preferable to having to hike rates quickly down the road. She reiterated this message on Wednesday. "Today's decision also reflects our view that waiting too long to scale back some accommodation could potentially require us to raise rates rapidly sometime down the road, which in turn could risk disrupting financial markets and pushing the economy into recession," said Yellen at the press conference.
The only dissenting FOMC member for Wednesday's decision was Neel Kashkari, the president of the Federal Reserve Bank of Minneapolis. In recent months, Kashkari has been public about his view that the U.S. economy has not reached a point, in terms of employment and inflation, that requires raising interest rates.
The Fed's updated projections can be read as a signal that there's still going to be more than one rate hike in 2017: The median of committee members' predictions is that the federal funds rate will be 1.4 by the end of 2017, which would mean two quarter-point increase this year.