The Best Business Reads of February
The month's most interesting stories about money and economics from around the web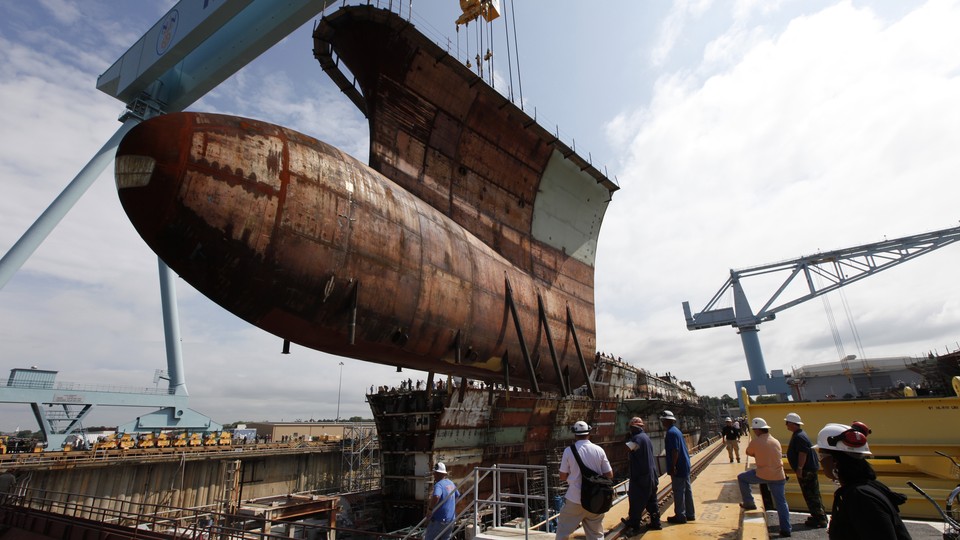 At the end of every month, editors of The Atlantic's Business Channel put together a list of the most insightful and interesting pieces of journalism about money and economics from around the web.
This month's picks include a broad investigation about work and labor—why some groups disproportionately fill certain jobs and why some can't seem to find jobs at all—an investigation of Bernie Madoff, and a look at the dangers of expanding the U.S. Navy.
If you've missed previous roundups, you can find recent ones here and here.
---
"This Is the New Face of American Unemployment"
Jeanna Smialek and Patricia Laya | Bloomberg
Because of where the structurally unemployed live, what they've done, or the skills they lack, employers can't or won't hire them. The problems that keep today's jobless stuck on the sidelines are different than those of past recoveries: a complex web of often interrelated issues from disability and drug use to criminal records.

Behind the statistics are people with 20 million unique stories. Here are five.
* * *
Jad Abumrad and Robert Krulwich | Radiolab
We thought we knew the story of Bernie Madoff. How he masterminded the biggest Ponzi scheme in history, leaving behind scores of distraught investors and a $65 billion black hole.

But we had never heard the story from Madoff himself.

. . .

Was he a puppetmaster or a puppet? And if the latter, who else is to blame for the biggest financial fraud in history?
* * *
"Cheap Eats, Cheap Labor: The Hidden Human Costs Of Those Lists"
Diep Tran | NPR
I watched my aunts and uncles work 16-hour days, only to charge cut-rate prices for their food. And I also witnessed the grueling hours that their employees put in, also at cut-rate wages. It is a cruel reality that immigrant enterprise is powered by the cheap labor of fellow immigrants.

Restaurant workers are already among the lowest paid workers in America. Many full-time workers rely on public assistance to make ends meet. Often enough, restaurant workers could not afford to eat at the restaurants where they work. And at the bottom of this system are the employees of the restaurants on these cheap eats lists.
* * *
"The Deadly Danger of Trump's Naval Buildup"
Jennifer Gollan | Politico Magazine
When he came to, he was kneeling. His Wrangler denim shirt was on fire. The skin on his hands and legs had been stripped like corn husks, baring muscle and bone. Blood gushed from his fingertips. It was Ates' fourth day on the job, the Friday before Thanksgiving 2009. He emerged from a medically induced coma three weeks later and learned that third-degree burns covered half his body. Four other workers aboard the Achievement also were injured in the blast. The two men Ates had tried to save were dead.

A month after the explosion, federal safety investigators still were combing through the charred boat at VT Halter Marine Inc.'s shipyard in Escatawpa, Mississippi, when the shipbuilder hit the jackpot: The U.S. Navy awarded it an $87 million contract to build a hulking 350-foot ship that would gather ocean data to improve submarine warfare.

If Navy officials had waited five more months for the Occupational Safety and Health Administration to finish its investigation, they would have learned that one of their prized contractors sent its workers into what it knew was a potential death trap. VT Halter's financial triumphs offer a striking example of how the Navy and other federal agencies award big business to shipbuilders with proven records of putting workers in harm's way. For private shipbuilders, many of whom depend on Navy and Coast Guard contracts to remain profitable, there are no long-term consequences for their safety problems, an investigation by Reveal from The Center for Investigative Reporting has found.
* * *
Lizzie Presser | The California Sunday Magazine
Filipinos make up about a third of the workforce on cruise ships—by far the greatest share from any country. They carve sea-creature ice sculptures in apartment-sized freezers, rappel from ropes to scrub the ship's hull, give manicures and massages, dance to "Livin' la Vida Loca" for dinner guests, and bus three-course meals from double-decker dining halls. Although the pay is attractive compared to jobs at home, the trade-off is a contract that offers little protection.

Regie didn't take the time to read the entire document, which was in English, a language he understood but not fully. The first page spelled out all he wanted to know: The salary would be enough to send his kids to private school, and the 48-hour workweek sounded standard. Regie didn't notice that his $450-a-month pay was fixed, even if he put in up to 70 hours a week. He also didn't see the clause at the bottom of the third page that barred him from seeking protection under U.S. law if he were injured.
* * *
Robert Smith and Keith Romer | Planet Money
Charlie Shrem had a prison epiphany. Instead of using packets of mackerel to buy and sell things, inmates should use something more like the digital currency Bitcoin. He even came up with a way it could work in prison, never mind that it was Bitcoin that got him arrested in the first place.

Before getting locked up, Shrem had run the company BitInstant. BitInstant made buying Bitcoin as easy as purchasing a money order. By the time he was 22, Shrem had hired dozens of employees, found a brand new office in Manhattan, and was processing a million dollars a day.

Shrem though ended up helping some of the wrong people trade dollars for Bitcoin: buyers and sellers of illegal drugs on the website Silk Road. As he was getting off a plane from Europe to New York, Shrem was arrested. He was convicted of aiding and abetting an unlicensed money transmitter, and sentenced to two years in federal prison.

While Shrem was behind bars he began to see Bitcoin in a new light. So did the rest of the world. Now he's got a new idea, and he's trying to convince investors to give him a second chance.
* * *
"Beneath Ukraine's Battlefields, Some Sanctuary And Sparkling Wine"
Christopher Miller | Radio Free Europe
Yuriy, who asks that his last name not be used, continues to host connoisseurs or the simply curious here at Artwinery, a maze of winemaking and climate-controlled caves originally opened in honor of Soviet leader Josef Stalin's birthday in 1950.

Aboveground, signs of the only active war in Europe are omnipresent in this historic salt-mining city of about 100,000 residents just 20 kilometers from the front lines where Russia-backed separatists are fighting Ukrainian government troops.

Checkpoints are in place at every entrance to the city. Armed soldiers in fatigues roam streets scarred by tank tracks. Apartment buildings are spray-painted with the words "bomb shelter" in Russian. There is more foot traffic in and out of military apparel shops than the city's fashion boutiques. Helicopters routinely buzz overhead, delivering wounded troops from flashpoint areas like Avdiyivka to the hospital here.
* * *
Binyamin Appelbaum, Elise Craig, Jazmine Hughes, Ben Austen, Jaime Lowe, Eric Steuer, Abe Streep, Lizzie O'Leary, Amanda Fortini, and Carlo Rotella | The New York Times
The emerging face of the American working class is a Hispanic woman who has never set foot on a factory floor. That's not the kind of work much of the working class does anymore. Instead of making things, they are more often paid to serve people: to care for someone else's children or someone else's parents; to clean another family's home.

The decline of the old working class has meant both an economic triumph for the nation and a personal tribulation for many of the workers. Technological progress has made American farms and factories more productive than ever, creating great wealth and cutting the cost of food and most other products. But the work no longer requires large numbers of workers. In 1900, factories and farms employed 60 percent of the work force. By 1950, a half-century later, those two sectors employed 36 percent. In 2014, they employed less than 10 percent.
* * *
"China's Hedge Fund Elite Live in Their Own Private Village"
Bloomberg
Like Greenwich, Conn., the leafy town an hour's drive north of Wall Street, Yuhuang Shannan, about an hour from Shanghai by high-speed train, has become a big hit with the hedge fund crowd. So big, in fact, that local authorities turned the entire village—until recently a hub for the design industry—into an exclusive enclave for China's aspiring masters of the universe.

These days, resident money managers and their guests are the only ones allowed past the guarded entrance to Yuhuang Shannan. Inside, villa-style office buildings offer rows of trading terminals and waterfront views. There's a private elementary school partly staffed by non-Chinese teachers, a modern medical center, and a club for after-work schmoozing—­all designed with discerning financiers in mind. Even local government officials are eager to please, standing ready to help the funds raise cash from state-run investors and navigate the bureaucracy.