Imagining an Economy Without Women
On Wednesday, the organizers of the Women's March encouraged participation in the "A Day Without a Woman" strike.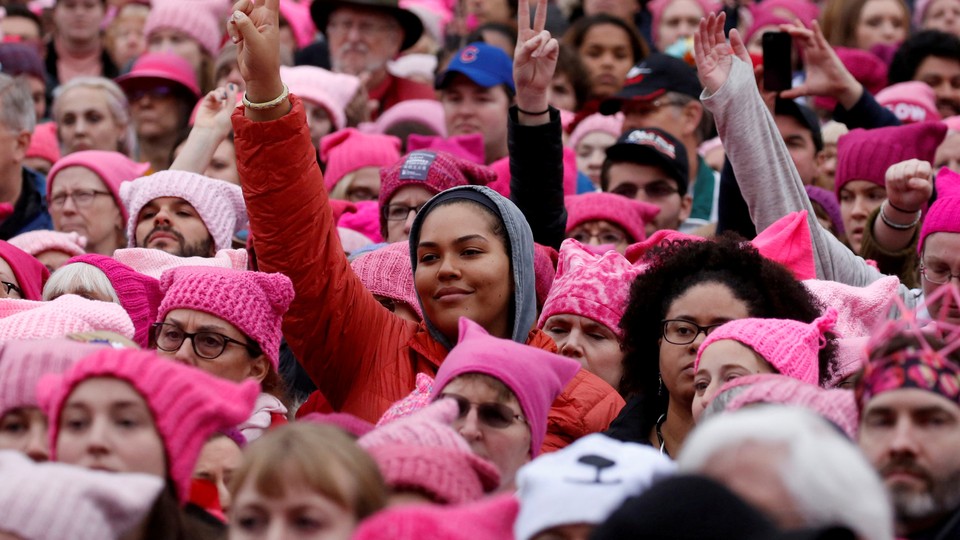 In 1908, 15,000 female garment workers marched through New York demanding shorter hours, better pay, and voting rights. More than 100 years later—on what has been dubbed International Women's Day in remembrance of such protests—women across the U.S. are striking in a walkout called "A Day Without a Woman." Wednesday's  protest, organized by Women's March on Washington, is meant to show what the American economy would look like without female labor or consumers, and to push for gender equality in the workplace.
According to a study by the Center of American Progress, a left-leaning think tank, it would cost the U.S. gross domestic product $21 billion if all American women who work outside of the home for pay took a day off. And yet despite this staggering figure, women still make less than their male counterparts in most professions.
Wednesday's strike is reminiscent of the recent Yemeni bodega strike and "A Day Without Immigrants," walkouts organized in protest of Trump-administration policies meant to show what the country would be like without the work of immigrants. The fallout from one of those subsequent strikes—which included some employer retaliation and firings—is still fresh in the memory of many, causing some employers to be proactive when it comes to talking to employees about participation.
Some employers have come out in support of female employees who want to participate. Sunrun, the California-based home solar power company, is giving all its employees the option to take the day off to participate. The company has also recently joined the Equal Pay Pledge, in which companies commit to annual company-wide gender-pay analysis in order to reduce the gender pay gap. "Equality and opportunity for women are part of our DNA," said Lynn Jurich, the co-Founder and CEO of Sunrun. "We feel it is extremely important to support equitable treatment in and out of the workplace at all times."
A number of media companies are also being vocal about their participation. The female staff at the blog Jezebel are striking and participating in protests, leaving their male colleagues to run the site for the day. Writers at The Onion Inc., which includes AV Club, will be striking to show the "chronically undervalued labor [women] perform both in the office and in our personal lives." The music network MTV is also participating, including flipping the M in its logo into a W. The company's social-media account is on strike:
The L.A. Times reports that United Talent Agency is encouraging female staff members to "spend the day as she sees fit," and holding off-site gender-equality discussions in New York and Los Angeles. A restaurant in Pittsburgh will be giving its female employees the day off with pay. Ryan Murphy, the creator of Scream Queens and American Horror Story, tweeted that women will be taking the day off at his production company:
In honor & support of tomorrow's A DAY WITHOUT A WOMAN, ALL the women in my company will not be working. So in short, nothing will get done.

— Ryan Murphy (@MrRPMurphy) March 7, 2017
Several school districts are closing in order to facilitate leave requests from staffers who plan on participating. In northern Virginia, schools are closed in one district after 300 staff members requested the day off for the protest. Similarly, the Chapel Hill-Carrboro City Schools in North Carolina declared Wednesday an "optional teacher workday" during which students should stay home. Some 1,700 staff members in Prince George's County Public schools in Maryland requested leave, leading that district to close for the day as well. A walkout at Rutgers University calls for professors, staff, and students to gather for a teach-in. Rallies have been planned in at least 10 U.S. cities.
The protest on Wednesday stems from the efforts of the organizers of last month's Women March on Washington. The group called for a national walkout a month ago to coincide with International Women's Day. On their website, the organizers wrote that the protest is aimed at "recognizing the enormous value that women of all backgrounds add to our socio-economic system—while receiving lower wages and experiencing greater inequities, vulnerability to discrimination, sexual harassment, and job insecurity."
The organizers are encouraging women to refrain from both paid and unpaid labor and to avoid shopping—unless it's at a woman-owned establishment. They're encouraging those who can't participate in the strike, and men hoping to show support, to wear the color red in solidarity. They also suggest that men start a conversation about equal pay at work and pitch in with housework at the office and at home. The organizers have also encouraged employers to close or give female staff the day off.
In an op-ed in The Guardian, the organizers of the protest called for "a feminism for the 99%," arguing that lean-in feminism and corporate feminism have failed to achieve equality for many women. But some critics have characterized the walkout as elitist, alleging that only privileged women in jobs that offer paid leave or with employers who support the cause will be able to participate, leaving out women working in vulnerable employment situations. Amy Alexander, a journalist, stated her concerns at the NPR blog Code Switch: "It is a case of high-minded ideology that, while well-meaning, doesn't take into account the fact that some women can't miss even a single day of work without fear of being fired or docked a full day's pay." Others have criticized the timing of the strike, saying that strategic changes, such as having a protest later in the day, could have been made so more women could participate. Meanwhile, some women have been irked by the school closures which left them scrambling to find child care. A conservative group has been encouraging women to show up for work and organize power lunches in as a "positive counter-movement."
These are all real concerns for those considering participation in the recent wave of walkouts. Though some HR professionals have urged employers not to take action against striking employees beyond withholding payment, a number of participants in "A Day Without Immigrants" were reportedly fired, with employers citing existing company policies about missing work. The legality of the firings are a gray area, as it's unclear whether missing work for a strike is protected by the National Labor Relations Act, which protects workers who strike for "mutual aid or protection" but allows neutral disciplinary action. In Texas, which is an at-will employment state, the organizers of Austin's Women's March have opted not to participate in Wednesday's strike due to concerns it might result in those protesting losing their jobs.
As some have joked, some industries are still so male-dominated that they may be insulated from the message:
I want to make a joke about how several venture capital firms are already partaking in "A Day Without a Woman" but it's just too real.

— Ashley Mayer ❄️ (@ashleymayer) March 7, 2017
It's unlikely that Wednesday's strike will result in the same large turnout of the Women's March, but organizers are certainly hoping that people will see a difference at their offices—whether it's because women are absent or colleagues are wearing red in solidarity.