'We Have to Show the Value Women Bring to the Workplace'
A dispatch from the "Day Without a Woman" rally in New York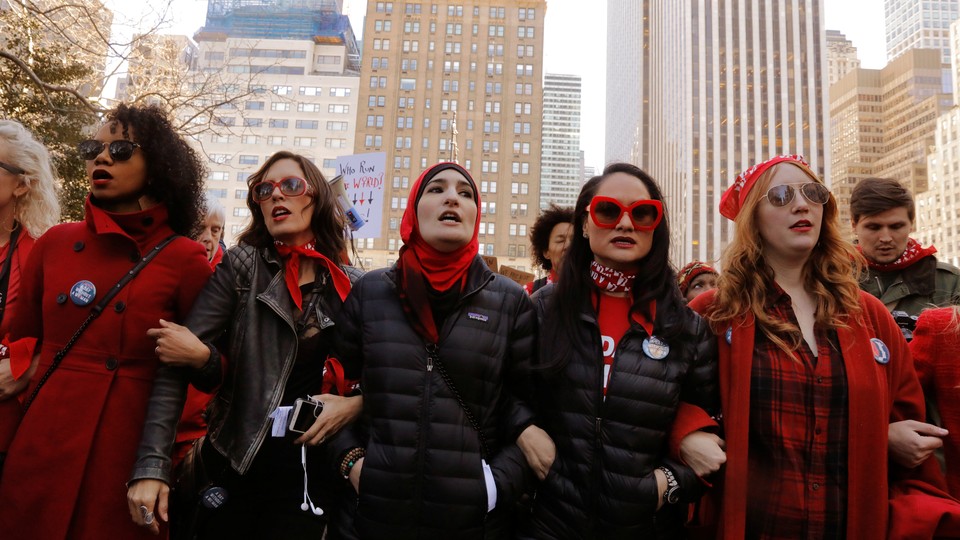 NEW YORK, N.Y.—On Wednesday, a small group of around 100 protesters, largely female, gathered just before noon outside the 59th street Apple store in midtown Manhattan for a planned protest called "A Day Without a Woman."
A makeshift stage had been set up, with many women wearing red as recommended by the organizers, and some donning their "pussyhats" from January's Women's March. Soon, the crowd grew, with women flooding in from all directions. By 12:30 p.m., there were some 400 protesters spilling into Manhattan's Grand Army Plaza in front of the Plaza Hotel, with at least a dozen protesters climbing onto the Pulitzer fountain for a better view of the rally.
As with the Women's March, homemade signs were plentiful, taking aim at a variety of issues including the gender-pay gap, reproductive rights, and general anti-Trump sentiments. The scope of the Women's March was fairly broad, though many who attended were concerned that President Trump's policies would worsen economic inequality for women. A Day Without a Woman, in a sense, picked up on that thread, attempting to show the economic power of women and what the American economy would look like without female labor or consumers.
"Anytime us ladies show up, we show up," said Ashley Louise, an employee at Vimeo. Louise is part of the organization Ladies Get Paid, whose 4,000 members focus on workplace equality. Louise said she was striking for equal pay, and her employer was supportive of her actions: "We have to show the value women bring to the workplace."
A handful of women showed up with their children in tow. Deb Lee, a small-business owner who works in online sales, brought her two daughters, aged 5 and 15, to the protest. "I want to let them know that it's okay to exercise their voice, and not to sit on the side and take it," explained Lee.  Lee's 15-year-old daughter said the issues had been discussed at home, and she was protesting for both workplace equality and women's rights: "It's unfortunate that in 2017, we still have to fight for our rights and our jobs."
While many in the crowd were taking the day off work in order to join in the strike, some women simply stopped by during their lunch hour or during a break. Yvette Gaudreau, who works in health care, came to the protest with her work ID on. She was there with her colleague Priscilla Sherman during a lunch break. "We're here for solidarity," said Sherman, who hoped that protests such as the women's march and "A Day Without a Woman" would lead to policy changes with regard to education, payroll disparities, and reproductive rights. "Having a million [people] march doesn't matter if it doesn't affect policy," said Sherman.
With the the GOP's health-care plan in the news, many women told me that reproductive rights were on their minds. Others were open about the fact that their reason for protesting was to protest Trump's policies specifically. "We have to demonstrate to the president, to Congress, and everyone," said Janet Wikler, a 71-year-old management consultant. Wikler is self-employed; when asked whether it was okay to strike, she said her boss was "totally fine with it."
Amid criticism leading up to the protest that the rally would only engage women who could afford to skip work, the organizers made a point of stressing the importance of inclusiveness and the unity of all women to the movement. Some protesters didn't have a specific cause they were striking for. "There's no one issue, but it's about women's rights," said Yael Amron, who works in sustainability and attended during a lunch break. "There's a lot of ways to participate, and not many people have the flexibility to take off from work."
The organizers led one final cheer before leading the protest to Columbus Circle, a call-and-response where the speaker chanted "a day without a woman," and the crowd responded with "a day without me." The rally in midtown was peaceful, with the organizers leading the crowd to protest in front of Trump International Hotel & Tower. As the protestors marched alongside the horse carriages in Central Park, amid gawking tourists and policemen, the message became simpler. The crowd shouted "girl power" and pumped their fists.
But the day didn't end without incident: Just before 3 p.m., several of the rally's organizers, including Linda Sarsour, Carmen Perez, and Bob Bland, were reportedly arrested for civil disobedience outside Trump Hotel in Columbus Circle. On Twitter, the organizers urged supporters who were still around to meet them at Manhattan's 7th precinct to continue to protest.