The Yemeni Bodega Strike
As many as 5,000 business owners and their supporters gathered in Brooklyn for a protest against President Trump's immigration ban.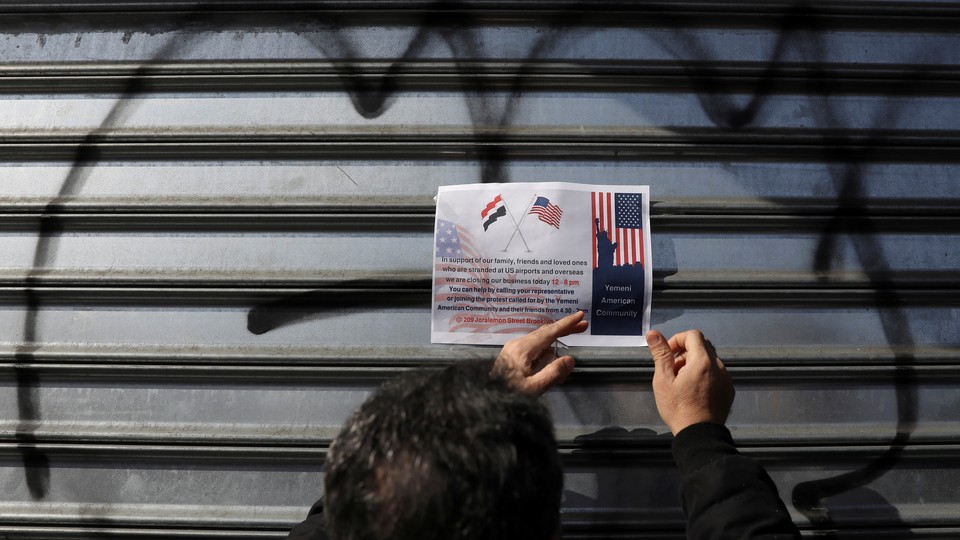 BROOKLYN, N.Y. — Given the chance, most any New Yorker will tell you that bodegas are a city institution, like libraries or the subway. They are overwhelmingly immigrant-owned and open 24 hours, dispensing basic groceries, household needs, and bacon, egg, and cheese sandwiches at all hours.
Accordingly, it was jarring for many New Yorkers to see the ultimate symbol of consumer access suddenly close en masse. In a strike organized by Yemeni-American business owners, approximately 1,000 bodegas and other businesses shuttered on Thursday in protest of President Trump's controversial executive order on immigration, which went into effect last week. The strike was inspired by a work stoppage last week organized by the New York Taxi Workers Association, another Muslim-majority organization in the city. "This shutdown of grocery stores and bodegas will be a public show of the vital role these grocers and their families play in New York's economic and social fabric," read a statement on the event's Facebook page. For eight hours across the city, many delis and corner shops went dark and as many as 5,000 people gathered for a rally at Borough Hall, a government complex in downtown Brooklyn.
Unlike many of the recent protests across the city, Thursday's gathering was conspicuously patriotic in theme. Among the placards decrying the immigration ban, there were also countless demonstrators waving American and Yemeni flags. In between the speeches, many of which were delivered in Arabic, chants of "U.S.A." echoed across the plaza. But the theme was also economic. That the rally was accompanied by a work stoppage didn't just convey that the administration's executive order was harming American citizens and their families, but that it was also harming American business owners and taxpayers.
Ali, who declined his give his last name, is an American citizen from Yemen who owns a bodega in Park Slope, Brooklyn. He arrived in the United States when he was 20. Now, 20 years later, he has a wife and four children living in Egypt. "I have an American passport, she has a green card," he explained the evening before the strike. "My plan was to go [to Egypt] in April to bring my wife and kids and to find an apartment and get everything ready here. Now I can't travel. I'm scared that I won't come back. I'm scared they'll stop me and I'm a citizen!" He added that he feared he would lose his business if he got stuck while traveling abroad, leaving his family without means to pay for anything or his children to go to school.
Following the signing of the immigration ban last week, Ali canceled his flight to Egypt. It was the least costly part of a heavily-involved legal process to bring his family to the United States, a process to which he says he has gladly devoted tens-of-thousands of dollars. "I've been working here for the last 20 years, working hard," he adds. "You see me every night, I'm here trying to make a living to make sure when my wife comes, I start having days off, taking vacation. I can't do nothing now cause I'm alone. What's the point of me taking two days off and I have no wife and kids here? I'm working seven days just to have them come here."
In addition to the obvious ideological objections to the immigration ban, there also remain logistical contentions over the sudden and arbitrary nature of its timing, which ensnared many travelers and green-card holders. (According to reports on Friday, anywhere from 60,000 to 100,000 visas were also revoked.)  Ali gestures at a young co-worker standing behind the deli counter. "He just got here, he's been here one month," Ali explains. "He got lucky. He's going to start from the bottom, start making money, within two or three years, he's gonna have his own business. He's gonna be there."
This sentiment was echoed at the rally. "Some people got so lucky, they came here on Friday, man, before they signed [the executive order]," said Salim Alwae, who works at a store in Sheepshead Bay, Brooklyn. "People who came on Saturday, they go back. And they paid to come here! They paid the money and their taxes to come here. And Donald Trump doesn't even pay his taxes. This is our life. This isn't a joke no more. We're fighting for our life right now."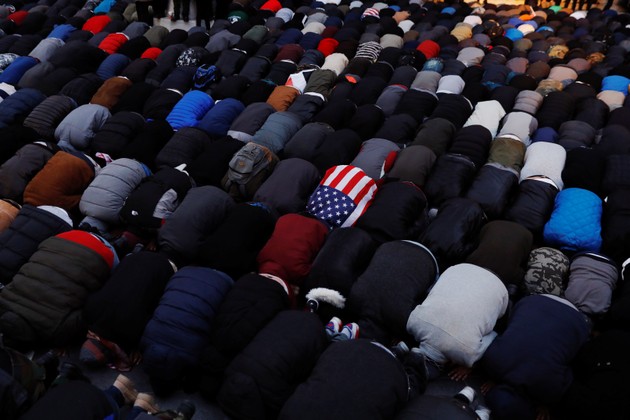 There were more stories like this to go around, but not enough time to hear them all. Shortly before 5:30 P.M. as the sun set, the din of the crowd was quieted by the call to prayer and with it came hundreds of men lining up to pray and then prostrating themselves in the public square. The sudden silence gave the moment a palpable intimacy and anyone looking up at the moment might have noticed for the first time that many New Yorkers working in the tall office buildings that surround Borough Hall had gathered at the windows to watch. At 8 p.m., the strike ended and the bodegas opened once again to the city that needed them.