Trump Has a Message for Poor Immigrants: Get Out
The ban targeting seven Muslim-majority countries was just the beginning.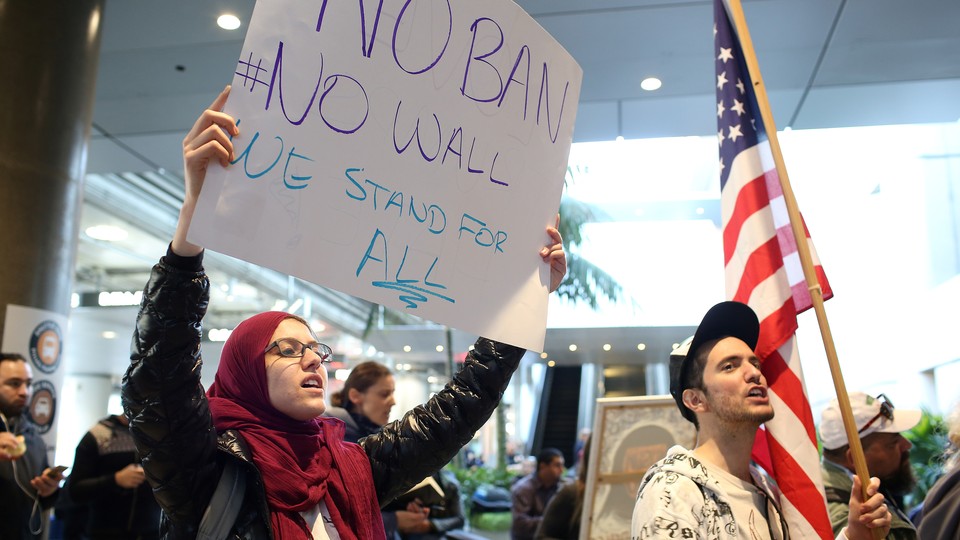 After less than two weeks in office, President Donald Trump has issued executive orders that have the potential to rewrite American immigration policy and undermine its global reputation as a destination for the world's brightest—and its most needy.
Indeed, that is the plan. As Steve Bannon, the president's chief strategist, has said of America's weak economic growth: "Twenty percent of this country is immigrants. Is that not the beating heart of this problem?" (The actual number is closer to 13 percent.)
Last Friday's executive order temporarily banned refugees along with immigrants from seven Muslim-majority countries. This week, The Washington Post has received drafts of two additional executive orders that the president is reportedly considering signing. Among other things, they call for the deportation of poor legal immigrants who take any government welfare, an extraordinarily broad group that could include middle-income families who get tax credits for their young children. They would also make it much harder for low-income immigrants to move to the United States.
The government already blocks many immigrants who may become a "public charge." Under current law, the U.S. can deny entry to individuals who are likely to rely on cash assistance. The new executive order would broaden the rule to also deny immigrants who are likely to enroll in Medicaid, or require child-care or housing subsidies.
But the order goes even further, saying "the United States does not welcome individuals who are likely to become, or have become, a burden on taxpayers." The language is vague, but immigration law experts I spoke with on background said it might mean that millions of legal immigrants who have ever received public assistance—as half of native-born Americans currently do—would be targeted for deportation. What's more, the executive order would force these immigrants' employers to pay the U.S. government back for any public health care or tax welfare incurred before deportation. As Vox's Dara Lind writes, it would build a wall around public welfare and hang a sign on it: For Native-Born, Only.
Finally, the Trump administration is also reportedly mulling severe restrictions to the availability of H-1B visas, a type of work visa that is commonly used to hire foreign-born workers at technology companies and other white-collar firms. The order's language is broad, but it seems to restrict H-1B visas to high-wage earners.
Even if you discount the idea that the United States is big and rich enough to share its bounty with a handful of foreign-born individuals from war-stricken countries, the economic case for immigration is strong. Immigrants are more likely to start companies than native-born citizens and less likely to use welfare; when on welfare, they use fewer benefits. Despite what Trump's supporters might think, existing U.S. immigration policy is not exactly a confetti canon of food stamps for the foreign-born. Undocumented workers are barred from public benefits, and most immigrants cannot receive federal benefits like SNAP for their first five years in the U.S. unless they have refugee status.
The lesson here is not subtle. The administration's top priority, above health care or tax policy, is to send an unambiguous message to immigrants—particularly those who are non-white and Muslim: We are closed for business; go home, or stay home. This is how a country builds a wall without laying a brick.