There's Superficial Agreement in Congress on Paid Family Leave
A Democratic and a Republican bill each purport to address the matter, but there are major differences in their approaches.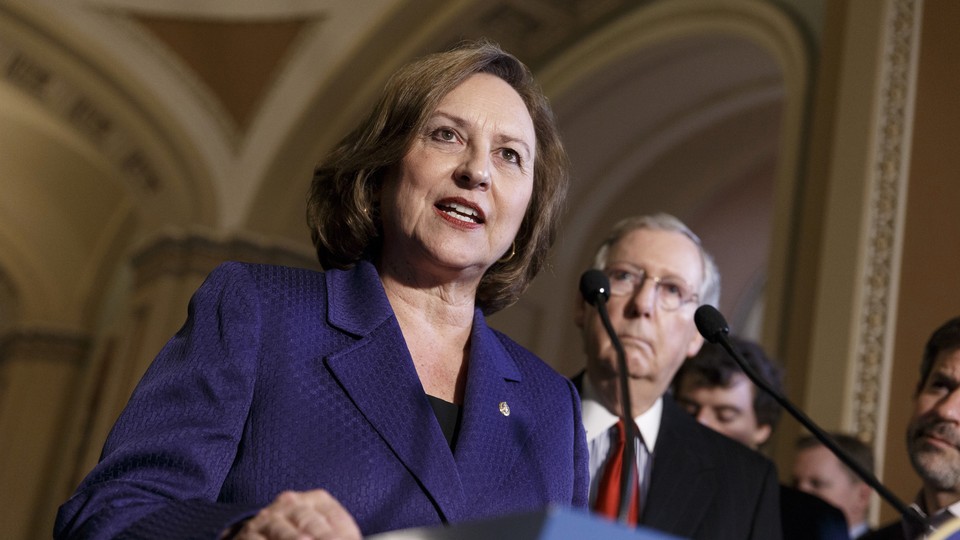 On Thursday, the Republican senator Deb Fischer of Nebraska introduced a bill aimed at addressing paid family leave. The Strong Families Act creates a tax incentive—25 percent of what employees are paid during the leave—for businesses to offer two weeks of paid family leave a year.  Versions of the bill has been introduced during the past two Congresses: The Strong Families Act is one Fischer introduced in 2014, and pushed again in 2015. But the timing and current political climate may be giving these old ideas a new boost.
On the heels of the historic Women's March, interest groups have been anticipating that politicians would take advantage of the momentum toward advancing women's economic issues, such as paid family leave. Earlier this week, two Democratic Senators, Kirsten Gillibrand and Rosa DeLauro, reintroduced their bill for paid family leave—the Family And Medical Insurance Leave (FAMILY) Act which would guarantee workers two-thirds of their pay for up to 12 weeks. Fischer also hinted at this dynamic between the growing disjoint between the women's movement and the Republican party in an interview with Politico previewing the reintroduction of the bill, saying that "it's an issue that to be honest, that we as a party have not taken a high profile on."
Further, while traditional Republicans tend to balk at the idea of government intervention, the Trump administration has been rather positive about  supporting government-mandated paid leave. During the 2016 campaign, the Trump campaign proposed six weeks of partially paid leave as well as a child-care tax deduction. The proposal was said to have been inspired by first-daughter Ivanka Trump, who has personally promoted the need for better paid leave policies. At the time, experts expressed concerns that the policy would be unconstitutional, as it did not include fathers and could lead employers to discriminate against women. Earlier this week, the Washington Post reported that Trump staffers said the initial proposal might be revised and that the issue remains a top priority.
While it seems that there's consensus that something should be done, there is still concern over how, exactly, paid leave policies should be implemented. For example, advocates for paid leave have come out against Fischer's bill, saying it doesn't go far enough. "It's totally optional, and even if they do it it's still insufficient," said Vivien Labaton, co-founder of Make It Work, a national campaign that fights for economic issues that affect women and families, in a phone interview. "It's only two weeks. It's a tax credit for employers, so it still requires employees to win the employer lottery and hope they work some place where an employer wants to do the right thing." The National Partnership for Women and Families has also come out against Fischer's bills, labelling them "deceptive alternatives" in a statement. In the past, Democrats have also come out against Fischer's plan on the grounds that it is not as broad as the proposals they've put forward.
A small number of states have been making progress on both issues. The District of Columbia passed the most generous paid-family leave law in the country last year, joining four states—California, New Jersey, New York, and Rhode Island—in offering paid family leave.
For those hoping that federal regulation will catch up to states and companies leading the charge on paid leave, it could be a while before any bill, especially one that is substantial enough to herald progress, gets passed. But the details of the bills matter, and that's why advocates of paid leave strongly prefer the Democrats' approach: To them, more is better.