Why Life for Inmates Will Get More Expensive Under Trump and Sessions
Growing prison fees and fines faced by the incarcerated became a target of the Justice Department under President Obama. Those days are over.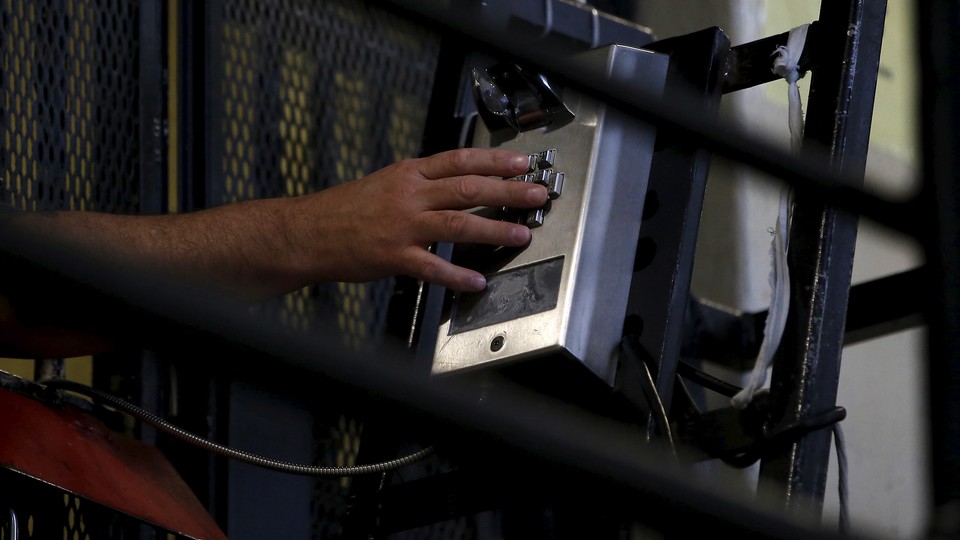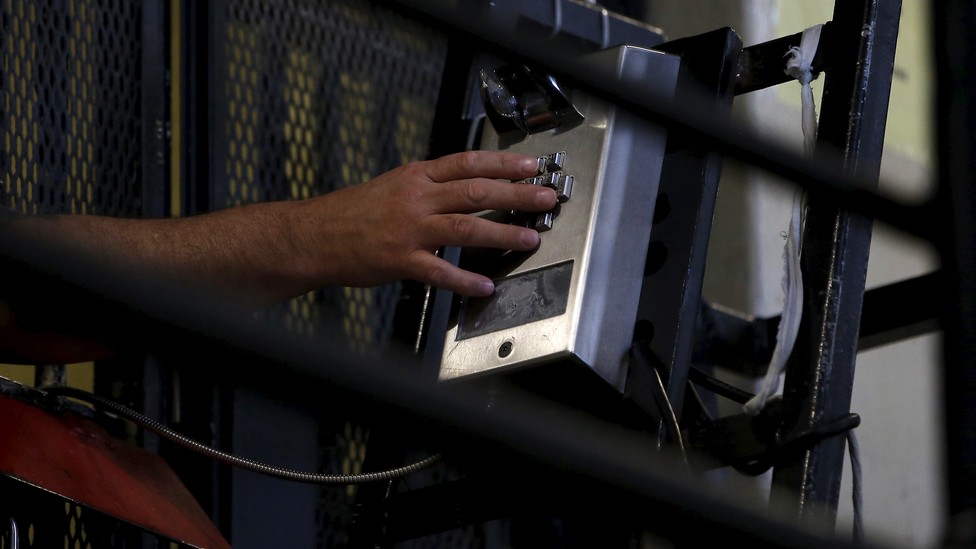 In 2015, the FCC introduced new rules that would cap some of mind-boggling costs associated with making phone calls inside American prisons. Some inmates and their families, the commission noted, were paying as much as $14 a minute for calls. Other inmates were subject to burdensome and arbitrary-seeming fees, such as being charged a maximum rate no matter the length of a call or high additional charges just to process payments for the calls themselves. The FCC initiative was met with enthusiasm by criminal-justice reformers. "There's little doubt that inmates who keep in touch with their families have a better chance of finding places in their communities and staying out of jail once they are released," the editorial board of The New York Times opined.
There was one hitch though: Some of the rules, like caps for intrastate calls, were held up in court and never fully implemented. This month, the long legal saga ended somewhat anticlimactically when the FCC simply gave up on a key part of the case. "A majority of the current Commission does not believe that the agency has the authority to cap intrastate rates," read a court brief written by the FCC's deputy general counsel. "I am therefore informing the parties and the Court that we are abandoning, and I am not authorized to defend at argument, the contention...that the Commission has the authority to cap intrastate rates for inmate calling services."
In other words, this denouement was the simple result of politics. After the presidential election in November, majority control of the FCC has shifted back to the GOP and the issue of reducing prison phone rates falls along partisan lines. While this skirmish represents one relatively small component of inmate life, it also augurs badly for the future of prison reform efforts, particularly with economic burdens in mind.
From 1980 until 2013, the U.S. prison population more than quadrupled from 500,000 inmates to over two million. A recent Atlantic project details the tremendous reach of mass incarceration into the social, racial, and economic foundations of American life. One of the many results of a booming inmate population are surging costs. According to a 2015 report by the Brennan Center, more than $80 billion is spent annually on corrections, which is "about equivalent to the budget of the federal Department of Education." The report adds that prison spending often represents the third-highest expenditure on the state level behind education and healthcare.
Many of those costs are being passed along to the inmates. This goes way beyond phone calls. Many states are charging inmates for medical visits. Or levying fees on family members to visit or communicate over video. There are stories of formerly incarcerated men in Florida receiving bills for $50,000, the cumulative effect of the state's "pay-to-stay" law, which allows facilities to charge inmates $50 a night for the cost of their incarceration.
Ironically, technology, which has made communication cheaper for the masses, has become another mechanism for companies to extract money from prisons. Phone calls, video visitations, email accessibility, even digital commissary accounts all represent innovations that should lessen the burden of prison life, but instead, they've have become new streams of revenue. "The Justice Department had been championing this idea of right-sizing some of these fees," says Eisen, noting the department's efforts to engage with judges in different states to rule on the constitutionality of prison fines and fees.
"We're looking at a user-funded system and that's a common theme," says L.B. Eisen, senior counsel of the Brennan Center's Justice Program and author of the forthcoming book Inside Private Prisons. "Fines and fees are so broad. You can look at all the fees you're charged from arrest, booking, and then all the fees in court, pre-trial fees. Then once you're incarcerated all the fees there. And, once you're released, you're in debt."
According to the Brennan Center report, an estimated 10 million Americans now owe more than $50 billion from debts accrued during their journey through the criminal-justice system. Compound this dynamic with the Justice Department finding that 60 to 75 percent of former inmates fail to find work within the first year of being released.
Though accused of not doing enough, former President Obama and his administration did take steps to address some of the burdens of incarceration. He commuted more sentences than any of his predecessors, signed a "ban the box" memorandum for former convicts applying for federal jobs, instructed his Justice Department to investigate city police departments, became the first sitting president to visit a federal prison, and vowed to phase out federal contracts with private prisons.
With Donald Trump as president and Jeff Sessions as his newly-confirmed attorney general, both of whom have struck "tough-on-crime" postures, it seems all but certain that the momentum for criminal-justice reform will be undercut by the new administration. Indeed, in the hours following Trump's election stocks for private prisons surged. "I think we're going to see a real rollback of some of these policies," Eisen predicts. "Advocates have been pushing really hard for initiatives like caps on prison telephone fees." In the meantime, anyone who says crime doesn't pay hasn't been paying attention.
---
Related Video