Donald Trump's Loud Silence on Unions
He spoke at a Boeing factory that had just rejected unionization—but didn't bring it up. He never does.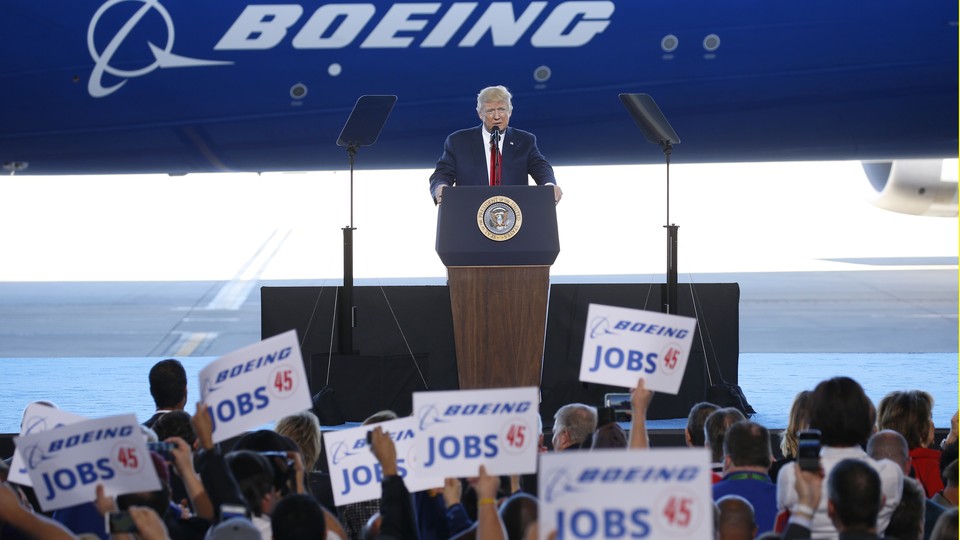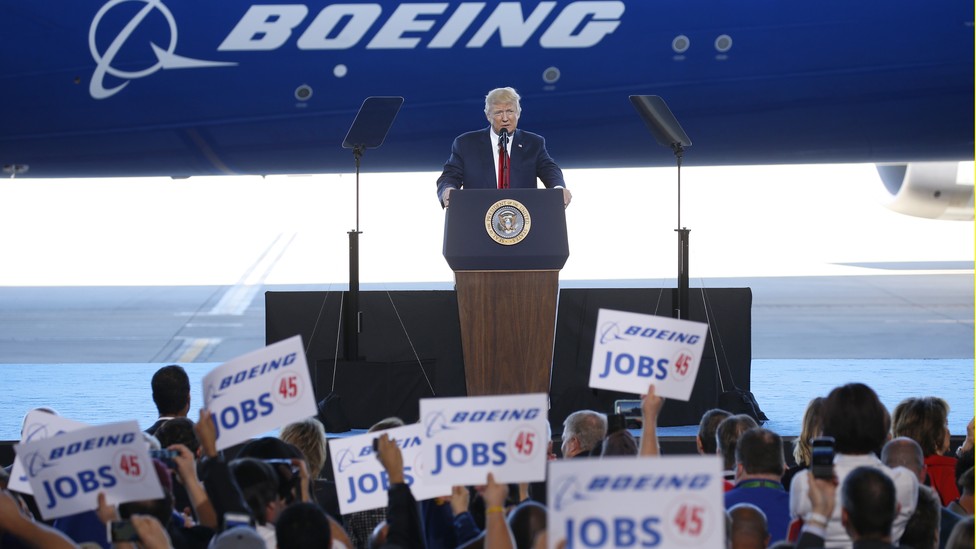 Donald Trump traveled to a Boeing plant in South Carolina on Friday, ostensibly to poke around the company's new jet and sit in the cockpit. But his real interest was the few thousand workers assembled in the hanger, and the television cameras behind them.
"We love our workers, and we are going to protect our workers," he said. "We are going to fight for our families, and we are going to fight for more jobs and better-paying jobs for the loyal citizens of our country."
The president's 20-minute speech, made to a room of people who normally wear hard hats, was more striking for what it didn't discuss: the role—if any—that organized labor should play in ensuring that prosperity. It was a surprising omission, given the plant's recent history: Earlier in the week, workers at the very same Charleston-area Boeing facility voted against unionizing. More than 2,000 people rejected the bid from the International Association of Machinists and Aerospace Workers, out of 2,800 total votes— a pretty big defeat, though not particularly surprising in the labor-unfriendly South.
Perhaps if the Machinists had won, Trump would have been forced to acknowledge them. He instead stuck to pattern, praising workers and promising better wages, but ignoring—though not opposing outright—the efforts unions expend on the same goals.
"If he wanted to talk about the importance of unionization, he could have, over and over again," said Heidi Shierholz, director of policy at the left-leaning Economic Policy institute. "And over and over again, he chose not to. I do think that does speak to where he is on traditional collective bargaining."
To be clear, the North Charleston plant is hardly a fair bellwether for the fate of labor in the rest of the country. From the beginning, the Machinists faced an uphill slog. Unions represent only 1.6 percent of the total workforce in South Carolina, the lowest rate in the country. State politicians are generally skeptical of labor; former governor Nikki Haley once joked she wore high heels because she's "kicked the unions out every day of the week since I've been here."
The plant's workers also have a complicated history with the Machinists. In 2010, the union filed an unfair-labor-practice complaint to block Boeing from opening the new plant, arguing the company was shuttling jobs from Washington state, where the Machinists represented a sister facility. Union leaders eventually relented after Boeing agreed to raise wages and expand production in the Pacific Northwest, but the fight left many South Carolinians feeling like the union was against them.
By 2017, with Boeing in turmoil, the jobs-rich plant had became too tempting a target for organizing to pass up, said Joseph Seiner, a law professor at the University of South Carolina who studies labor. He suspects union leaders also had a new fear: After Trump's election, labor-friendly regulations could be revisited, even struck down. Might this be their last, best chance to snag a major organizing victory?
And so began a mad-dash campaign to organize the plant, lasting only a few weeks and ending in disappointment for the Machinists.
O.K. Sexton, a Boeing worker who checks airplane wiring and chassis for defects, voted no; he didn't trust the union to have his best interests at heart, and feared negotiators would bargain away his benefits. "A wise man once said the devil you know is better than the devil you don't," he said Thursday.
More broadly, he wonders if organized labor is even necessary. "I believe the U.S. is beginning to realize there is not a need for unions anymore," Sexton said.
Trump might very well agree. Since the start of his campaign, he's never picked a fight with unions en masse; doing so could alienate the slice of his working-class base that enjoys union protections. But his first pick for Labor Secretary, the fast-food executive Andrew Puzder, was about as unpalatable to labor leaders as anyone he could have picked. And his choice to single out an Indiana labor organizer for rebuke amid his dealmaking to keep Carrier jobs in the country stunned labor leaders. That said, the president of North America's Building Trades Union gushed over Trump, saying their conversation at the White House was  "by far the best meeting I've had" in Washington.
Even if he wanted to, the president couldn't immediately do away with existing labor regulations. Most of Obama's changes went through the government's extensive rule-making process and would be subject to public comment if modified. "I think folks are right to be concerned that some of these things could be reconsidered," said Celine McNicholas, a labor expert at EPI. "But I don't want to create the impression that it can be done overnight."
But a frontal assault might not be necessary—and that may be the biggest problem for unions of all. In his oratory, the president hasn't decried union bosses or suggested workers throw away their membership cards. Instead, he hasn't mentioned labor at all. In his South Carolina speech, where he gave plenty of specifics about Boeing's new plane (it's 18 feet longer than the old one, he noted), the president said remarkably little about how he'll make workers lives better. He just will, and he doesn't need any help.