Tale of the Tweet: Donald Trump vs. Nordstrom
After the retailer cut ties with his daughter, the president took to Twitter to vent and sent the company's stocks for a ride.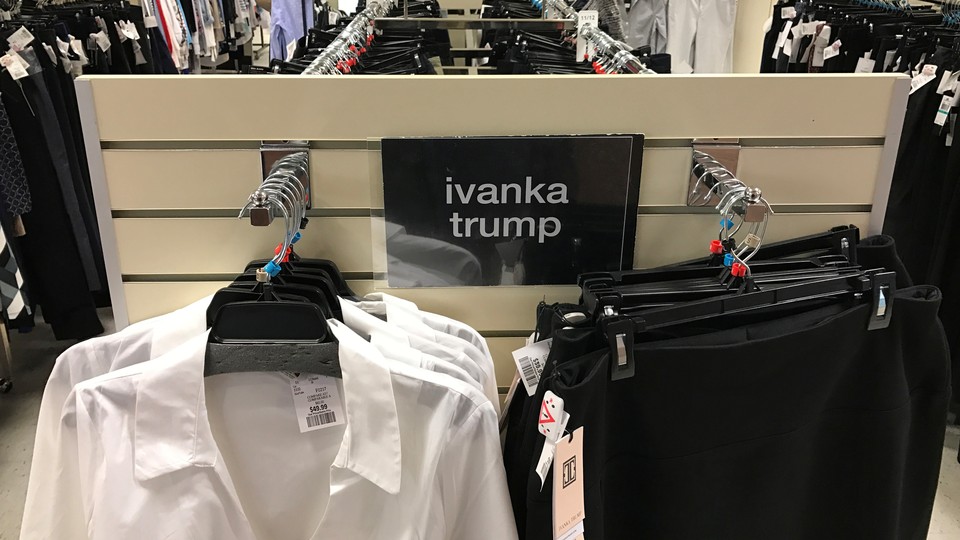 In recent days, the tweets of President Donald J. Trump have largely set out to target those—the media, "so-called" judges, the University of California, Berkeley,—whom the president feels are interfering with his agenda or America's greatness writ large. But on Wednesday, Trump offered up a throwback of sorts by tweeting angrily at the retailer Nordstrom, which reportedly severed ties with Ivanka Trump's label earlier this week.
My daughter Ivanka has been treated so unfairly by @Nordstrom. She is a great person -- always pushing me to do the right thing! Terrible!

— Donald J. Trump (@realDonaldTrump) February 8, 2017
The president's decision to lash out at Nordstrom, which was quickly criticized as "outrageous" by Norm Eisen, former President Obama's ethics advisor and an Atlantic contributor, represents a return to utilizing social media to address his personal feelings about brands or boycotters. Last month, a week before his inauguration, Trump publicly thanked L.L. Bean, the Maine-based outfitter, after news spread of an illegally excessive contribution to a pro-Trump PAC by Linda Bean, one of the company's board members and the granddaughter of the founder. The contribution prompted coordinated protests and boycotts of the brand.
Trump's sudden-but-predictable crusade against Nordstrom is a fitting turn; the company's original willingness to stock wares produced by Ivanka Trump's line is what inspired the founding of #GrabYourWallet, an influential online database that urges boycotts of companies with political or financial ties to Trump and his family.  Shannon Coulter, the co-founder of #GrabYourWallet, told me last month that seeing Trump-branded products among Nordstrom's online offerings initially convinced her to mobilize.
Though Nordstrom claims its decision to reduce its Ivanka stock is due to "brand performance," those involved in the boycott efforts against Trump-family brands see it as a result of their labors. (Before dropping Ivanka's line, Nordstrom also sent an internal memo to employees offering company support for immigrants in the wake of Trump's immigration ban.) No matter the cause, the battle between the president and his opponents in the retail space not only seems destined to continue, but also seems destined to continue having an effect on companies. Following Trump's tweet on Wednesday, Nordstrom's shares quickly dropped 0.5 percent before promptly rebounding during the day.