A Strike to Show What America Is Like Without Immigrant Workers
On Thursday, small businesses around the country—many of them restaurants—are closing as their foreign-born employees walk out.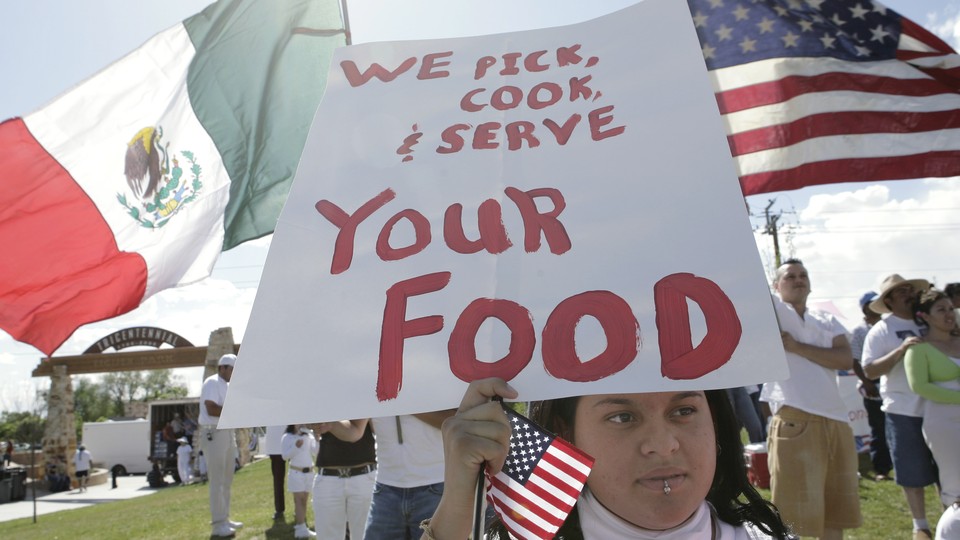 On Thursday, immigrant workers across the U.S. won't be going to their jobs in protest of the immigration policies of the Trump administration. "A Day Without Immigrants" is meant to show what the country would be like without immigrants, with employees and employers giving up their wages and profits to protest, while consumers may find that the services and goods they rely on are unavailable.
In D.C., where the day of action seems to have gotten the most traction, some 50 restaurants will be closing entirely, with a dozen others serving either a limited menu or only keeping the bar open to show support for their staff who are striking. (The Washingtonian, Eater, and DCist are all keeping tabs on who's closing.) There are also reports that restaurants in Austin, Minneapolis–Saint Paul, Philadelphia, Des Moines, New Jersey, North Carolina, Boston, Chicago, and New York will close or reduce service to show solidarity and support for immigrant staff members at their establishments. And the strikes aren't limited to restaurants: Some daycare centers are closed, leaving parents to make last-minute childcare arrangements or miss work, and other markets and shops are either closed or operating at less-than-full capacity.
José Andrés, a Spanish celebrity chef with 14 restaurants in the D.C. area, five of which are closing on Thursday, has been particularly vocal, tweeting his support on Tuesday. (Andrés is currently also involved in a legal battle with Trump over calling off a deal to open a restaurant at Trump's D.C. hotel.) Andrés says he found out about the planned strike from his workers over the weekend. "They were giving us a heads-up that they weren't coming to work on Thursday, and the number of employees kept increasing. The restaurant is the home for everybody, and everybody is part of the restaurant. We asked them whether they felt we needed to be closing," explained Andrés in a phone interview on Wednesday. "[My employees] are doing it to show how important immigrants are for America, and we're supporting them in closing."
Led primarily by Latino restaurant workers and business owners, the effort has expanded this week to include a wide variety of establishments, from local eateries to even Michelin-starred restaurants. Late Wednesday afternoon, the salad chain Sweetgreen announced that it would be closing all 18 D.C. locations in support of the protest. Two notable New York City restaurateurs, Eric Bromberg of Blue Ribbon and Tom Colicchio of Craft joined in as well: Blue Ribbon will be closing seven of its restaurants (affecting around 500 employees) in New York, while Colicchio tweeted support should his staff decide to join the strike.*
"I sense that we have many people who are very uneasy about what's happening," says Andrés. "We have over 11 million undocumented immigrants in America. They're the backbone of the American economy ... By not working tomorrow, it's a way to feel good that they're doing something about it and sending a message. This is almost saying, 'We're here. We're working. We want to be part of the system. We want to keep supporting the America that has supported us, but at this moment we're really fed up.'"
"A Day Without Immigrants" takes its name from a national march in 2006, where close to a million people—including immigrants, advocates, and supporters—in over a dozen cities protested immigration reforms that would have criminalized any assistance to illegal immigrants. That day is said to have had a lasting effect on the politics surrounding immigration.
Carlos Rojas Rodriguez, a community organizer with the immigrant-rights group Movimiento Cosecha, says that he first saw information about the strike on Whatsapp and Facebook. "There's a lot of self-organizing that's going on in the immigrant community, and what's really interesting is that the call for 'A Day Without Immigrants' on [Feb 16] isn't being organized by any established organization. This is a call from the community, from business owners, and immigrant families," said Rodriguez. The group says it is not responsible for organizing Thursday's protest, but is organizing a national protest for May 1 of this year.
Christine Neumann-Ortiz, the executive director of Voces De La Frontera—the Hispanic advocacy group that organized a "Day Without Latinos" in Milwaukee on Monday—says that she's seen small businesses step up in recent years, in terms of taking part in closing and protesting. "They're willing to take a great risk and sacrifice to use their collective economic might to send a message to politicians that they want their rights respected," says Neumann-Ortiz. The "Day Without Latinos" on Monday counted over 120 local businesses that closed in support of the protest.
Businesses from a range of sectors have been speaking out against President Trump's recent immigration policies, including tech companies, taxi drivers, bodega owners, and even apparel companies, such as Nike. And many restaurants have already been vocal in their concerns about what will happen under Trump: Last month, nearly 100 restaurants nationwide participated in designating themselves "sanctuary restaurants," signaling to their immigrant employees that they would protect them.
The industry has good reason to worry, even on the business case alone. There are nearly 2.3 million foreign-born workers in the restaurant industry, making up 23 percent of restaurant employees. It's hard to imagine the vibrant restaurant scenes in America's cities without immigrants, and chefs have clearly taken notice. Research by the National Restaurant Association, which represents restaurant owners, shows that 45 percent of chefs are immigrants, and that immigrants are more likely to be business owners in the restaurant industry when compared with other sectors in the U.S. In an emailed statement, the association signaled that it did not support the walkout. On its website, the organization does support immigration reforms, including a clear path to legalization and has stressed the importance of foreign-born workers in the industry.
Labor groups have been more supportive. "Immigrants are the lifeblood of the restaurant industry," said the Restaurant Opportunities Centers United, an advocacy group for restaurant workers, in a statement.
For workers who are striking at establishments with less supportive bosses, their actions could be punished. After the 2006 "Day Without Immigrants," the National Labor Relations Board clarified its guidelines for political advocacy. While striking against unfair work conditions and activities for "mutual aid or protection" is legally protected, the NLRB concluded that protesting against immigration policies is not directly related to the employer, and thus employers can discipline their workers "neutrally," the same way they would for someone who skipped work for other reasons.
The NLRB rules are a little hard to interpret, particularly in the current political climate. As such, some associations are warning employers that disciplining employees could result in an unfair-labor-practice charge. A notice sent by the Colorado Restaurant Association advised its members not to take action against employees participating in the strike beyond not paying those who decide not to show up, citing that such action could make for "a highly combustible situation."
Though it's still unclear just how many workers and businesses will participate in this Day Without Immigrants—many of those striking are mom-and-pop stores in small towns and more participants are cropping up as the day continues—the protesters' hope is that customers will respond with support, rather than annoyance that their favorite restaurant or shop is closed.
---
* This article originally suggested Blue Ribbon has only seven restaurants in New York, all of which would be closed Thursday; Blue Ribbon has 12 restaurants in New York, seven of which were closed for the strike. This article also misstated the number of José Andrés restaurants in the D.C. area. We regret the error.
---
Related Video