The Fallout From 'A Day Without Immigrants'
Around 100 workers were reportedly fired for participating in last week's strike. Whether that's legal remains to be seen.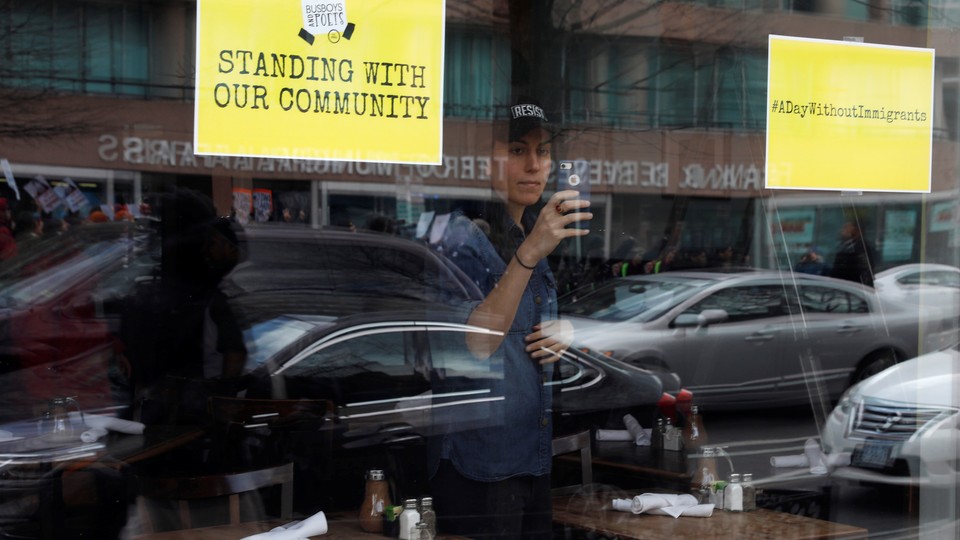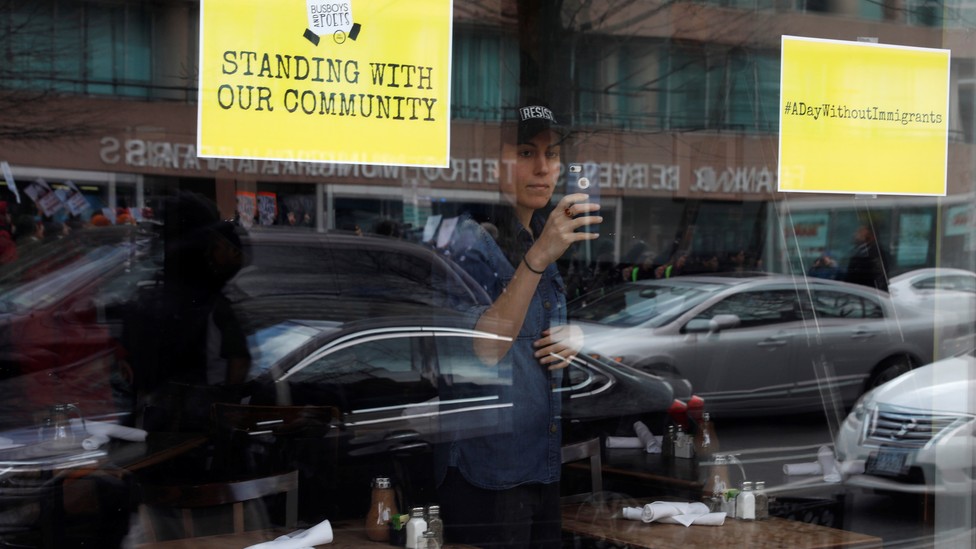 On February 16, immigrants across the U.S. stayed away from work as part of the protest "A Day Without Immigrants." Employees and employers gave up wages and profits in protest of the immigration policies of the Trump administration, hoping to show American consumers what an economy without immigrant labor would mean for the services and goods many rely on. A handful of restaurants printed messages of solidarity on customer receipts:
Some employers, including restaurant and business owners in at least 10 major cities, showed support for their workers who joined the walkout. But others were less sympathetic. CNN reported that a number of participants in the protests were fired in the fallout of "A Day Without Immigrants." Bricklayers in Commerce City, Colorado, boat manufacturing workers in Lexington, South Carolina, and employees of a painting company in Nashville, Tennessee all lost their jobs for joining the protest. Twelve employees at the I Don't Care Bar and Grill in Catoosa, Oklahoma were reportedly fired via text message, with the restaurant's owner defending the firings as company policy for no-shows. (A neighboring restaurant offered jobs to those fired, citing the demand for experienced restaurant workers.)
Business owners, and their attorneys, have been careful to characterize the firings as a matter of company policy. In a statement, Bradley Coatings, the Tennessee paint company, said that the company did not receive adequate notice from its employees regarding the walkout: "The reason these employees missed work—to engage in peaceful demonstrations—had nothing to do with [Bradley Coatings]'s decision to terminate them." JVS Masonry, the company in Colorado, cited similar reasoning, though the now-former employees maintain that they had obtained permission to take the day off.
What will happen to the workers who participated? Business owners who supported their striking employees geared up in advance, preparing to run limited services, letting customers know about the disruption, and clarifying the company's policy for "A Day Without Immigrants" with their employees. For other businesses, however, there seemed to be some confusion regarding how to handle the situation.
For workers without such amenable employers, the issue is thornier. Before the strike, law firms specializing in employment law and human resources advisers published articles warning employers to refrain from disciplining workers participating in "A Day Without Immigrants," and instead suggested talking to their employees and working out an arrangement allowing them to participate. A notice sent by the Colorado Restaurant Association advised its members not to take action against employees participating in the strike, beyond not paying those who decided not to show up.
The legality of the firings remains a gray area, and likely comes down to the National Labor Relations Board (NLRB). "The answer is somewhat murky," says Charlotte Garden, an associate professor at the Seattle University School of Law and an expert in labor law, over email. "The National Labor Relations Act protects workers' rights to engage in concerted activity for mutual aid or protection, and the scope of what falls under that umbrella is quite broad. So it is likely that some forms of worker protest about the likely effects of Trump Administration policies on immigrant workers would be protected. But that protection would not necessarily include every tactic that workers might use." Garden explained that while it's clear that employers can't fire workers for talking about striking, it's unclear whether missing work for the strike would be protected by the NLRA.
While 2017's protest took on a special urgency, it is not the first year one like it has been held. After the 2006 "Day Without Immigrants," the NLRB sided with employers, saying they did not violate the NLRA for firing workers who missed work to attend the protest, since protesting the federal government's immigration policies is not employer-related. Two years later, however, the NLRB clarified its guidelines for political advocacy. Under the new directions, while striking for "mutual aid or protection" is legally protected, those protesting immigration policies can be disciplined "neutrally." How the National Labor Relations Board's General Counsel interprets those guidelines now, will determine whether or not workers have recourse. Richard Griffin, who was nominated by Obama in 2013 and whose term runs through the end of this year, currently holds the position.
Even if the law would ultimately vindicate the strikers' case for immunity from being fired for participating in the protest, the legal battle is an uphill one, and suing may not be the easiest route. As Garden explained, the process of winning reinstatement and back pay from the NLRB is a long and cumbersome one. Haeyoung Yoon, the director of strategic partnerships and an expert on workplace-standards at the National Employment Law Project, added that while some of the fired workers may potentially be able to file a retaliation claim, the merit of those cases depends on the specific circumstances on a case-by-case basis. For workers who are looking for a more immediate and dramatic course of action, speaking out about their job loss—and thus becoming a PR nightmare for their former employer—is a better bet, though it ultimately won't provide a new job or make up for lost wages.
One thing is for sure: The fallout of strikes will likely hit low-wage workers hardest, since their workplaces typically lack protections and benefits that make other workers less vulnerable. "The disproportionate impact is on low-wage and hourly workers who don't have much protection in their workplaces, especially workers who don't have paid leave, or sick leave, or any type of benefit where they can take a day off to exercise their constitutional rights to protest," said Yoon. "If you're in a white-collar [job] where you have vacation or personal days, you could just take a vacation day and not be impacted. It's really workers who don't have that type of security, or those benefits, and protections who are the ones who are bearing the brunt of standing with immigrants."
Despite the reported firings, currently totaling at just over 100 workers, "A Day Without Immigrants" seems to have achieved at least one of its purposes: highlighting the fact that immigrant workers makeup a significant portion of the American workforce. It's still unclear whether the strike will have any long-term political impact. But it certainly made its point to consumers who got a taste of what America would look like without immigrants—or, at least, without many of them—if only for one day.