Will States Take Up the Mantle of Worker Protection?
The attorney general of New York, Eric Schneiderman, is getting ready to protect employees from wage theft and other illegal practices if the federal government doesn't.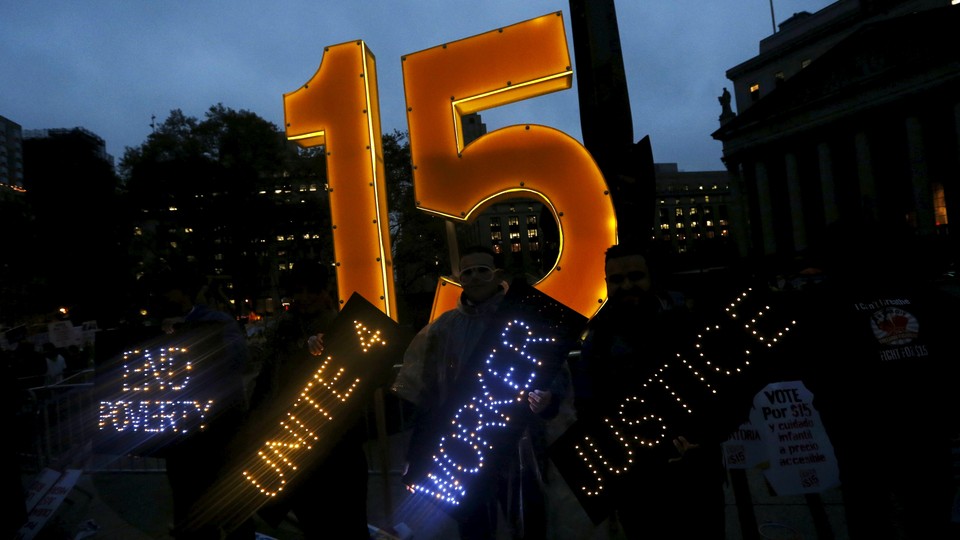 Since November's election, labor advocates have been bracing themselves for an administration they fear will be kinder to owners than to workers. One of the clearest signs that the Department of Labor is set to switch gears: Andy Puzder, the CEO of fast-food company CKE Restaurants, was nominated as secretary of the Labor Department. Puzder has been an outspoken critic of some of the changes labor advocates are currently trying to implement such as minimum-wage increases and expanded overtime pay, arguing that such regulations hinder businesses and lead them to hire less. But some are hopeful that there's another way to protect employees, even without the federal government's help: Instead, they're looking to the states.
One of the leaders on this at the state level will Eric Schneiderman, the Democratic attorney general of New York, who has been active in pushing for increased worker protections in his state. He has helped end on-call scheduling—the practice in which shift workers are called in on short notice, or prevented from working scheduled shifts on slow days—at major retailers, including J.Crew, Disney, and Aeropostale. Schneiderman has been credited for rallying attorneys general in other states in joint actions on labor and employment issues. In the case of on-call scheduling, the investigation involved attorney general offices in California, Connecticut, Illinois, Maryland, Massachusetts, Minnesota, New York, and Rhode Island, and D.C.
"The Constitution preserves lots of power at the state level … so we do have this federalist system that enables us to provide protections at the state level when the federal government falls down on the job," said Schneiderman in an interview.
Now, in light of the changes coming to the federal government, Schneiderman believes that the role of states will be all the more critical for workplace issues and regulations. "It's clear that we're going to have a vigorous national debate about some stuff that I would have thought would have been settled a while ago but apparently open for discussion again regarding wages and overtime," said Schneiderman. "Our labor bureau has been very successful in all of these areas, and we're set up to enforce the law and protect New Yorkers and take on the debate if the incoming Labor Secretary really does want to follow through on what I think are some harmful public policies to try to reduce wages, overtime, and worker protections."
States that have the manpower can be very effective in helping workers recover lost wages. One area where state action may prove effective is wage theft, which affects both white-collar and low-wage workers. Workers lose out on wages for work they've done in a variety of ways, such as when employers don't pay overtime to those legally entitled to it, or force workers to work off the clock, or collude to keep pay down. On the part of attorneys general, the shift of enforcement power from the federal government to the states could require their offices to more regularly initiate investigations, file lawsuits, and bring employers to the table for dispute settlement. "If they're actually going to be attacking vulnerable populations such as low wage workers, we stand ready to defend them. And if they are going to violate any of their statutory or constitutional duties, we're prepared to challenge them in court," said Schneiderman.
States have found themselves in this position before. "Under the Bush administration the Department of Labor also did not focus on fierce and aggressive protection of workers," said Terri Gerstein, an incoming fellow of the Open Society Foundation and the former labor bureau chief in the New York State Attorney General's Office. "There was much more of a focus on education of employers and compliance assistance. In enforcement, there's always a series of decisions to be made ... if decisions are made in favor of weak enforcement, that's a situation that we've seen before."
But it's not as though states took a backseat during the Obama administration. Some states took on an increased role in handling wage and labor practices, with a growing number of have passed their own minimum wage and paid-leave laws. Seven states—California, Connecticut, Massachusetts, Oregon, Vermont, and most recently Arizona and Washington—now have laws requiring paid sick leave. Minimum wage went up in 21 states and 22 cities at the start of this year.
For labor advocates, the concern about this approach is what happens to people in states that are less adamant about enforcement. While workers in states that have been active on these issues in the past—such as California, Connecticut, Illinois, and Massachusetts to name a few—will likely continue to be protected by their state agencies, states without established resources in place will have a harder time stepping up in the same way. In Georgia, for example, there is no state-level enforcement process, and wage claims are filed directly to the Department of Labor.
"It's far from ideal, if this ends up happening," says Tsedeye Gebreselassie, an attorney at the National Employment Law Project. "The way that this should be done is that the federal Department of Labor remains an effective recourse for workers whose rights have been violated, not just on minimum wage but all the federal laws that the Department of Labor enforces. But then you also have states there too as another avenue through which workers can recover their unpaid wages."
Additionally, though states can play a key role on some employment issues, there are workplace issues that require federal enforcement. "States can play a tremendously important role in combating wage theft, but in other critical areas, like workplace safety and health or workers' right to organize, states may have a harder time filling in the gap because they are often preempted by federal law from directly enforcing these laws," says Gerstein.
"To me, there's no question that it's federalism from below," says Janice Fine, an associate professor and labor expert at Rutgers University's School of Management and Labor Relations. Fine has been studying how states and localities think about enforcement, and while she's concerned about states with less enforcement, she's found that there can be see creative solutions. She cites the example of the Fair Food Standards Council in Florida, a labor group which won over companies on fair work conditions and now acts as a private enforcement agency to protect farmers on health, safety and wage issues, as well as the work of the Workers Defense Project in Texas, which has notably pushed through a bill that makes it easier for police departments across Texas to arrest employers engaging in wage theft.
A state-by-state approach means that worker protection becomes less an American project, and more a feature of the particular place one lives. And for workers who don't live in the states that will fill in where the federal government leaves off, that could mean many American workers not getting paid what they're owed.